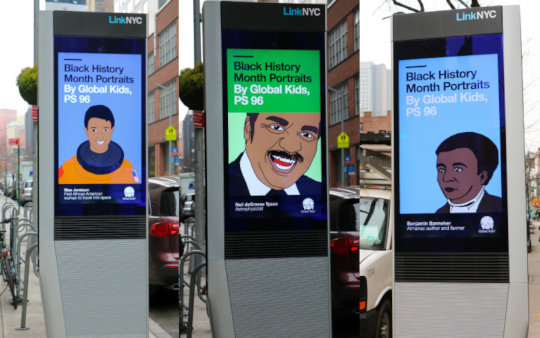 Happy Spring!
Global Kids leaders have spent the last several months taking action in their communities and making their impact visible through art, digital media projects, and youth activism!
Global Kids takes over the streets of New York City!
Did you notice artwork featuring Neil Degrasse Tyson, Mae Jamieson, Garrett Morgan and other prominent black scientists on LinkNYC kiosks last month? They were created by Global Kids at PS 96 in East Harlem!Global Kids partnered with LinkNYC and the New York City Department of Information Technology and Telecommunications (DoITT) to createIllustrations of these figures using digital tools and were thrilled to see them displayed on Link's digital displays throughout the five boroughs in February.

This project created a unique opportunity for our students from East Harlem to conduct historical research in a culturally relevant way and to celebrate their digital murals with public viewings across the LinkNYC kiosks.

"I love to draw, so it was a lot of fun to learn how to create art digitally on the computer," said Jamie, Global Kids 6th grader in our Digital Learning and Leadership Program at PS 96. "I am so excited to have my artwork seen by people all over NYC!"

"With more than 1,300 Links throughout the five boroughs, Link is becoming part of the fabric of New York City, and we want our content to reflect that," said Jen Hensley, President of Link. "Through collaborations with local nonprofits like Global Kids, Link provides communities with an opportunity to share their great work and vision across the city like never before."
Getting Out of the City to Plan for the Conference
Forty-nine Global Kids students from 13 NYC high schools headed upstate to Ramapo for Children facilities to create the framework for the upcoming Global Kids Annual Youth Conference on April 20th, which will focus on environmental justice.

Global Kids staff led the students in team-building and facilitation training activities. The workshops focused on establishing group cohesion, as well as on learning important facilitation skills such as, public speaking, processing, time management, giving clear directions, and how to set up an ideal classroom space.

Students also began working on their conference workshops topics. They include environmental racism, how environmental injustice impacts women, abuse of indigenous lands, the global water crises, gentrification, how wealth affects health and immigration, among others.

Middle Schoolers Making a Difference in Their Communities
Our middle schoolers don't want to stand on the sidelines! Our Global Kids from PS 109 and PS 96 have been engaging with their local council members in the participatory budget process. Youth from PS 109 were tired of seeing trash in their neighborhoods, so they asked Council Member Jumaane Williams' office to add a line on the participatory budget for funds for more trash cans. It didn't get on the ballot, but the students learned valuable lessons about this process and will try again next year.

At PS 96, members of the student council and GK staffer Emily Schofield have been active in the participatory budget process for months. At school, the youth learned about the participatory budget process and what it takes to get a proposal added to the ballot. Junior, the school's Student Council President, attended the final delegate meeting with his local Council Member, Diana Alaya. The students got two of their proposals added to the ballot: one for installing new water filters and water bottle filling stations at PS 96 and other schools in their district and the other for renovations to their school yard.

Voting for takes place the week of April 7-13. Anyone 11 and older can vote. Global Kids will have pop-up voting stations during the day at PS 96 for our students. The school has also been designated a public voting site for the community. Before the vote, some of our students will even be heading to Council Member Diana Alaya's office to decorate ballot boxes.
Democracy Now!
On a recent visit to the Democracy Now! studios, 10 Global Kids students from William Cullen Bryant High School got a chance watch a live production of a Democracy Now! segment where diverse topics were covered from the war in Syria to the sexual misconduct claims against Oxfam officials in Haiti to the execution of a death row inmate in Florida. The youth were impressed by how Amy Goodman, Democracy Now!'s host, reported on news items that are often not covered on major news networks. After hearing an in-depth interview with Raoul Peck, an award-winning filmmaker from Haiti, one student, whose parents hail from Haiti, told Democracy Now! staff that he was proud to have Haiti represented in a more positive light, something he doesn't often hear on cable news.

When her segment was finished, Amy Goodman came out of the studio to chat with the students to learn more about their lives. She asked each of them their names and where they were from, and engaged with them on current topics, like gun control in the United States. It was an incredible opportunity for our students.
Overnight Retreat in DC
Twenty-one GK-DC students gathered at the National 4-H Conference Center for a winter retreat focused on preparing for spring action projects and upcoming conferences. Guest facilitators, Nnenna Amuchie and Jillian Burford from Black Youth Project 100 (BYP 100), joined the group to deliver a workshop on organizing and racial justice. The youth made individual organizing strategies for how to address issues that impact them the most, and they'll use these plans to start actions in their communities in the coming months. The students also learned about group facilitation so that they can lead future workshops at our conferences. At the end of the retreat, the students viewed Black Panther for a final dose of inspiration!
DLL Team Brings Interactive GK Workshops to Educators
NYC Department of Education hosted a Computer Science For All (CS4ALL) Professional Development Institute and the Global Kids Digital Learning and Leadership (DLL) team was invited to present a Scratch workshop series entitled "Historical Heroes" to be used in any K-12 classrooms. This four-day training brought together a wide array of public school teachers learned how to gamify their classrooms by integrating Scratch and tech tools like Makey-Makey into their teaching curriculums. GK trainers led the fun interactive workshops for educators. Learn more about this CS4ALL training on DLL's blog!
Don't forget to keep up with Global Kids as we prepare for a summer full of international travel, policy institutes, and service learning!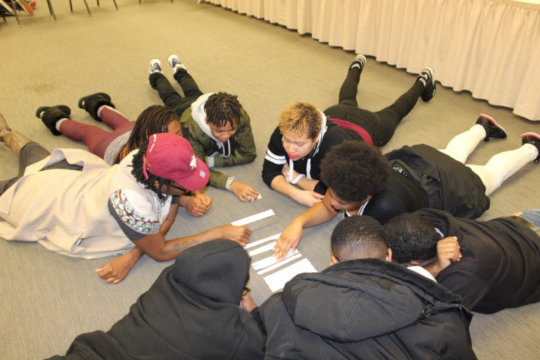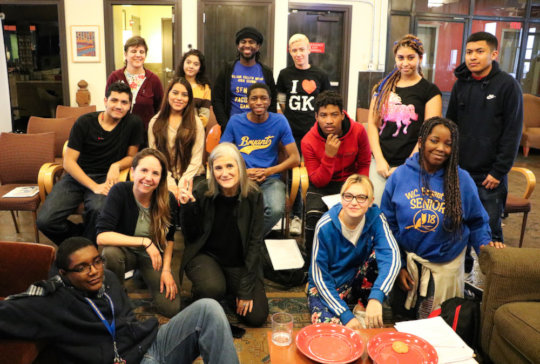 Links: