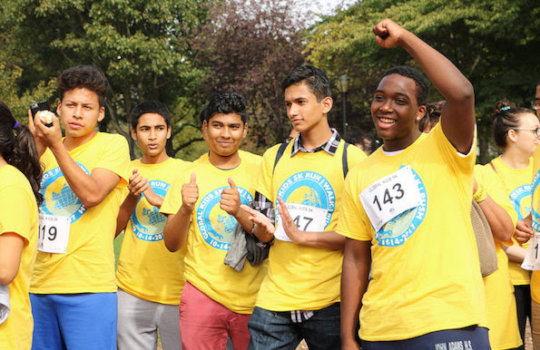 Dear Friends,
After a busy summer of international travel, internships, and summer institutes, our afterschool programming has kicked into full gear. Here are some highlights about the amazing work our young people are undertaking!
New York City Events
The war in Syria, International Monetary Fund policies, climate change, and global election trends were among the many hot-button foreign policy topics at the Global Kids' Summer Institute at the Council on Foreign Relations (CFR). Twenty-one students from across the city spent three weeks at the CFR hearing from such international relations experts as Ambassador John Campbell, former Secretary of the Treasury Robert Rubin, and CFR Senior Fellow Shannon O'Neil, and participated in daily workshops and seminars led by GK staff and CFR staff. They took field trips to the World Economic Forum, the United States Mission to the United Nations, the United Nations, and Adelphi University. They also visited and heard from journalists at The New York Times on the importance of journalistic integrity, the future of print journalism and some amazing stories of their reporting from around the world.
On October 14th, Global Kids held our annual 5K Run/Walk Push at Flushing Meadows Park. It was a great success! With support from runners, walkers, volunteers, sponsors, and donors, we raised over $30,000 for our College and Career Readiness Program. The event brought together 250+ participants, and all the proceeds will support college exploration workshops and trips, one-on-one help with applications and financial aid, career days, scholarships, and more. Check out more photos of the event on our flickr page!
International Travel

In partnership with the DC Department of Employment Services, 12 GK-DC Leaders in the Marion Barry Youth Leadership Institute traveled to South Africa for a cultural exchange and service learning trip. The students engaged with politicians, activists, US diplomatic officials, community leaders, and South African youth. Some highlights from the trip included exploring the intersection of apartheid and youth activism at the Apartheid Museum, visiting the Langa Township, seeing the conditions at Robben Island where Nelson Mandela spent 17 years in prison, and celebrating the end of the trip with a half-day safari at Pilanesberg National Park. Through the trip, the students gained insights into the aspirations of the South African people and learned about the complex legacies of historical injustices, some of which persist to this day.
For the third year in row, Global Kids took students from New York City to Japan for a service learning and cultural exchange trip. Global Kids students worked with youth from Futaba Mirai High School creating narratives to dispute prevailing negative notions of their communities. The town of Futuba had its "no-return zone" status lifted a few years ago, but the community still encounters negative media attention. Our students learned how the high schoolers are participating in the revitalization of their community and their efforts to change public opinion of their community. GK youth worked on a service project tending a local garden with their Japanese counterparts. As in the past trips, students lodged with homestay families to gain a greater understanding of Japanese culture.
Summer Programs
This summer, Global Kids ran free four-week middle school summer camps at five schools! The camps provided a enriching, fun space where middle schoolers had opportunities to go on field trips, learn about current issues, develop leadership skills, participate in sports, and create art. Some of the highlights included going to El Museo del Barrio to work on art projects and learn about local Latin culture, participating in an all-camp wide basketball tournament, visiting the American Museum of Natural History and taking bike riding lessons through the Bike NYC program. It was an awesome summer!
To help rising 6th and 9th graders in their transition to middle school and high school, Global Kids partnered with five of our school sites to help run their "Summer Bridge Programs." Almost 250 students participated! High schoolers and middle schoolers had opportunities to get to know their fellow students through team building workshops, service projects and conflict resolution activities. The students also had opportunities to go on field trips, such as planting a garden at La Libertad Farm and meeting PR professionals at Hill + Knowlton Strategies.
More than 30 students from our program at Transit Tech High School participated in the Summer Internship Program (SIP). They interned at companies and organizations from TJ Maxx to the African Film Festival to the Brooklyn Public Library. One of the highlights from the program was having two students produce and co-host an hour long music program on City College's student radio station, WHRC.
We are so proud of the work our young people have already accomplished this year and cannot wait to see the rest of the school year unfold!
Best Wishes,
Reavey