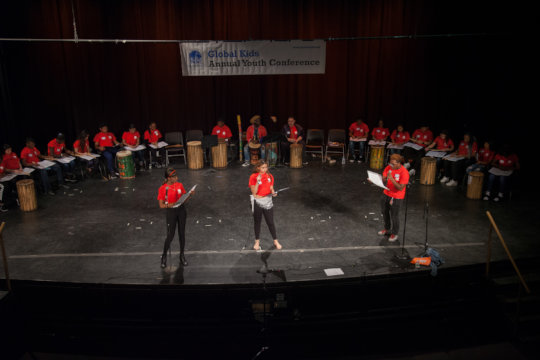 Hello, Summer!
Global Kids Leaders finished the school year strong by continuing to learn about and educate others on the issues most important to them. Our students have kept up the momentum this summer by participating in meaningful experiences that will keep shaping them into global leaders.
Global Kids Annual Youth Conferences Are a Success!
GK Leaders spent months putting in hard work to plan and facilitate the workshops at the Global Kids Annual Youth Conference on April 20th. This year, the conference focused on the theme of Environmental Justice.
Students chose to explore climate change through a social justice lens in order to raise awareness of the environmental issues they face in their own communities. The neighborhoods they live in often lack green spaces and have high rates of asthma, and many were severely impacted by SuperStorm Sandy. Conference workshops and topics included environmental racism, the abuse of indigenous lands, and the global water crisis. Youth across the city who have been participating in the Human Rights Activist Project (HRAP), Undesirable Elements, and Power of Citizenry programs gathered to present talks and performances related to the central theme.
Youth from GK-DC facilitated the third Annual GK-DC Youth Conference on May 25th to discuss their chosen theme of Education. Workshop topics included School Safety, School Inequality, and Impacts of Gentrification and allowed the participants to further develop their leadership and public speaking skills.
Female and LGBTQ+ Empowerment At the Forefront
Throughout the school year, students have been engaging in dialogue about women's and LGBTQ+ rights in the global sphere. Middle school students at PS 109 planned and facilitated the second annual Girl Empowerment Conference, where students ages 9 to 14 were invited to a day of workshops dedicated to empowering young women to advocate for themselves. The day culminated with a panel that included speakers from various non-profit organizations and New York City schools, and our students asked many thoughtful questions about confidence, growth, and pathways to success.
High school students attending the weekly leadership program were also fortunate to be visited by New York City Council Member Carlina Rivera, and discussed many social issues with her, including her efforts to implement stronger LGBTQ+ health services in NYC hospitals.
Middle Schoolers' Initiatives Went to Ballot- and Won!
Global Kids leaders at PS 96 noticed a need for new water filters and water bottle filling stations at their own school, as well as other schools in their district. After learning about the participatory budget process, they engaged with City Council Member Diana Alaya to get the initiative added to the ballot. Understanding the importance of carrying out their civic responsibility, students mobilized over 100 peers to vote on the proposal, and achieved their goal of getting new water fountains and bottle filling stations installed at PS 96 and eight other East Harlem schools.
Gear Up for Summer Camp with GK
Global Kids is running summer camps at 5 middle school sites in New York City: Q300, Manhattan East, Washington Heights Expeditionary Learning School, PS/IS 109, and The School for Human Rights. Activities include field trips to local museums, arts and crafts projects, outdoor team-building challenges, and sports.
The High School for Global Citizenship is running a Summer Bridge Program to prepare incoming students for success in high school. Students are provided with the platform and tools to ensure a seamless transition into high school.
Incoming 9th graders at Bronxdale High School's Summer Bridge Program used VR to travel to Ethiopia and Somalia to learn about the lack of access to clean water, and how famine affects millions of people worldwide. They also partnered with MNDFL in Manhattan to get tips on dealing with stress and anxiety. Field trips so far have included the Brooklyn Grange in Long Island City to find out more about where food comes from.
International Law & Foreign Policy Summer Institutes
After a rigorous application process, 30 students were invited to spend three weeks at the Council on Foreign Relations in New York City as a part of an intensive summer institute program learning about and discussing foreign policy and global affairs. The program consisted of workshops and guest lectures covering topics such as climate change, cyber security, the refugee crisis, and global feminism. Site visits included the New York Times and the Clinton Foundation, where participants had the opportunity to present workshop pitches on global issues to Chelsea Clinton, and see US Ambassador Nikki Haley at the US Mission to the United Nations.
In Washington DC, GK has been hosting a six-week foreign policy summer institute that further explores the themes that students have been discussing throughout the school year. A cohort of motivated future global leaders are coming together to engage in service learning activities, participate in interactive workshops about current events, attend weekly field trips to learn more about international careers and scholarship opportunities, develop media skills by creating a film about being a 21st century global citizen, and enhance their leadership development.
GK's Influence Travels Far and Wide- to South Africa and Japan!
For the fourth consecutive year, GK-DC participants are visiting three cities in South Africa over a two-week period: Cape Town, Johannesburg, and Pretoria. Students are engaging in a service-learning and leadership development initiative.
Through a partnership with the TOMODACHI initiative, young people from NYC and Japan will have the opportunity to collaborate through a 10-day international exchange program to participate in environmentally-focused service learning and positive youth development experiences. After participating in a three-week institute on topics ranging from Japanese history and culture, digital media production, US-Japan relations, and environmental resilience, Global Kids' nine program participants are traveling as TOMODACHI ambassadors first to Tokyo and then to Japan's Tohoku region. Together with their Japanese peers from Futaba Mirai High School in Fukushima, program participants are conducting a social action project that explores the real and imagined impacts of the 2011 nuclear disaster in the region.
Check out our Flickr page for updates throughout the summer and to keep up with our leaders on their travels! Remember to check back in with Global Kids in the Fall for the exciting afterschool programs!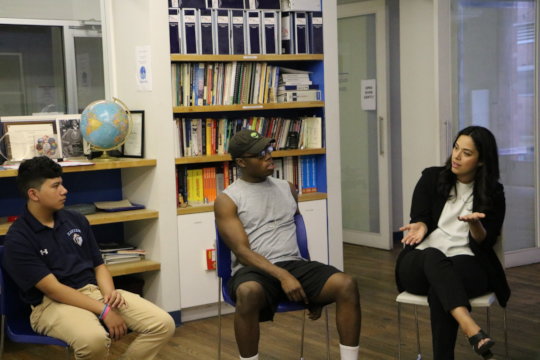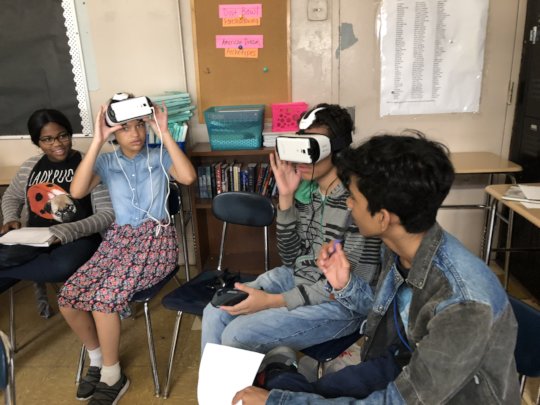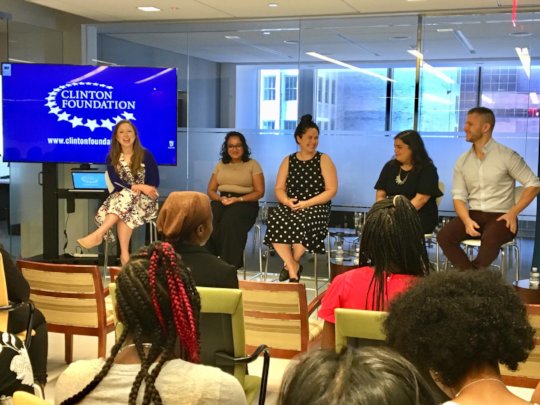 Links: