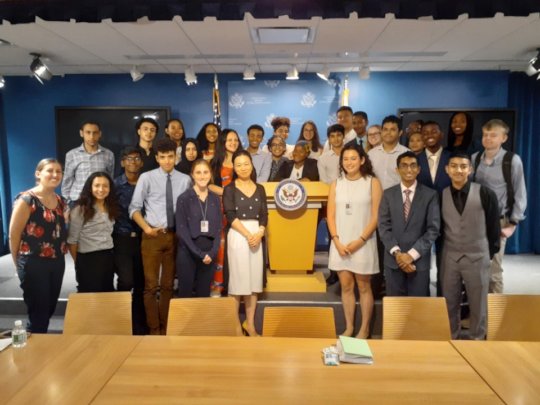 Global Kids has spent the entire 2019 year celebrating it's 30 year history, and as we round towards the end of the year, 2020 will mark the 10th anniversary for our Global Kids DC programs. This summer, between New York and DC, we were able to take students to Costa Rica, Senegal and Colombia, as well as host our signature summer institutes. We also piloted a one week summer institute in Houston, TX to great results. Below are all of the highlights from the programs as well as our plans for the new school year.
LEADERSHIP & BRIDGE PROGRAMS
Our U.S. in the World Summer Institute at the Council on Foreign Relations was held for three weeks in July with 26 students participating from across NYC. GK Leaders engaged in activities and discussions on a range of foreign policy issues such as Economic Power, Effects of AI: Monitoring and Conditioning, Migration, Proxy Wars: Yemen, and Ethnic Cleansing: Rohingya, to name a few. Students also engaged in conversations with important figures in media and international relations, including ABC's George Stephanopoulos, Alexsandra Dier, Gender Coordinator at the United Nations Counter-Terrorism Executive Directorate and CFR Fellows Shannon O'Neill, Michelle Gavin, Benn Steil, Michelle Gavin, and Jamille Bigi. Each week GK leaders also went on trips to places such as U.S. Mission to the UN where they met Ambassador Cherith Norman, who spoke about her job responsibilities, the United Nations, where they learned about the General Assembly and the Security Council, and the New York Times where they learned about podcasts, photojournalism, and social engagement. Over the course of the three weeks students drafted final project proposals which they presented to a special panel at the Sorensen Center for International Peace and Justice at CUNY Law School. They will implement their projects this fall.
Eleven GK Leaders at William Cullen Bryant High School had opportunities to engage in our Human Right Activist Project (HRAP) for one week in July. They learned about issues related to reproductive justice, gender, and climate justice and participated in several service-learning projects. They volunteered at the Floating Hospital in which they helped set up games for the children and helped with a beautification project at the community garden at Governor's Island. At the end of the program, students visited the Museum of the City of New York to view an exhibit dedicated to activism.
We ran several Summer Bridge Programs for a total of 450 incoming 9th graders to help build community, focus on goal-setting, set the right frame of mind for high school and introduce them to GK programming. Careers in Sports High School helped twenty five incoming freshman students develop strategies for dealing with new challenges that come with high school. Students also went on two trips: an escape room where they learned to work as a team and communicate effectively; and the Museum of the City of New York where they took part in their future city lab, envisioning ways to develop a city that benefits and accommodates everyone.
At Bronxdale High School we engaged with nineteen incoming freshman students who worked on a kindness campaign and learned about urban farming. Fourteen students at William Cullen Bryant High School attended our Leadership Bridge Program where they learned about communication and leadership skills. A social worker from Western Queens presented about time management and reducing anxiety and stress in their first year. They also attended a college fair at Columbia University and talked to representatives from over 90 colleges. They also learned about WWII at the Intrepid Museum. At John Adams High School we facilitated workshops to enhance students' leadership, communication, and public speaking skills. We also supported the Open House with 725 phone calls to ensure successful participation and helped to organize the Freshmen Field day.
Our program at High School for Global Citizenship (HSGC) worked with fourteen rising freshmen. Throughout the week, we focused on goal-setting using vision boards and reflection letters to think about the next four years of high school. Students also learned about various leadership styles and identity groups, reflecting on how their identity(ies) affects their experiences. The students also participated in community-building activities and trips such as tie-dying t-shirts, and visiting both the Botanical Garden and Prospect Park. Seventy-eight incoming 9th graders at High School for Public Service engaged in a half-day bridge program filled with team building, games, a reflection activity and an ice cream social. Students were excited to participate and to get to know GK staff and the programs we offer. For the third year in a row we led a half-day bridge program at High School of Art and Design to help students to get to know each other, set goals they want to accomplish in high school and learn about GK programming. This year nearly our full program staff of 50 people worked with 300 students - double the number from last year!
Global Kids-DC Summer Institute engages high school students in an intensive study of global issues, career exploration, travel abroad, and youth activism. For the third year, GK-DC Summer Institute was generously hosted at Catholic University with our partner the Marion Barry Youth Leadership Institute (BMYLI). The Institute served 39 youth, aged 14-19, from many high schools throughout the DC area. We recruited youth mainly from our existing programs (3-Anacostia HS, 3-Ballou HS, 4-McKinley HS, 13-MBYLI and 10-outside connections). Our youth hailed from all wards, with the majority coming from Wards 7 and 8. All enrolled youth who participated in the Marion Barry's Summer Youth Employment Program received stipends.
COLLEGE & CAREER
We're so proud of our GK Leaders who graduated from high school in June, which came at a rate of 97%. The majority (94%)
have matriculated into college with many attending schools within CUNY (e.g. BMCC, City Tech, John Jay, City College) and SUNY (Canton, Oswego, Delhi, Albany). Some private schools our recent alumni are attending include University of DC, George Washington University, Culinary Institute of America, Vaughn, St. John's University, and Penn State. We're excited that we could support some of our students with much needed college scholarships. Five students received a total of $3,550 in GK Scholarships and three students received Foundation 17 Scholarships, with one student being awarded the top F17 scholarship of $5,000 per year. Another student from Transit Tech HS, received $28,000 to attend New England College. Students who did not matriculate followed other post-secondary routes including working full-time or taking a gap year. Several students from Transit Tech High School entered MTA apprenticeship programs. We look forward to staying in touch with all of our alumni!
Our College & Career Readiness program at William Cullen Bryant High School served 33 participants and ran from July 29-August 2. Students participated in workshops on financial did, scholarships, professionalism, resumes, and interviews. They also participated in a career panel which included professionals from banking, luxury media, international law, IT, medicine, higher education (professor from Vassar) and Estee Lauder. On the last day, students attended a college tour and information session at Brown University.
This year's Summer Internship Program (SIP) at Transit Tech High School placed 41 students in summer jobs where they practiced work skills they learned about throughout our career preparation program. Students worked at Bobtek Electrical Corporation, NYC-MTA, NYC-DOT, Brooklyn Public Library-Central, Brooklyn Public Library-Saratoga, Brooklyn Public Library-New Lots, TJ Maxx Gateway Center, Chelsea Recreation Center (Media Lab). They served as warehouse assistants, community aid assistants, office support aides, merchandise associates, street ambassadors, and media lab interns. By the end of the
summer, two students were offered permanent positions at their worksites: TJ Maxx Gateway Center and Bobtek Electrical Corporation. We're also excited that two others who graduated this year and were hired as part-time assistant trainers with our GK middle school programs!
Through our Bronx Studio School for Writers and Artists (BSSWA) Summer Youth Employment Program (SYEP), 88 young people gained enriching and valuable work experience. Older youth were assigned worksites that ranged from administrative support to youth program assistants - some working in our own middle school summer camp programs. Our younger youth had job assignments connected to project- based learning focused on a media literacy theme. They were tasked with creating a media project depicting social issues that affected their communities. From community mapping and conducting interviews, students presented their projects that were then shared across various social media outlets.
Global Kids launched a one-week pilot program - The US in the World Energy Policy Institute - that was modeled on its award-winning summer program held at the Council on Foreign Relations in New York City. The Institute was held at the African American Library at the Gregory School, located in Houston's Fifth Ward, from 9:30 am to 4:30 pm each day. Breakfast, lunch and a travel stipend were provided to the students.
After submitting an application consisting of short essays, a transcript and letter of recommendation, students were interviewed by Global Kids staff via video conference. There were nearly forty applicants. Nineteen students from the following schools formed the cohort: Galena Park HS, Houston Academy for Int'l Studies, Kinder HS of Performing Arts, YES Prep, Northside HS, Stratford HS, Westside HS, Phyllis Wheatley HS, Klein Cane HS, Texas Connections Academy, Carnegie Vanguard HS, Middle College HS at HCC, Chavez HS, Early College High School/ CE King High School and Energy Institute HS. There was no required GPA and the participants were diverse in academic ability, ethnicity, race and gender.
Each day, students participated in content-based, interactive workshops led by Global Kids staff. Topics included energy policy 101, geopolitics, climate change, energy trends, human rights, and energy production, and the workshops included engaging strategies such as role plays, purposeful games, small group work, the arts and more to bring the content to life in a meaningful and fun way. In addition to learning about complex issues, students developed public speaking, collaboration, problem-solving, critical-thinking, literacy and leadership skills. Guest speakers from non-profits, energy companies, and advocacy organizations came and spoke to students about their careers as well as their perspectives on energy policy. Each student created an action plan at the end of the institute which detailed personal steps they would take to address an energy issue. Participants took a pre and post survey to assess and measure their learning, and completed a daily "exit" survey to garner feedback on the program and learning goals.
INTERNATIONAL TRAVEL
In partnership with Black Birthright, an initiative of the Tunstall Foundation, five Global Kids students from Bronx Studio School for Writers and Artists (BSSWA), Bronxdale High School, William Cullen Bryant High School, and John Adams High School traveled for 10 days to Senegal. The jam-packed inaugural trip allowed our youth the opportunity to experience the continent's culture and historical roots. The excursion featured visits to the country's popular tourist spots including Goree Island, Somone Lagoon Reserve, Ile de Sarpan, and the Museum of Black Civilizations. At the Goree Institute, University of Dakar professor Dr. Gorgui Dieng taught our students linguistic language as well as a lecture on slavery and colonization.
Our youth also met entrepreneurs, educators, and youth to brainstorm African financial and investment opportunities. Special thanks to Black Birthright for giving our youth an opportunity they'll never forget!
Eight high schoolers from Bronxdale High School had a trip of a lifetime when they traveled for 12 days to Costa Rica this summer. Students had the opportunity to volunteer at a turtle conservation at Lirio Lodge and spent three days touring the sights of San Jose, reflecting on the ecological beauty, and visited the University of Peace and the Hebrew Immigrant Aid Society (HIAS) to discuss the country's immigration practices. They also met experts in the education, government affairs, environmental, and agricultural sectors.
Other highlights included our Leaders taking an ethnobotany class at the Chilamate Eco Resort, hiking the Izaur Volcano and the rainforest, picking strawberries at a local farm, and spending time with locals and students teaching English and painting a mural. A documentary chronicling our students' journey will debut this fall. "The Global Kids trip to Costa Rica was a fun experience that took younger students out of their comfort zone and put them in a place where they could learn and grow. Costa Rica showed me that working together makes a big difference in the world. What we do not only impacts the present but future generations," said GK Leader, Jashanna B.
Eight Global Kids DC youth from our Marion Barry Youth Leadership Institute (MBYLI) traveled for nine days between July 26 – August 7 for a global-education and exchange trip to Colombia. In collaboration with the international research and development organization CINDE, DC youth gained exposure and insights into Colombian history, culture, geography, and government. With visits to Bogota and Cartagena, the group spent time sightseeing cultural hotspots like La Candelaria, Museo de Oro, and the city's graffiti art districts. DC Leaders also connected with experts, locals, and students from the Centro Nacional de Memoria Historia (CMMH), the nonprofit Family Ayara Foundation, and schools in the Soacha and Cartagena municipalities where they participated in student exchange activities.
FALL PROGRAMS
We kicked off Fall programming right after Labor Day weekend and dove right into recruitment parties, start-of-year bridge programming and activated our youth to particpate and drive their communitites to the Climate Strike on September 20. With over 40 youth congregating at our Manhattan headquarters, and more leading their schools, our youth were there for an important day in our history.
Additionally, Global Kids staff at Curtis High School supported the school with their 9/11 March, which had 200 students participate. They also recently took students to Adelphi University on October 14.
Currently staff across sites are organizing internship opportunities for the students this year, and will be providing stipends for their participation.
Thank you for supporting our programs and young people. With your generous donations, Global Kids is able to continue this transformative work of developing community leaders and global citizens to take action on critical issues facing our world!
Links:
Attachments: