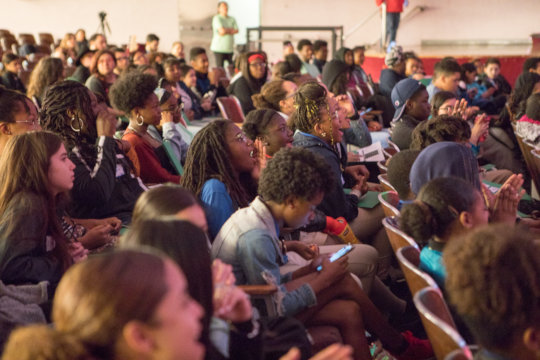 We continue to celebrate 30 years of Global Kids by finishing another busy school year as strong as ever! Our GK Leaders, as always, took action in a variety of ways, including activating their voices at rallies, connecting with policy makers, and leading peer education workshops. From March to May, the conference planning committee was hard at work preparing for the 2019 Global Kids Youth Conference. Also, throughout the spring, our program sites finished out modules on Social Movements to Defend Rights, Global Reach, and Future Directions. This summer saw the launch of a one-week institute focused on energy policy and human rights in Houston in June as well as our annual summer program at the Council on Foreign Relations in July. Below is a selection of our program highlights:
2019 Global Kids Annual Youth Conference
The Global Kids Annual Youth Conference is a youth-organized, youth-led event, which brings together teenagers and educators from schools across New York City and beyond, to learn about the issues that are important to our youth. GK Leaders, along with speakers from around the world, will conduct workshops around the overarching theme of Criminal Justice Reform and cover topics including prisoners' rights, race, poverty, the war on drugs, gender/LGBTQIA, migration, substance abuse, incarcerated minors, and prisoners of war/political prisoners.
The Conference Planning Committee spent their spring finalizing workshop drafts, practicing facilitating their workshops, and designing the conference t-shirt. The conference planners were divided into smaller groups of 3-4 students who then took a lead in creating, as well as polishing, a workshop based on a subtopic of criminal justice reform. GK Leaders worked on strengthening their facilitation skills by practicing their workshops with their peers as well as GK staff, receiving and offering feedback. Additionally, in light of College Signing Day, the conference planners spent a session exploring what type of college environment they see themselves in, and celebrating the seniors within the committee who had committed to a college. GK Leaders saw all their hard work come to life for 336 students and educators at the conference on May 23rd at Hunter College.
The Human Rights Activist Project (HRAP)
Using a human rights framework, HRAP gives youth the tools they need to influence public policy. Students identify and research environmental issues and develop campaigns for social change, which includes public outreach, direct action, media strategies, meetings with elected officials, and networking with other organizations.
HRAP focused on student-led climate change activism. Through workshops and trips, GK Leaders supported climate justice legislation by advocating and meeting with NYC Council Member, Costa Constantinides about the local Dirty Buildings Bill. They also advocated for the statewide Climate & Community Protection Act.
GK Leaders engaged in several advocacy activities against the Williams Pipeline by surveying and gathering signatures from people on the street, calling and meeting with politicians, writing emails, making signs, and rallying. They organized a Green New Deal Town Hall in order to spread awareness about the new policy and a 10th grade GK Leader from the High School for Medical Professions was invited to introduce Mayor De Blasio during his Green New Deal Earth Day press conference. GK Leaders visited a recycling facility and performed many other actions that brought victories like the passing of the Dirty Buildings law and Governor Cuomo voting against the Williams Pipeline.
Digital Learning and Leadership (DLL)
Since 2000, Global Kids has been filling a void by bringing STEM curriculum to students in underserved communities. Global Kids' Digital Learning & Leadership (DLL) program leverages technology and digital media tools to teach leadership skills and to promote local and global community building opportunities for high school, middle school and elementary school students.
This spring, we continued our collaboration with LinkNYC in which our GK Leaders researched women of color in STEM and created digital artwork that was displayed on all of the LinkNYC kiosks for the month of March in honor of Women's History Month. Through this project, our students played a role in spreading awareness of important women of color STEM contributors.
On May 11th, the annual EmotiCon event was emceed by GK Leaders from Careers in Sports High School. Over 500 youth and adults attended this citywide event in which 13 GK digital learning projects were showcased with two winning awards!
Flows through the Music from PS 96 won the Point of View Award. GK Leaders wrote songs about the lack of access to safe drinking water around the world and how it impacts youth and communities. Their multimedia experience included a mix of text, video, and images drawn and edited by GK Leaders to accompany an original song.
Blood and Alcohol from the High School of Art & Design won an Honorable Mention. This project utilized Twine, a free and open-source tool for making interactive fiction in the form of web pages. One of our GK Leaders created a story on drinking and responsible decision-making based on what she learned in her forensics class about blood alcohol levels.
Council on Foreign Relations (CFR)
Each summer, up to 30 GK Leaders gain access to the resources of the world's leading international affairs think tank, the Council on Foreign Relations. This summer's GK "U.S. in the World" institute is in full swing ! From July 8th to 26th, GK Leaders will attend round tables with experts in fields as varied as international relations, journalism, artificial intelligence, cryptocurrencies, and climate change. Workshops investigating these fields are combined with daily conversations with noted foreign policy experts like President of the Council on Foreign Relations Richard Haass, former US Secretary of the Treasury Robert Rubin, CFR Fellows Benn Steil, Shannon O'Neil, and Jamille Bigio, and award-winning journalist George Stephanopoulos.
Middle, High & Community Schools Programs
Over 125 trips and special events served to enhance learning opportunities for our GK Leaders across our middle, high, and community schools programs. Below are some highlights:
Middle Schools
PS/IS 109, Q300, & Manhattan East: In May, GK Leaders, including students in our Teen Battle Chef Club, went to the NYC DOE School Food Headquarters to advocate for healthier food options. They proposed new items that could be added to the menu in NYC public schools.
High Schools
High School for Global Citizenship: On March 21st, GK Leaders visited the United Nations to commerorate World Down Syndrome Day and learned about the discrimination faced by individuals with Down Syndrome.
Transit Tech High School: From March to June, GK Leaders participated in monthly workshops and meetings through the GK Transportation Careers Mentoring Program with the MTA and Department of Transportation.
Community Schools
Careers in Sports High School: On May 23rd, approximately 60 seniors participated in the Career Day Senior BBQ that included professional panels discussing various careers.
Bronxdale: On March 15th, 96 students in 10th grade visited and toured the United Nations learning about the UN's Sustainable Development Goals as well as the process of peace. They also visited the Security Council Chambers and the General Assembly.
William Cullen Bryant High School: On March 28th, four GK Leaders had the opportunity to participate in local government and meet with City Council Member, Costa Constantinides who serves on the council's Environmental Protection Committee. GK Leaders engaged in discussion with the council member, asked him about legislation related to Climate Justice in NYC, and learned how they can get more involved in affecting local change.
GK-DC
Celebrating its 10th year this year, GK-DC worked hard in this final quarter of the program year! All GK Leaders at our program sites were busy creating action projects, preparing for the year-end youth forum, and attending enriching field trips, including the all-site annual NYC trip. On May 21st, GK-DC commemorated our annual Spring Celebration benefit which was attended by over 60 guests raising nearly $8,000 in funds.
All-Site NYC Trip: On April 15th and 16th, a group of 39 GK Leaders traveled to New York City where they visited the Global Kids Headquarters and the United Nations, attended a Black History Walking Tour, participated in an interactive exchange visit between GK-DC and NYC middle schools, and concluded with a few key sightseeing activities. For 20 of our young people, this experience marked their first-ever trip outside of Washington, DC.
GK-DC Youth Forum: On May 28th, GK Leaders from each DC program joined together for an end-of-the-year celebration at the University of DC-Bertie Backus Campus. GK Leaders showcased their action projects and work from the school year. We celebrated our seniors as they prepared to graduate and attend college. The special guest performance was Clarissa R. Corey-Bey who delighted GK Leaders with her funky, groovy sounds. The forum concluded with keynote speaker, Bunmi Akinnusoto who challenged our young people to consider what it means to be an ambassador and how they would advocate for issues that matter to them.
Thank you for supporting our programs and young people. With your generous donations, Global Kids is able to continue this transformative work of developing community leaders and global citizens to take action on critical issues facing our world!