Global Kids (GK) is thrilled to be celebrating our 25th Anniversary, and we are honored that you play such an important role in our success! In our efforts to continue inspiring urban youth to achieve academic excellence and become global citizens, GK students have kept busy in their local and global communities. Some highlights from this past fall and winter include:
At Bryant High School in Queens, NY, GK students transformed an unused terrace into a rooftop garden. The new green space, installed in collaboration with the Horticultural Society of New York, was designed and planted by GK students as part of their campaign to promote green roofs for schools in environmentally burdened communities. It features hundreds of herbs, vegetables, perennial shrubs, and colorful flowers, and the garden will be used to teach students about ecology and farming for many years to come!
In Washington, D.C., GK students met face to face with policymakers from the Department of Labor's Bureau of International Labor Affairs for a conversation on child labor and human trafficking. They asked questions and had frank discussion with the people who are on the frontlines of decision-making on these critical human rights issues. After the visit, GK students developed their own projects aimed at ending child labor, filmed their proposals, and submitted the finished products to the officials they met.
In March 2014, two GK students traveled to Slovenia and Croatia for the first global partnership meeting of SustainAware, an international collaborative effort among eight youth organizations from all around the world. The collective is seeking to promote the inclusion of young people in sustainable development policy decisions. GK student Samri Hadgu was interviewed by a local Croatian radio station about her participation and what SustainAware is hoping to achieve. To keep up with the adventures of our GK students' participating in SustainAware, check out their new blog

!
Thanks to your support, the youth of today are empowered to take action, excel in school, and become global leaders. We you are grateful for your generosity and belief in what we do. We are looking forward to the next 25 years with our partners!
Links: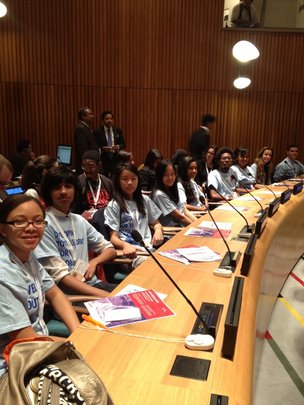 Global Kids would like to thank you for your generous contribution. We are honored by your gift, which will help Global Kids continue pursuing its mission to inspire urban youth to achieve academic excellence and become informed global citizens. This summer, GK students expanded their horizons through service-learning trips to Bosnia and Costa Rica. They campaigned for education reform both nationally and globally, at the Free Minds, Free People Conference in Chicago and at the United Nations, where they heard Malala Yousafzai speak about the challenges young women face in order to receive an education in Pakistan. In NYC, our students designed new models for green roofs and enironmentally-conscious video games through our Environmental Justice Institute and our Playing for Keeps programs.
Through this range of innovative and challenging programming, Global Kids youth learned not only about the world around them, but also how to make an impact, in their schools, in their local communities, and on the global stage. Empowered with the skills necessary for academic achievement, civic engagement, and professional success, GK Leaders are poised for broad horizons and bright futures. Our work would not be possible without friends like you, and we are truly grateful for your support.
On behalf of the Global Kids youth leaders and staff, we would like to thank you for supporting the Career Initiatives Summer Employment Program. Global Kids provided 90 students from underserved communities with career training and paid work opportunities in New York City this summer. During the six-week program, our students were able to build their resumes and gain valuable work experience.
Rajhaun C., who is entering his senior year of high school in Brooklyn, participated in the program for the first time this summer. He sought out a position at the New York City Rescue Mission, where he assists in the soup kitchen. Although he had never held a job before, Rajhaun has excelled in his position. His supervisors report that he is a "delightful young man" to work with and they have "adopted Rajhaun as part of our village."
The Career Initiatives Summer Employment Program is a key component of our work to inspire and educate young people to achieve academic excellence, self-actualization, and global competency. The program prepares participants for the 21st century workplace and equips them with the skills and tools needed for success in school, work, and throughout their lives. Students receive training in workplace professionalism at the beginning of the program and are supported by staff through weekly site visits at their work locations. Exposure to these opportunities not only helps students attain jobs after the program is over, but ensures that they have the tools to succeed in whatever profession they pursue.
At Global Kids, we will continue to find ways to deepen and further the learning that began in the Career Initiatives Summer Employment Program. We are deeply grateful for your support and we hope you will continue to look to us as partners in your efforts to provide engaging career opportunities for young people.
WARNING: Javascript is currently disabled or is not available in your browser. GlobalGiving makes extensive use of Javascript and will not function properly with Javascript disabled.
Please enable Javascript
and refresh this page.