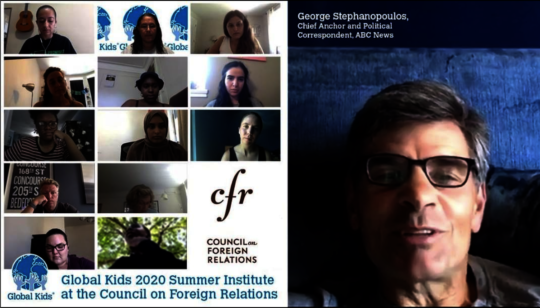 Due to our PPP loan and in spite of DYCD's cancellation of most summer programs, we were able to keep on all of our staff and offer robust summer programs. We used this opportunity without the constraints of DYCD contract requirements for staff to think broadly and outside of the box to recruit youth and offer creative, fun and interactive spaces. Activities included:
Interactive group workshops
Virtual field trips and guest speakers
Summer stipends and summer employment
Mentoring
Summer school support
Grocery deliveries
College and Career Readiness
Additionally, due to the nature of remote programming, our program staff were able to collaborate across sites and really support each other to implement high quality programs. This report summarizes our summer program activities.
HIGH SCHOOL PROGRAMS
We provided several programs described below to nearly 400 high school students this summer through various internship and summer bridge programs.
Change Makers Leadership Internship: With the presidential elections coming up in November, and the various primary elections occurring throughout this year, students learned about the history of this country's voting rights and voter suppression. Guest speakers included organizers from YVote who gave a presentation about the history of voter suppression and the work they do with voting empowerment throughout various communities.
HRAP Youth Organizing Internship: Students explored issues of racial inequality, particularly related to education, immigration, xenophobia and LGBTQ rights. Students learned about a wide range of local and global social movements such as the pro-Democracy Movement in Hong Kong, BLM, the movement for climate justice by Indigenous communities in Canada and the USA, the feminist movement in Latin America and more. Students also heard from a panel of activists and community organizers with speakers from Sunrise Movement, Integrate NYC and NWBCCC. Students concluded the program by designing a campaign in groups based on the issues that they were most passionate about.
Media Movement Internship: Students explored the role of media in powering, shaping and promoting social movements. In particular students focused on the Black Live Matter movement and the concept of Afrofuturism. For their post-program projects, students will use different mediums such as arts, writing, and podcasts to speak up on the issue of racial inequality, particularly in schools.
College and Career Summer Internship: We ran two separate groups - for juniors and seniors - helping them to prepare for life after high school. Students learned about reach, match and safety schools, and began researching their own college lists. They also started or updated their personal statements, resume and cover letter, and conducted scholarship/financial aid research in order to start building their college application portfolios. Special events included a virtual campus tour with the University of Houston, an alumni panel, and a meet and greet with the CUNY Welcome Center, SUNY Oswego, and college counselor Judy Young.
Summer Bridge Programs: We ran a week-long summer bridge program for 20 rising 9th graders from our various citywide partner schools. Students participated in games and activities that helped them recognize and process their emotions about starting high school and the unique challenges of starting high school under COVID. Students shared what excites them about starting high school, as well as their anxieties and concerns. We helped students set goals and identify strategies to cope with and prepare for high school. We also ran a half-day bridge program for nearly 300 Art and Design HS incoming 9th graders focused on social and emotional development and community building, transitioning to high school and managing cyberbullying. All of our program staff implemented this event that included 14 Zoom breakout rooms led by teams of 3-4 GK program staff.
COMMUNITY SCHOOL and LEARN & EARN PROGRAMS
Our Community School and Learn & Earn Programs collectively served 2,629 students this summer. Bronxdale HS had several subcommittees to transition into the hybrid school year that the GK team supported with data and individual anecdotes to support students and families. Due to remote programming, the GK staff from Bronxdale was able to provide the most vulnerable students with 1-1 support while other Bronxdale students joined our high school summer internship programs. Two student highlights include a rising GK junior serving as a panelist for GK's racial equality town hall and a rising GK senior speaking at the rally to #SaveCommunitySchools.
GK staff from Careers in Sports HS focused mainly on providing summer school support. The staff outreached to students and parents through phone calls, emails and text messages and provided them with individualized support or connected them with resources as needed. We also met the needs of some of our most vulnerable families by providing Fresh Direct grocery delivery as well as Target gift cards for student supplies.
P.S. 96 staff were quite busy supporting the school as well as other GK programs. P.S. 96 staff helped run the GK HS internship programs, Bryant HS programs and SYEP at BSSWA. Staff also managed the District 4 summer school attendance by collecting, uploading, evaluating, and interfacing with families, parent coordinators, and principals. Based on need and interest, the team created two weekly sessions offered to rising 3rd-5th graders and rising 6th-8th graders. 3rd-5th explored different countries and 6th-8th created a game, whose goal was to "get through 2020". We also worked with the school to conduct needs surveys, family outreach, town halls, and smoothly transition every student to their iLearn/myschools accounts.
Unlike our other DYCD funded programs, our Transit Tech High School Learn & Earn (WIOA) program was able to continue running this summer. We successfully maintained our partnership with the DOT, MTA, to provide employment for our youth through our Summer Internship Program (SIP). We had 26 GK Leaders participate in these work readiness opportunities and their on-site supervisors reported that student work performance was far above standard. Students also participated in a two-part financial literacy series with Sterling Bank and a few youth participated in our US in the World Program.
Bryant HS offered Leadership, HRAP and College and Career Internship Programs with stipends for 66 students: Leadership empowered incoming 9th and 10th graders with personal, interpersonal, and social skills with a focus on being proactive leaders in their communities. Students heard from speakers from People's Power Assemblies, The People's Puppets, Occupy the Pipeline, the Sane Energy Project and an Occupy Wall St independent photographer activist who co-authored the Declaration of Occupation of New York City. In HRAP, youth learned about climate justice and created an action project by the end of the program. They met a youth activist from Kenya, an expert who spoke on the importance of bees, and Phara Souffrant Forrest, the newest 57th district member. College and Career Readiness focused on the Common Application/CUNY Application, essays, financial aid, and scholarships. Youth created their college lists, brag sheets, and a first draft of the personal statement. All students had a mentor to support them in their college process. In addition to the internship programs, in collaboration with the school, our team supported 30 success mentees in summer school by providing guidance/counseling, regular check-ins, tutoring referrals and translation for ELL students. Staff called all incoming 9th graders to complete documentation.
Bronx Studio School for Writers and Artists (BSSWA) supported over 100 families with COVID immediate-need assistance including food deliveries from Baldor Foods. Staff made phone calls to the incoming 9th graders to support their transition to the school and supported 10 POSSE scholarship nominees. With partial funding reinstated, we ran our Summer Youth Employment (SYEP) program remotely with 65 students over five weeks (July 27, 2020 - August 28, 2020). Students engaged in career readiness activities through project-based learning. We collaborated with five workplace challenge partners from different industries and sectors, including finance, media, and business allowing students to engage with these partners to discover solutions for workplace challenges, such as establishing equity and providing access to economic opportunities for employees. The SYEP program culminated with presentations made by the students on various topics including police brutality, equity, and the Black Lives Matter Movement.
John Adams HS supported summer school students with progress monitoring, helping them manage and prioritize work, assessing socio-emotional needs and weekly check ins with parents. Our GK social worker supported the SEL team by providing weekly counseling for tier 1 and 2 referrals.
We also ran several summer workshops and activities: You've Got Rights focused on reimagining the constitution and global citizenship; Bridge to College supported rising seniors; Anime Design; and An Abolitionist Perspective on Mass Incarceration where students created a beautiful collage and corresponding written piece.
MIDDLE SCHOOL PROGRAMS
This year we offered a robust middle school camp for 85 youth that combined all of our middle school program sites as well as middle school students from other schools. The program ran five days per week in the afternoon as well as some evenings. Activities included language classes, global arts, digital games, Minecraft, cooking, dance, yoga, photography, evening story time, digital art and more, providing students the opportunity to attend multiple activities of their choice. Summer camp also included whole group community building activities like Hot Seat where students learned more about GK staff and their peers, and weekly virtual field trips. Remote programming allowed us to take virtual trips to: Great Wall of China, Hawaiian Volcanoes, The Surface of Mars, The Museum of Science, Louisiana Swamp Tour, The Great Pyramids of Egypt, The Science & Space Museum, and Yellowstone National Park. Our program culminated with a final student presentation titled "Beyond our Possibilities" which was streamed on Facebook Live. The event showcased the culmination of student projects and learning throughout the summer, and provided the audience with fun cultural facts about societies around the world. Some of the accomplishments highlighted at the event were: a tour of the virtual GK village students created in Minecraft using the UN's Sustainable Development Goals; a demonstration of their new language skills and displays of student artwork, photography, poems, writing samples, song and dance.
OTHER PROGRAMS
We're excited that we were still able to run an intensive remote version of our U.S. in the World Summer Institute in collaboration with the Council on Foreign Relations. 18 students participated 5 days per week for 3-5 hours per day, engaging in workshops on international relations, climate change, women in leadership, the military industrial complex, reimagining education, AI, the COVID pandemic and related issues and many more. During the session on economic reform, students discussed some different philosophies for reform (doughnut economics, feminist economics, and well-being economics) and students used Canva to illustrate the guiding ideals they think we should have for economic reform as a society as we look to build back up our economy in a better and stronger way. Youth also heard from various guest speakers including Richard Haass, George Stephanopoulos, Alice Hill, Ben Steil, Rachel Vogelstein, Zama Neff and others.
We held our second virtual town hall event: The Fight for Racial Equality Youth Panel which highlighted perspectives from three of our youth from New York City, Washington, D.C. and Houston, TX. GK Leaders shared their experiences processing the many national racial incidents including the killing of George Floyd and what actions they think policy makers should take towards racial equality. We are very proud of all of them!