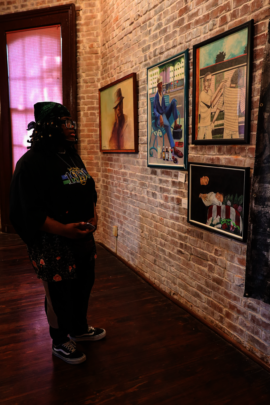 Global Kids is happy to report that after a year of unprecedented challenges, and more that have come up over the last few months, our students are thriving and continue to showcase their resiliency to each other as well as their communities. Depsite the last year, 100% of our seniors graduated from high school, with 91% heading off to college this fall. Below is just a few of the highlights of the last few months - and we can't wait to see what is in store as we return back to school.
Youth Leaders tell their stories to The Today Show's Carson Daly
In collaboration with the Walton Family Foundation, Global Kids Youth Leaders sat down with The Today Show's Carson Daly to reflect on how the pandemic has shaped more than a year of their lives. The difficulties of distance learning, lack of in-person connection with peers, and new household responsibilities contributed to mental health challenges, with students feeling varying degrees of grief, stress, and anxiety. Yet despite this, our youth also shared how they are moving forward and finding ways to destigmatize mental health issues. We're so proud of our youth for showing up each day and speaking their truth for everyone to hear. Click here to watch the full video.
New Orleans Trip with Black Birthright
One of our GK leaders, who is also a youth board member, and rising senior was nominated to be the 2020 scholar for Black Birthright, a non-profit committed to creating and advancing educational and economic opportunities for people of the African Diaspora. Every year Black Birthright nominates youth to explore their roots and travel to Africa to learn about their culture. Due to COVID restrictions, the trip was postponed until this summer where students were able to explore black history through an American context by enjoying the rich culture of New Orleans - experiencing art, music, food and more. Through the trip they were able to learn about the connection to Louisiana and West Africa, the scared grounds of Congo Square, the Free People of Color and the social impact of black businesses.
Summer Youth Employment Program (SYEP)
Students who participated in SYEP this summer developed their professional skills and learned strategic ways to make positive impacts within their communities. Our freshmen and sophomores were tasked with presenting their final action projects via Zoom, with topics focused on climate change, gender equality, immigration policies, racial justice, and more. Meanwhile, the juniors and seniors worked at a variety of worksites: tech agencies, political offices, museums and art institutions, nonprofit organizations and small local businesses, digital media agencies, and educational programs. Our student interns learned college and career-ready skills and, networked with professionals, gaining insight into their future careers and interests.
Summer Bridge Programs
Global Kids hosted a two-day Summer Bridge program giving students the motivation and encouragements needed to prepare for heading back to in-perspn school. The program was geared towards 9th and 10th graders to provide a space for them to connect with each other, learn about the school, play games and participate in fun activities like creating a vision board and tie-dye shirts. This was a great opportunity for our youth and staff to feel comfortable and safe as we return back to school.
Houston Energy Policy Summer Institute
Seven students in Houston, Texas were nominated to join GK for the return of the Energy Policy Summer Institute. After a year off due to COVID, GK was able to host a two-week, virtual program in partnership with The African American Library at the Gregory School. Throughout the program, students learned about energy policy and how it intersects with energy justice, energy production and consumption, climate change, economic justice, and other global issues, while enhancing their leadership, communication, and critical thinking skills through interactive workshops, virtual field trips, virtual college visits, and network with guest speakers. "Participation meant that I was in an elite group of learners who are all passionate about the same things I am which enables academic conversation and thus influences learning" said one rising 9th grader. After the program, 80% of students felt that they have the ability to influence U.S. energy policy, while 100% believe they have the ability to influence and educate their community.
"US in the World" Summer Institute at the Council on Foreign Relations
This year's three-week U.S. in the World Summer Institute was held virtually for the second year in a row, with 26 high school students from NYC and D.C. During the institute, students learned about various global issues through workshops, while interacting with leading experts on international relations. Our youth focused on topics of current relevance like democracy and contested elections and had the opportunity to interact with the President of the Council on Foreign Relations, Dr. Richard Haass. Scholars participated in a 'model diplomacy,' a simulation based on real global issues, and were assigned 'Humanitarian Intervention in South Sudan as their test case. Students researched, debated, and finally voted on the course of action the UN Security Council should take in the case of South Sudan. For the program's conclusion, students worked on action projects to educate their peers about what they learned during the institute.
Summer Rising Program
Thanks to the collaboration with NYC's Department of Education academics and our GK school-based enrichment programming, we were able to provide The Summer Rising Program for our middle school youth. The program allowed students to get out of the house and away from their devices to refamiliarize themselves with the school environment. Youth were encouraged to get out of their comfort zone by socializing, interacting, engaging with staff and friends, and taking part in collaborative projects to learn about their culture, different identities and sharing what they hoped to get out of GK. They had fun while preparing for school, ensuring that the transition back to in-person learning this fall will be seamless.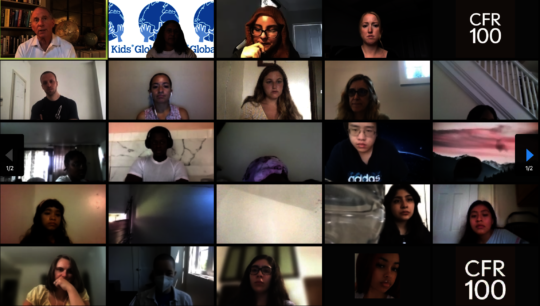 Links: