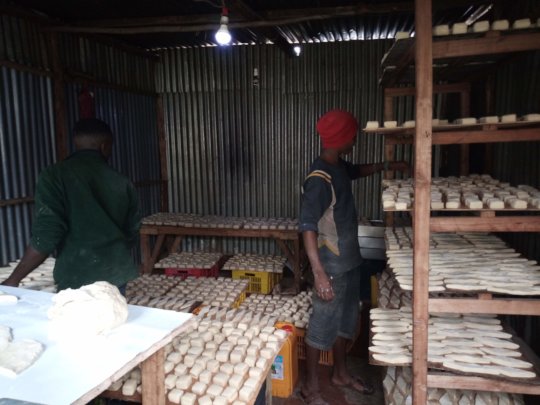 Under the project Raising the living standards of refugee families (#41839), TUSA has so far managed to raise $ 1,646 out of $ 11,641 needed for the execution of the whole project. The project is still receiving donations. In the meantime, we have decided to execute it in different phases as we receive donations.
With $ 1,324.54 disbursed, TUSA has decided to start the project and has provided its 3 members with funds they needed to operate. One member is running a big project of making doughnuts and TUSA has boosted it with Ksh 50,000 as he needed it to expand it. For the time being, the project is running quite well and can produce 1,080 doughnuts worth Ksh9,000 ($90) per day (See Pictures 1 & 2).
Another member was given Ksh 20,000 ($200) to buy a sewing machine and some material to start a small sewing workshop. She has not got a shop to rent yet but TUSA intends to help her with regard to that to help her have her business run. At the moment, she is working from her house and the business is picking up.
The third member received Ksh 20,000 to start a business of selling second-hand clothes. This had managed to secure a stall in a market and needed capital to start with. TUSA also intends to boost it after it has picked up (Pictures 3 & 4).
Out of $ 1324.54, TUSA has already given out around $ 900 (Ksh 90,000). Two other projects, including one to be run by a group of women who want to form a Self-help group and make liquid soap and sell it and another of establishing a hair salon are being considered for funding.
TUSA is also still encouraging women to form Self-help groups and get capital as groups as these have proved to be more likely to make them self-reliant.