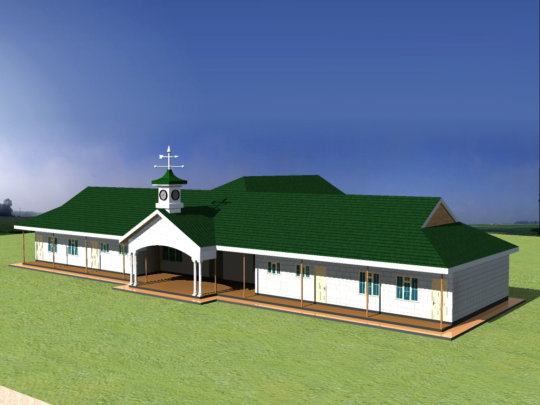 Dear Friends,
This year has been full and exciting: an Ambassor's visit, inaugurations, a star student & a 1st prize, a new clock tower, a new Principal, prostpective students, goverment support and of course, a strong & motivated Rafiki Ya Maisha Kenya team. Now, we are ending this quarter with the biggest news of all .....we are breaking ground at Koshin again!
KTTI is scheduled to open officially next February and in the meantime, we have sourced funding for the largest building of the school. This building is the fourth and last of the central quadrangle: it contains two full classrooms and will be completed with a multipurpose hall that can seat 320-350 people.
This building - the future Benina Building - for the name of the Foundation which has sponsored the project, is designed to hold assemblies, graduations, exam sessions and conferences. In the future, it will house shows, plays, concerts and performances by the students of the planned Talent Center.
Our local architect has drawn up wonderful plans: see & admire the facsimile of the future building below.
Thank you all for your support and your interest which is making this school come more alive than ever! Our generous land donor, Margaret K. visited us in Paris. Please do the same and return the favor. We hope some of you will be able to join us next year in Eldoret, either for the official opening taking place mid-February 2017 or for a fall visit later in the year when the school is fully operational and the weather is on the dry & sunny side.
Thank you my friends - without you this project would be no fun and we certainly would not have gotten this far!
All the very best,
Claire