Dear Supporters, Family and Friends of Serendipity Healthcare Foundation,
We are happy to report to you that the additional hand pump has been completed and handed over to the community, worthy of note is that the geophysical survey conducted for the citation of the hand pump showed that the location best suited for it was not too far from Hansau's home (Not real name); if you can recall from our last report that she is our advocate amongst her peers on the importance of keeping clean and washing her hands with soap; thus she was so elated that there is a hand pump not to far from her home and has this to say; Quote..."Ina godewa Allah SWT don rahamar sa na samu soboda tsafta na" End Quote (translated...I thank God that he has rewarded me with goodness for keeping clean").
Construction of the on going project of community sand dam is progressing gradually not as fast as we would like but largely due to funds not readily available but we are relating with the local council to get a political commitment to assist the community complete the project.
Cases of water related diseases have drastically reduced from our last report to you in the last month from 5 out of 20 out patient cases from the primary healthcare centre to JUST 1 CASE and the recently built primary school in Gadan has seen an increase in enrollement of children with girl child enrollement to be at 50% compared to just 10% as at six months ago. The access of water in the community gave confidence to the state government to build a school for Gadan Community which has brought in developement for the people; this has all been posisble through your support and kind donations.
We would however appreciate your continued support to our project providing solutions to the problems of Gadan community.You can follow us on twitter @serendipityHea1 or facebook/serenhealthcare or LinkedIn/samirahfaruk or via email on serenhealthcare@gmail.com for further enquires.
Thank you.
Samirah Faruk
Links:
Dear Supporters, Friends and Family of Serendipity Healthcare Foundation,
As part of our on going campaign to reduce the prevalence of malaria in our rural community in Madobi, Kano; we have been running several initiatives to raise funds to ensure that we continue helping our community in the best possible way.
Recently, through your kind donations we conducted with our community health worker Sagiru; malaria tests on twenty (20) children and twenty five (25) women using rapid diagnostic test kits; and we are pleased to state that all the women and children that volunteered for the test proved NEGATIVE!!! Hurray!!!
We are exicited that our campaign on the importance of sleeping under Insecticide Treated Nets and keeping the surroundings clean to reduce the breeding ground of the malaria vector has paid off. First line medicines such as Folic Acid and Ferrous Fumarate were given to the women while the children were given Insecticide Treated Nets to encourage they and the rest members of their family to continue sleeping under ITNS.
Our campaigns will step up with your support, kind words and advice on how to help us on our project to end malaria in Madobi; you can follow us on twitter @serendipityHea1, like our facebook page on /serenhealthcare, LinkedIn/samirahfaruk or via email serenhealthcare@gmail.com to know more about our work.
Best,
Fatima Lawani
Head, Fundraising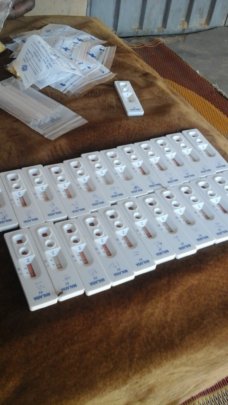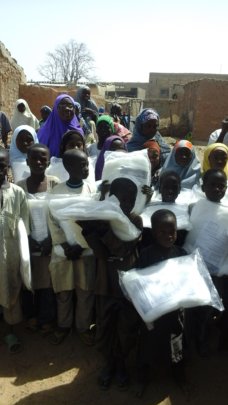 Links:
Dear Supporters, Friends and Family of Serendipity Healthcare Foundation,
The last you heard from us, the good people of Gadan were also raising funds to build a Sand Dam as an additional source of water supply for their community to tide them over during the dry season. The survey has been concluded and a site was chosen by the water steering committee members that will serve the entire community in a central location.
Work has commenced on this laudable project in the community as a form of water preservation using sand dam and the community has also contributed manpower to help. It is at its initial stage of construction however the community members have been so eager that they have started sourcing for water at the site. Water purifiers were distributed to the women collecting water at the site to safeguard against the emergence of water borne diseases.
We are proud to report that we were able to rehabilitate a hand pump that was installed by the state government 30 years ago but had previously stopped working again due to a major technical fault.
A visit to the Primary Healthcare Centre showed a reduction in the rate of water borne diseases in the outpatient department last month from 5 in 10 cases to 3 in 10 cases as a result of improvement of hygiene practices by the community.
We are really appreciative of all the support, love and passion You our supporters have shown to the children of Gadan and for this we say THANK YOU!!Much work is still to be done but having come this long way, we are happy to have achieved all this; we encourage you to still give us your support and to promote our project in any and every way you can.
You can follow us on twitter @serendipityHea1 or like our Facebook page/serenhealthcare or LinkedIn/Samirah Faruk or simply send us an email at serenhealthcare@gmail.com for further enquires.
With much love and gratitude,
Samirah Faruk
Project Leader
Links:
WARNING: Javascript is currently disabled or is not available in your browser. GlobalGiving makes extensive use of Javascript and will not function properly with Javascript disabled.
Please enable Javascript
and refresh this page.