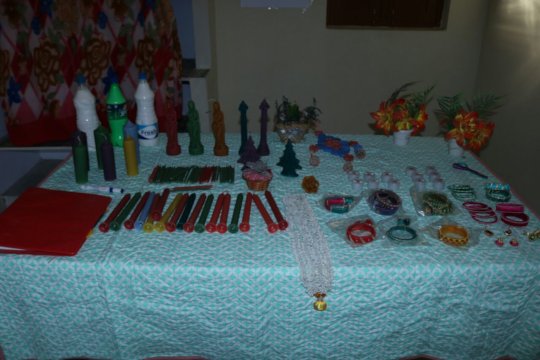 Dear Friend,
Many Greetings best wishes to you from BASS worksite school for seasonal migration child labour at brick industries, Choutuppal, India
I am very happy to inform you that we are successfully completed the third batch worksite school for seasonal migrated child labour at 11 brick industries from 30th June 2019. This school was started from 4th January 2019 for period of 6 months. All the families returned back to their native villages in Odisha in first week of July 2019.
This year 80 children get primary education in local government school and 30 children were get skills training through our centre with candle making, bangles, phenol and another handmade article making. We are also provided nutritive lunch for the children in the centre.
The local government and the brick industries managements are very much cooperating with us for the successful prevention of child labour in the brick industries. This is an ongoing seasonal works and again the families will come back in December 2019, so that we need to continue to stop working as child labour in brick industries.
We are very much happy to inform you that we get appreciation from government this year also as well as appreciation through media news papers for our successful works for the seasonal migrated child labour.
But unfortunately, we did not get any donation during this quarter for the project. We are very much difficult situation to continue the centre from December 2019
I humbly request you to kindly support educational material, instructors' remunerations, nutrition facility and other operating costs of the school for commencing batch from December 2019.
Please help donate this project during little by little campaign to get more benefits.
With gratitude