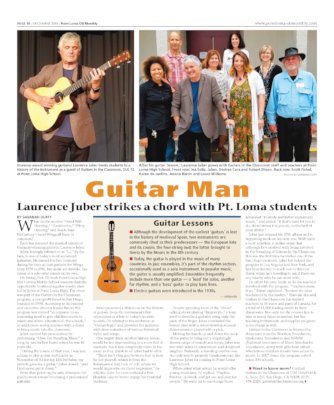 Dear Supporter,
All of us at GITC are so grateful for your support throughout the school year. Thanks to each of you for giving to this important cause. Because of you we are bringing music to kids who would otherwise not have the chance to become musical. With your help, they are learning play a real instrument, sing songs that uphold musical traditions, sing together as part of something larger than any one person, and build what they are learning into songs they remember. This is the stuff that makes learning inspiring and fun...and long lasting.
Because you care, we were able to train 450 teachers this fall, place instruments into classrooms in 10 states, send teaching artists to make a difference in 24 high poverty primary classrooms, share adaptive music strategies with special educators and leaders from Special Olympics, improve our instructional materials, make our websites friendlier for visitors and educators, and so much more.
Today we want to share one cool thing that happened recently. We were able to bring Grammy award winning composer, arranger, recording artist and super fingerstyle guitarist, Laurence Juber to give a master class to 110 young guitar students at Correia MS and Point Loma High School in San Diego. Experiencing artistic mastery and being able to ask questions of the artist is enough to inspire students to aim higher, practice longer, and achieve more.
These guitar students listened with great enthusiasm to this former member of Paul MacCartney's band Wings. They gave their rapt attention as Laurence blew them away with his stylings and helped them draw direct connections between medieval and classical compositions and popular music over the past 40 years. He taught them about the evolution of the guitar beginning in ancient times with the oud and medieval times with psaltery, lute and cittern. He brought students forward through time and across continents, performing excerpts from his latest recording, Touchstones. You can read an interview with him about this historical musical journey here: https://www.laurencejuber.com/touchstones/
When GITC is able to bring a renowned artist to a school to work directly with students, we are able to nurture young people from their first experience with making music, into more advanced pursuits. LJ was there with us in the beginning and now, 18 years later, he is still raising the barre for bringing acoustic guitar into the realm of excellence in music education. We are immensely grateful for his heartfelt appreciation! You can learn more about his music and life at http://www.laurencejuber.com/.
Overall, we are writing with great news. Winter classes will be launching in 12 states in early 2019. 300 guitars are being donated to GITC by Israeli superstar, David Broza, and we just got an amazing donation of guitar and ukulele strings from Kala Brand Music so every classroom can have instruments with fresh strings. Human kindness like yours is going to give more kids than ever the chance to discover the power of music to improve life, boost creativity and health, and impart learning in 2019. Please stay with us. Your charity is working!
On behalf of our board, faculty, staff, volunteers, teachers and most of all, the children, we wish you a truly blessed year ahead!
Let there be peace on Earth,
Jess
Links: