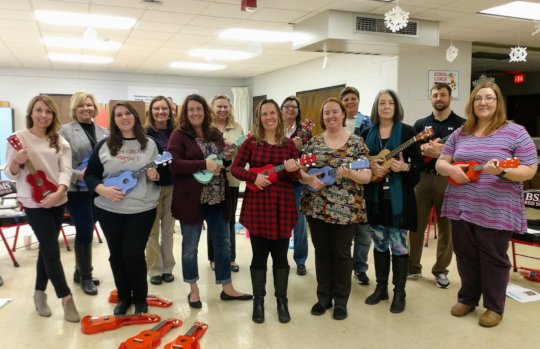 Happy Spring, Music Loving Friend!
Thank you so much for your ongoing support of this work. We are really happy to share how well things are going in the schools this spring. Classes from Brunswick and New Hanover counties in North Carolina to Los Angeles and San Diego counties, from Washington to Alabama are placing instruments, understanding and musical teaching into classrooms with your phenomenal help. We've started new programs in Raleigh and Ohio counties in West Virginia and in Aurora, Colorado with help from the Country Music Association Foundation and all of you. Our photos today are giving a shout out to new Faculty Trainers Andrea Sullivan, Julie Schultz and Terrie Catlow in each of these places!
Friends, enrollment is bursting at the seams in our programs. We have had to double up on supplies from our sponsors in order to get instruments, gig bags and musical tools like tuners and capos to everyone. Without TKL, Dunlop, Kala, Korg, Martin, Godin, David Broza and 1MG, G7 Capos Rock Tips and Kyser, this fall and spring would have been impossible. If you play music, you know these names- we want you to know these are some great folks making the music possible from the products side. The office has truly been a supply freeway. Gotta shout out to our programs coordinator, Sam Cadwell for her tireless work getting everything sorted out and shipped out! She could show Santa's elves a thing or two. There is a photo of Sam in this report, too.
We have even started an online class this winter for teachers who can't get to program for one reason or another and this is being taught by our amazing faculty trainer in Kansas, Amanda Johnson. Now no teacher has to miss out on this work if they can take the time to learn.
Your charity is making a phenomenal difference in terms of providing teachers who are craving this training the opportunity to learn, grow and transmit everything they're doing in our free classes to their students. Please keep it up. Our work is boosting language proficiency in the early grades which is essential to helping students continue to succeed as they mature. A recent review of the data showed us that students who experience integrated music with GITC for 2 years have up to a 24% lead in achieving English Language Proficiency (ELP) over students who are not receiving this approach. You can learn more about the importance of attaining grade-level ELP by the end of third grade by following the link to the Annie E Casey study below.
I also want to give you a quick heads-up about our work in Special Ed.
GITC has now expanded our trainings to include more 2-day Adaptive Music conferences and teaching artist residencies for special educators, specialists and paraprofessionals. We are determined to get music to students in special day classes who have been left out of music. Our teaching artists in Los Angeles who have been working primarily in transitional kindergarten, extended transitional kindergarten and kindergarten classrooms are now also serving in higher grades AND in the Carlson Home Hospital schools with teachers of children who are isolated in home and hospital settings by extreme medical conditions. Through these 10-week residencies, the home hospital teachers are now learning to give students what they need to thrive through the power of making music and singing songs. Music is relieving children's pain, is giving them a sense of vitality and joy! Your gifts for special education can go through our campaign for that initiative if you are interested in helping in this way.
Is there a community you want to support where you think music is needed? Please let us know. Are you living somewhere where a GITC program is taking place and you might like to visit? We'd be happy to make introductions for you. We hope for you that this year you can have a direct experience of the magic and the real musical, academic and life skills and abilities you are cultivating through our work!
Thank you for being here, let's keep this music alive!
With love and gratitude for you,
Jess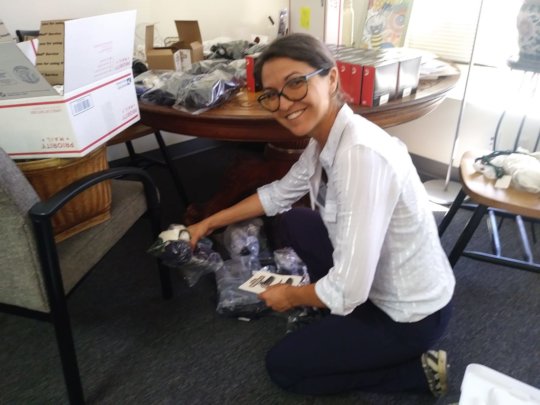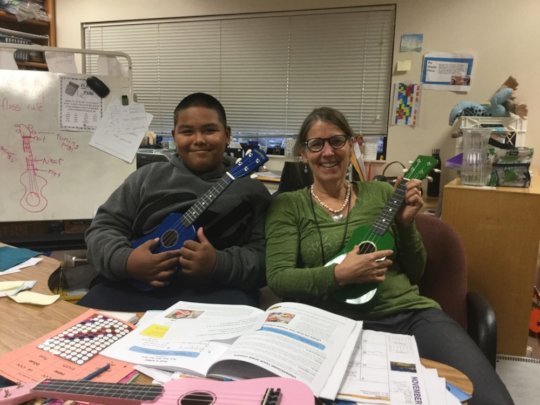 Links: