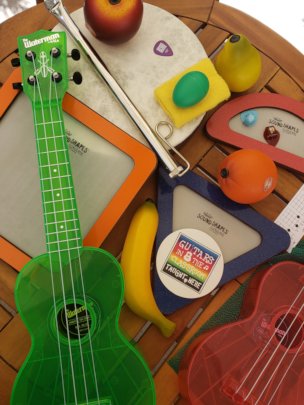 Dear Friend of Exceptional Children,
Thank you so much for your caring support of GITC's efforts to make music accessible to ALL learners. This is such a big effort, really breathtaking when you think about how many decades students with exceptional needs have been left out of music education and denied access to opportunities to learn to play an instrument. We at GITC want to wake society up to every child's ability to express themselves through music, and we intend this year to SHOW what this can look like this school year.
Over the summer, more middle and high school special educators joined AMAISE through the online instruction, so our musical reach to students has expanded greatly.
And this fall we have also opened a second level AMAISE online teacher training that provides individual coaching to the teachers participating in these teaching artist residencies now or who will begin later in the school year.
We are now launching ten AMAISE-ing classroom teaching artist residencies. Our first residencies are taking place online as most districts are providing online or hybridized instruction. These are collaborative endeavors with highly engaged teachers who have completed our AMAISE training and are now ready to adapt music for their students with exceptionalities! Our teaching artists are now equipped with instruments to share with their classroom co-teachers and with students. We'll be keeping you informed about these residencies, called "Single Skill Teaching Artist Residencies" or SSTARs.
Each SSTAR offers one-on-one music coaching from our teaching artist to a highly engaged AMAISE-ing special educator while they work with an individual student whom they have identified as being receptive to learning through music. In order to participate, each exceptional student needs a Home Music Helper (HMH) who will support them during the music session and continue to make music with them between sessions. In this way, not only will the special educator learn to lead important adaptive techniques with the student, but music can become a part of that student's life at home everyday. In our three years of piloting this approach in person with students and HMHs, we have seen many families experience greater happiness as they develop new skills and appreciation for each other through the joy of interacting musically.
Each one of us has the power to encourage the people around us and these days, a little encouragement can go a very long way to make someone's day or give them hope. Thank you for encouraging all of us at GITC with your generosity. Your participation helps us spread the light and we are very grateful.
With you, for all the children,
Gail
Links: