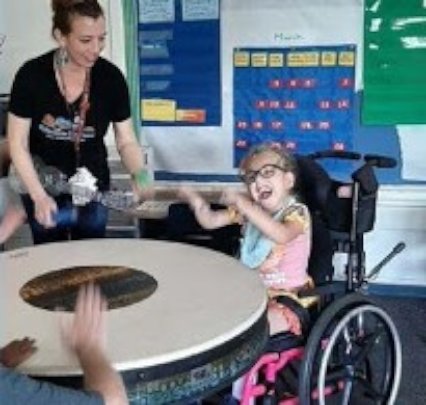 Dear Friend of Exceptional Children,
Thank you so much for your phenomenal support of GITC's efforts to make music accessible to ALL learners. We wanted to share a story about an AMAISE-ing classroom with you. These are classrooms with highly engaged teachers who have completed our AMAISE training and learned how to adapt music for achievement in inclusion and special education classrooms through GITC.
Shortly before schools closed due to the COVID-19 pandemic we went to visit an AMAISE-ing classroom for the first time. We brought the REMO Comfort Sound giant tabletop drum and set it up so every student could approach it at an advantageous height. One by one, the students worked through their initial uncertainties and came over to try it out.
Within half an hour the students who would normally remain disengaged or unfocused had each come to the drum, made sounds, built rhythms together - an enormous social and emotional feat - and were playing together. The wonder, joy, and connection were astounding!
To top it all off, when parents and grandparents came to pick up their students at days end, they were introduced to the drum by their excited youngsters who were ready to perform for them. Their teacher said, for one student in particular, this was the first time he had ever received a positive report.
Music reaches into deeply receptive and creative places inside of each of us. It inspires and makes us capable in ways we never before imagined. We each possess this gift and unless we know this, we need someone caring to help us find it. Your support and generosity make this possible.
We hope you will continue to support this effort and share the good news of your involvement with your friends. Each of us has the power to encourage the people around us and these days, a little encouragement can go a very long way to make someone's day or give them hope. You are helping us spread the light and we are very grateful.
With you, for the children,
Jess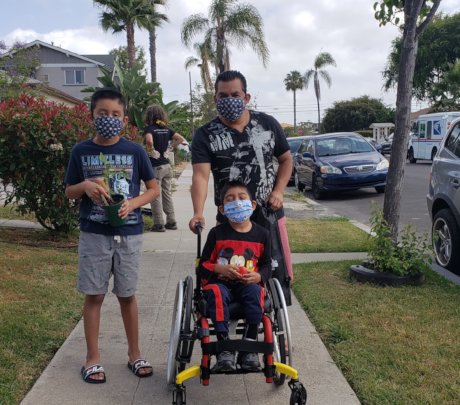 Links: