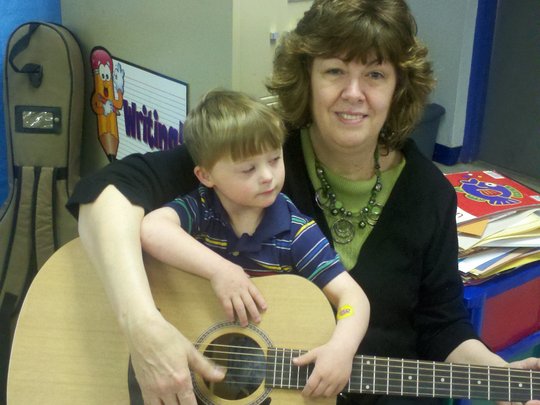 Dear Contributors,
Thanks to your generosity, determination and compassion, as of today, Guitars in the Classroom is just about $1445 shy of the goal of raising $4000 to secure a place with Global Giving all year long! The $2555 that has been raised will fund classes in three GITC locations, now- Lee, Massachusetts, Brooklyn, New York, and Oakland, California!
Thank you for getting this campaign off to a wonderful start and carrying it through. This week is the home stretch! Please help us grow HeadStart training programs in Oceans Springs, Mississippi, a community hard hit by the hurricanes and the Gulf Coast oil spill. In this place, learning through music sets young children on a positive path despite all the challenges they have experienced in their young lives. The little ones whose preschools embrace making music were born after Katrina, around the time of Rita, and have lived through the failing economy from the spill. Born into a time of great challenge, they need- and deserve- our support. Please enjoy this photo submitted by star GITC teacher trainer, Dr. Diana Wagner of one of her teachers in training, Georgie Casselbury with a young student from the Wicomico Early Learning Center in Salisbury, MD!
Your concern for the children, for our culture, for the quality of education, and your love of music is already going to create a very different reality for children there and elsewhere around the country. Among your friends, family, and neighbors, are there other people you know of who share these values and who would wish to help us? Might they appreciate knowing about GITC? This is the perfect opportunity to pass along the news and the invitation to get involved with a link to this campaign! http://www.globalgiving.org/projects/keep-music-alive-in-k8-classrooms-nationwide/
GITC's person-to-person movement in which we are all participating is a gentle one that will have great lasting impact. We may not be sounding sirens and disaster warnings- but the impact of no music making in chlidhood education, and music appreciation de-evolving into 99 cent mp3 downloads of pop music is stark. Thank you for standing up for culture, creativity and kids.
I'd like to invite you to visit our website, www.guitarsintheclassroom.org, where you can watch a video of teachers from the Oceanside and Encinitas, CA GITC programs sharing the music they now make and lead so beautifully. The event was help by GITC's local Southern California sponsor, Art n Soul Gallery on 101 in Encinitas at their spring party. Imagine yourself in a classroom with one of these enthusiastic teachers leading children in songs for learning and you will get an idea of the benefit of the gift you have given. If you ARE one of these teachers, bless you!!
Let's keep working with the campaign together so this community can grow stronger and get music into more schools this coming school year!
Warm and very grateful regards,
Links: