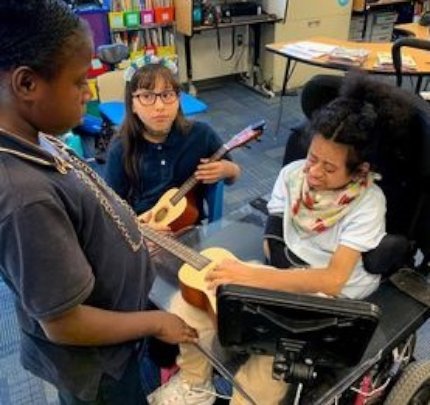 Disabilities Equal Dis-Labeled: Exceptionalities Rock!
Dear Friends,
If you took a moment to read this project's title and description in the last few days, chances are you've noticed some big changes. This report is meant to catch you up for a moment with programs, but is primarily meant to share a significant systemic development with you in the way schools and educational professionals are learning to understand and support students with exceptionalities. This is a long report, so I invite you to take a deep breath, grab your beverage of choice, and read on. I believe what you read here will be helpful and of interest because you chose to donate to this particular campaign. At its heart, this work we do could be considered a form of social activism.
Our society is waking up to the devastating impacts that prejudice and racial profiling have on the lives of individuals and communities of color, and ultimately on all of us. The tragic loss of George Floyd, Breonna Taylor and so many others has caused a great outcry around the world and a national reckoning with systemic racism. Now we are finally hearing from more diverse voices in the media, in the news, and in our lives and classrooms. We are in a time of great transformation amidst an unprecedented health crisis which further shines a light on the inequities in access to medical care. Black Lives Matter emerged as a movement on the heels of the Me Too movement in which women came out of the shadows to tell their stories of sexual abuse and demand justice. What, you may ask, does this have to do with students who learn differently?
The answer is, "a lot."
People with exceptionalities are part of an underrepresented minority whose voices are rarely heard. Individuals whose "functional limitations" have been used to define and "other" them have had the hardest time being "seen" and heard. They have been isolated from the general population, excluded, labeled, othered, shamed or forgotten in this county. In many public schools, they are segregated in isolated, self-contained classrooms and are left out of school functions.
A Spartan mindset, "survival of the fittest" has sidelined and isolated these precious family members, friends and neighbors whose cognitive, physical, behavioral, neurological and emotional differences have made them targets for derision, pity and rejection. This is the painful past.
We are now entering a new time, a hopeful and mindful time, in which understanding and inclusion are goals, and compassion and empathy are valuable social tools for creating a more just society. Embracing these values, thought leaders have been developing a perspective called Person Forward language. This means leaving behind language that reduces individual potential and dignity. But it is not a simple matter.
What is wrong with the term "disabilities"? For some of us, there is nothing wrong with it. We value the chance to communicate to the world that we are different in a particular way, and that our condition requires understanding and support. But this is not true for everyone. And when used specifically about a condition and not a person, it's informative.
The idea of a disability comes from a "deficit mindset" in which a limiting condition is seen as aberrant, a problem in need of handling or solving. Instead of seeing the goodness, the abilities and the gifts in people facing functional limitations, the term calls attention to the challenges. "Dis" suggests something negative, subtractive, unwanted.
This word was not intended to cause harm. Scientists, psychologists, educators and therapists needed to understand the challenges people were facing and needed to name them in order to provide help.
Now education is moving forward. Specialists, experts and teachers are learning a far more just and constructive way of getting to know and valuing all students through the lens of who they are, what they know and can do, as well as the challenges they experience as a result of a limiting condition. Leaving the detrimental practice of labeling people behind, and adopting the practice of putting people first can be so helpful.
An article from PEARSON called "Learners with Exceptionalities" explains the difference this way. "Labeling is an important issue with respect to learners with exceptionalities. When students are identified with exceptionalities, stereotyping becomes easy, such as "the deaf student." However, when people come before exceptionalities, stereotyping may not be so automatic, such as "the student with a hearing deficit/loss./ Keep in mind two rules with respect to labeling; people come before labels, and avoid making the person equal the disability."
That said, there are communities, and also individuals, who want to be understood through the lens of their condition, not as a disability but as a fact of their existence. This is true for many in the Autistic community who believe that their identities as Autistic individuals should be honored as a core aspect of their lives, and not placed in an ancillary position.
Also for people with invisible disabilities, it can be essential to call their conditions to the attention of others, or an assumption will be made that they require no special support. But for so many other people, Person Forward language can be beneficial to promoting their inclusion and acceptance by the general population.
It will take practice and time for many of us to release past habits and adopt Person Forward language. But since systems themselves are changing, there is support for the change, and to do this is immediately rewarding. Person Forward language is such an important way we can recognize individuals and not call them by the names of limiting conditions.
Another re-languaging we are seeing now in education is removing the term "special education" and "special ed" from how we classify the education of students with exceptionalities. School leaders here in San Diego consider ALL students to be part of general education. Students who learn better with accommodations and support services can access those through evaluation procedures and these are supposed to be provided to students in their "least restrictive environment." When inclusion with students of all abilities is possible, this is the goal.
That is where Guitars in the Classroom comes in. Our work trains all educators together. We make musical learning more accessible for everyone. Your contributions to this campaign have been making this work possible.
For an outstanding article about the latest insights and trends, we recommend the publication linked below, the "Disabilities Inclusive Education Systems and Policies Guide for Low- and Middle-Income Countries."
How does this step forward affect GITC's work, you may wonder. GITC is now and has been training teachers who work with students with exceptionalities in ALL kinds of educational settings. In 2020, we trained close to 400 educators working with large groups of students with Individualized Education Plans (IEPs) and medical 504 plans. This includes teachers in general classrooms, home hospital settings, special day classes, therapeutic services such as Speech and Language and Occupational Therapy, and, of course, in counseling programs at schools.
For this reason, enrollment in our adaptive music training courses is soaring. Just last week we had to open a second section of our course AMAISE for Beginners: Adaptive Music for Achievement in Inclusion and Special Education. We have almost 60 new participants in this program coming to GITC every 8 weeks and staying with us for ongoing courses!
How is this affecting our budget? You guessed it! We are down to our last ukuleles and supplies to give to teachers and specialists taking these classes. Now we need to start turning people away. Your generosity can change all of that. If you feel strongly about helping us expand this innovative approach empowering all learners to make music a part of their development, please continue to give to the work here on GlobalGiving.org and check in with us on social media, too!
In fact, the program name AMAISE is up for renaming to fit with the new improved guidelines. We will keep you informed of the outcome of future discussions on that subject as well as any changes that take place as the way forward comes into sharper focus.
I hope you have found food for thought in my report. As we go forward together providing musical opportunity and differentiated instruction for all students, you will be able to read the inferences in these reports. Please accept my most heartfelt thanks for supporting an effort that started as a need to create access and justice for students in segregated special education classrooms. Your solidarity bringing students with exceptionalities out of seclusion and shadows into the light and music will help us make life better for millions of people in time. It CAN happen.
With care and gratitude,
Jess
Links: