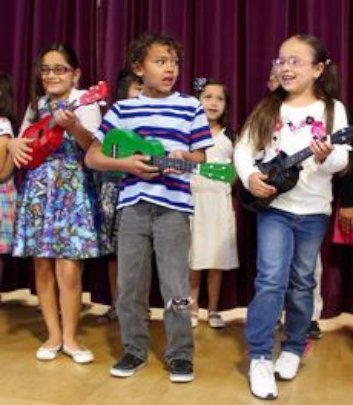 Dear Supporter of Musical Learning,
We hope you are doing well these days, staying healthy, getting vaccinated and beginning to enjoy some greater freedom. I am excited to share with you that this summer, Guitars and Ukes in the Classroom (GUITC) is embarking on fulfilling a need and a dream- to create extra-curricular music clubs! This is taking place thanks to a grant from the San Diego Foundation supporting San Diego Unified students to be given free, coveted spots - reserved specifically for students most impacted by the COVID-19 crisis - to learn to make music with us in a joyful summer enrichment experience.
In Summer Strummers Clubs, students will be welcomed into safe, playful, inclusive musical learning experiences twice-weekly, developing their self expression, creativity and collaboration skills in a restorative environment.They'll learn to sing and play traditional and multicultural songs and rounds with movement, percussion and ukulele together, improvise instrumental soundtracks for stories, compose and perform original songs in teams, and hold a final Celebrations of Learning the share their musical creativity with family members and friends. Summer enrichment will last for four weeks and each of our club meetings will last for 2 hours, so students will get 8 learning-filled hours of realxing group music making with literacy and math skills tucked into curriculum as natural elements of playing instruments and songwriting, respectively.
It might surprise you to know that each of you are the reason our nonprofit was selected to provide summer enrichment - even though we have never done so before. Truly, because you have supported our work in Title I schools, our work has been allowed to develop into a robust, kind and engaging approach to teaching and learning music that includes every kind of learner. Your care has helped our organization become strong, stable, and ready to take on new opportunities to serve!
This summer, our teaching artists and music interns will develop the music club programs in action. Then we will put them in place after school around participating school districts in the Fall. The clubs will create more musical equity! Currently, unless each student's teacher has voluntarily trained with us and has chosen to become a songleader for learning, students in non-participating classrooms are left on the outside, looking and listening in while students in GUITC classrooms are playing ukes, guitars, singing, songwriting, and performing together. No fair!
We determined to close the music gap by making clubs easy to start, guide and sustain for teachers who want to make a difference. Thank you so very much for seeing us forward to taking this momentous step!
In closing, I wonder if you noticed that we have formally expanded our name from Guitars in the Classroom to Guitars and Ukes in the Classroom! With thousands of ukuleles being played by students in GITC classrooms from coast to coast, and about 1500 teachers every year learning to play ukulele in our free professional development courses, ukuleles have earned a cherished spot in our name and its acronym. So GITC (pronounced git-sy) is now spelled GUITC but it is still pronounced "git-sy" thanks to the charming coincidence that "GUIT" in the word "guitar" so is still pronounced as "git"!
I hope this latest development inspires you to contribute once again to this project. We are finally approaching our fundraising goal!
With appreciation for your kindness and confidence in our efforts to make a musical difference together,
Jess
Links: