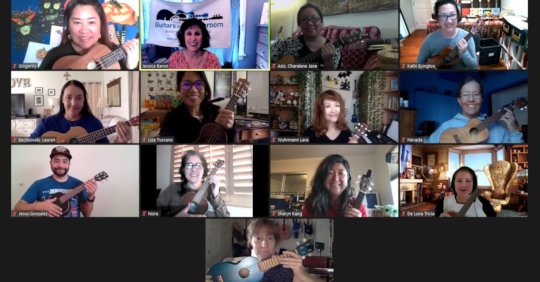 Dear Friend,
This little report is giving you an update on our latest efforts to engage teachers in writing new songs for self-care. The woes of pandemic fatigue are getting to so many of us at a time we are getting closer to solutions. When we let down our guard, more people get sick, and this seems to be happening regardless of the potential consequences.
Teachers are hyper-vigilant. They carry the weight of the students in their classrooms on their shoulders and are trying their best to stay healthy. But with so many people confused about safety or just getting tired of exercising caution, teachers are needing to take even more care than before not to get sick. For GITC, at this time, supporting teachers to sustain their determination and morale and maintain their energy is particularly important. How we get through these long months of waiting before the general population can be vaccinated depends on everyone's personal strength and resilience.
As an outgrowth of this project, and in the spirit of taking care of our education First Responders, our nonprofit offered a songwriting workshop during the winter break for teachers interested in learning to craft their own music and lyrics. In addition to teaching songwriting for academics, we also focused on writing short "self care" songs.
Each teacher was asked to center, focus, breathe deeply, and find the words they sometimes tell themselves to get through difficult moments. Each one took time to reflect, meditate and craft their own messages. In this way, each one was able to draw on her own wisdom and beliefs to find personal words of encouragement. The teachers then wrote their self-coaching phrases down privately and several also shared them in the chat stream of Zoom.
Each personal self care message was so powerful that it bore repeating, and when spoken in rhythm, formed a rhythmic phrase that teachers shared out loud. For example, "Take a deep breath, then let it go, take a deep breath then let it go, take a deep breath then let it go, relax, relax" when recited over a steady pulse actually got the group doing exactly that.
Next, the teachers learned to create a melody to their self-care phrases based on the inflection of the spoken words in their phrases. Each one shared her phrase out loud and we traced the rise and fall of the pitches of her voice as she recited her phrase. The higher her voice rose, the higher them melodic contour rose. The lower it fell, the lower the next portion of the melody unfolded.
Finally, following that melodic contour agains that steady pulsing beat, each teacher sang her own self-care song out loud. As the whole class engaged in this activity, we started to see light come back into each others eyes. Breathing became slower, deeper and easier. A connection was felt between the teachers and within each indiviudal with her own power to administer self care.
Perfecting these songs was not important in the workshop because songs are living, growing creations that are not done until the songwriter's message is complete. So each teacher left with the beginning or the heart of a song to sing, to explore, to sing while strumming a guitar or ukulele or striking a drum, and to remember in a stressful moment.
What teachers can take into their classrooms is this idea to share with students, especially on a diffiicult day. Today the country was beginning to recover from the shock of the attack on our nation's Capitol and the senators who were doing the business of the nation. It is at exactly such a time that songs for help, hope, healing and comfort can be most important to students and their teachers, too.
Thank you for your support of this gentle yet important project. As we each and all endeavor to come through the stress of the pandemic, I am more than grateful for your contribution to keeping GITC's work alive.
Wishing you a healthy, inspiring and safe new year,
Jess
Links: