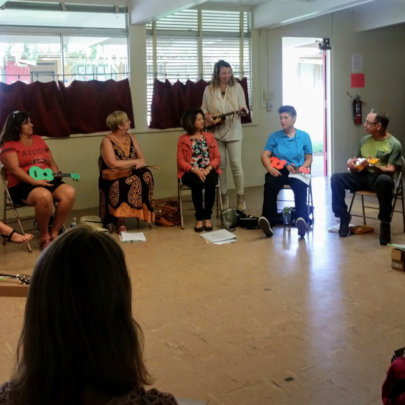 Dear Supporter,
Today we want to share with you about a song written to the tune of Bingo by our "Head of Sped," Desirée. This song is lovingly refered to as "The Green Zone Song" but its official title is "These Are Strategies."
If you have spent time with someone who experiences extreme sensory overstimulation that results in increasing levels of anxiety and aggression, you may know of the agony they experience. When sounds, sights and sensations become more than they can process or handle, it is normal for the extreme discomfort to make them "boil over" into violent behavior. Perhaps you are thinking to yourself, is she talking about Autism? My answer is maybe but not always. Just understanding that a child is in great distress is enough. And getting them to help is more important here than applying diagnostic labels. There are many reasons kids boil over.
Extreme behavior can look like flapping, shrieking, hitting, biting, screaming, attacking others and throwing objects. Students in these states usually become a danger to themselves and others. This escalation often leads to injuries and broken windows as well as the destruction of school property. When this happens in a classroom, classmates can become scared and may get hurt.
The teacher must contain the student if they can. If they cannot, they must "clear the classroom" meaning they have to quickly remove all of the other students from the room rather than risk injury. Learning is lost. Chaos reigns. And back in the classroom, in the absence of the teacher, the student in crisis may be breaking their teachers' supplies and furniture. This kind of event is happening every day.
By the time help eventually arrives, not much can be done. The storm has passed. The wreckage is everywhere including inside the student who boiled over. Students who have these behavioral emergencies may be suspended. If the troubles persist, they may be expelled. At the very least, they have lost academic time and caused other students to do the same. The police might get involved, too. The cost to the school and the school district is great as well. And the impact on the child and their family is very serious.
As a behaviorist, Miss D. asked herself what she could do that might possibly help students with extreme sensory and emotional overwhelm. And as a singer, songwriter and GITC Faculty Trainer, her first idea was to write a song for students to sing to remind themselves of things they can do to calm themselves down! She turned to a popular teaching approach for helping such students called the Zones of Regulation. You can read lots about it by following the link below.
The appproach teaches students to identify their emotional condition according to color-coded zones and to come up with positive strategies to stay in or get back to the Green Zone. The zones include Green for calm, Yellow for stressed, Blue for sad and Red for angry. In each zone the student learns to identify and name their feelings, study and practice constructive social thinking strategies that help them regain self control, and restore themselves to a calm inner state before it's too late.
So Miss D created a verse for each zone with a blank in each verse so students can come up with feeling words that accurately describe their emotions. This is followed by another blank in which they can write a social thinking strategy that will get them "back to green" where they can "feel calm." When a student is in the Yellow Zone, they may feel "worried" and "need to breathe." In the Blue Zone they may feel "lonely" and need to "ask for a hug." in the Red Zone they may feel "furious" and need to "walk it out." The solutions students learn keep them and everyone else safe.
Miss D. first taught her song to students in our district's STARS program for college bound Autistic students. She was how quickly and enthusiastically her students adopted the song, asked to sing it daily, and began using it among themselves to help each other manage their own well-being. Then one day, a student in the throws of escalating from the Yellow Zone into Red came running into class and yelled to his classmates, "I need the Green Zone Song! Sing me the Green Zone song!" The class jumped right on it and sang their classmate down from Red, back through Yellow and clear on back to Green. It felt like nothing short of a miracle. Disaster was stopped in its tracks in 3 minutes. That student showed everyone how to calm down with the song at the time of crisis.
Since that day, our faculty in San Diego has been teaching the song to every educator who comes into our AMAISE trainings. AMAISE stands for Adaptive Music for Achievement in Inclusion and Special Education. Last weekend we held a conference for special educators in our district at Whittier School. The teachers came from all over San Diego! Everyone learned to sing, play and lead the "Green Zone Song." This week, students are learning a new way to help themselves understand and artfully manage their emotional states. We are so grateful and proud to be including it in the forthcoming songbook!
Thank you so much for your support, Friends. You can read more about Miss D. at the link provided below that leads to a blog about her work with GITC. We cannot wait to share the book and her song with you by the end of this year!
We wish you well through plenty of green days ahead,
Jess
Links: