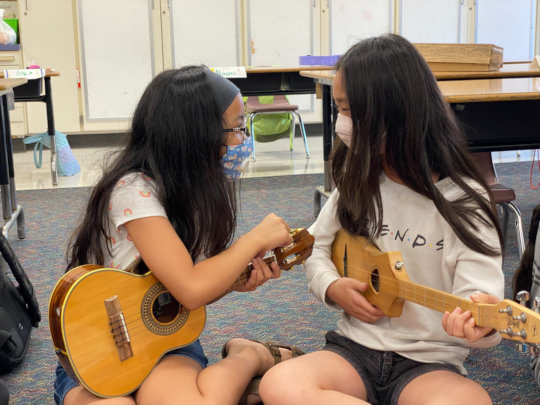 Dear Friends,
The new school year brings a sense of anticipation and excitement. As students return to campuses, principals and teachers are focusing on reconnection and healing as they seek effective ways to help them overcome the academic and social emotional disruptions caused by the pandemic.This is particularly important in pre-K - 8 classes where friendships fuel social learning and give students a chance to learn and grow together. Unfortunately the pandemic is rolling forward with iterations we cannot yet prevent, and this is already resulting in many school closures, quarantines, and a prolonged state of uncertainty and adaptation. In the midst of this teeter-totter effect, music continues to serve as a source of comfort, upliftment, and connection.
Thanks to your support, teachers who train with GITC have been able to bring courage, strength and resilience through our programs to students while schools were closed, and they are now welcoming them back into the classroom with music, keeping music alive for students as changes occur. Whether the students are attending in person or online, starting the day with music is exceptionally motivating for them and is resulting in better attendance and an improved readiness to learn. The magic combination to make music possible is free after school teacher training in our online professional development courses, and teaching artist residencies guided by GITC teaching artists in collaboration with the classroom teachers during the school day. Thank you for helping GITC make this possible!
Your donations are helping us increase our capacity to serve students in need right now. We were recently asked to begin training a group of highly specialized educators who are serving students in a wide variety of stressful situations, from being removed from their homes due to alleged neglect or abuse, to those who are being treated around the clock in hospitals for serious, chronic or terminal illnesses. Our work in classrooms, both in person and virtual, is keeping kids showing up for school everyday.
This fall, GITC is grateful to be able to continue to provide crucial support for everyone. And you can help in a way that gets matched!
On September 13, GlobalGiving's Little x Little Bonus Matching Day will be matching small gifts up to $50 at 50%! Donating to this campaign or to our newest one, Provide Life-Changing Music for Fragile Students can immediately bring positive experiences through music to students in GITC classrooms from coast to coast.
We thank you for empowering us to pour our collective determination, inspiration, musical instruction and instruments into the lives of students, giving them hope, joy, and a chance to improve their quality of life and learning everyday.
With heartfelt appreciation,
Gail