- Final Report -
Last year, the Cipanas YUM Library only had few books to improve children's knowledge, especially increase children's love of reading. They didn't even understand what is reading since reading is not a habit in Indonesia and they cannot afford to buy books due to their economic situation. Books are expensive. Children around the Cipanas YUM Village will rather buy food to keep alive than buy a book.
The YUM Library is the only library in an area of some 100,000 inhabitants. We had tried to fix those problems but we could not afford to hire a librarian to manage the activities aimed at encouraging ours young visitors to read. No lending system was in place, only few daily activities run by volunteers or children from the YUM orphanage.
So, what happened next?
YUM had started the library to change these conditions. In April 2011, YUM joined GlobalGiving and posted its first project: "Inspire A Love Of Reading For Indonesian Children" to create a place for children to improve their education, skills and inspire them to love reading.
Thanks to everyone's donations, the library got a new life!!
The first budget for the first year activities was $ 9,435 USD to cover all YUM Library needs. Some great progress was achieved thanks to the help of donors from around the world through GlobalGiving. A librarian was hired who built a proper library system and organized attractive daily activities. Daily activities including storytelling, drawing, reading, writing, arts and crafts creativity, even competitions. Starting with about 5 children on a daily basis at the beginning, the library now attracts 1500 visitors every month!
In addition, this success is supported by a new system applied by our librarian. A new database system divides books based on category and age, including a new lending system and library membership cards. This system also helps us to organize our book collection so that children can either read in the library or bring books home. Not just for kids, this simplicity also helps us to attract visitors from junior and senior high schools, mothers, and public visitors. Even more, our library has become a Library Internship Program for students who want to undertake librarian studies.
Finally, after 1 year on GlobalGiving, the first budget was fully funded with the help of YUM's friends and donors like you. In 2012, we increased our budget up to $ 17,406 to keep the library running. More and more visitors came, more activities were provided through daily activities or children's creativity days, cooperation was set up with schools to run a box of books program, visits from international schools students and other organizations came in turn to provide assistance to our library such as paint the library, arts and crafts activities, storytelling, dance and many more.
Special thanks to Corporate Social Responsibility (CSR) PT. Monex M.A.D, students from the United World College of South-East Asia (UWCSEA Singapore), families from the American Women Association (AWA), students from Pelita Harapan University (UPH), students from the Jakarta International School (JIS), students from the British International School (BIS), volunteers from Centre for Education and Research and Environmental Education (CERES Australia) and also to all donors who gave their contribution for the success of the library. Starting with few left over books, we now have a collection of 4,235 books! What an impressive change!!
Recently, Jacqueline Lee, a GlobalGiving's representative in Southeast Asia for 2012, visited the library and witnessed the project and the communities it impacts. She interacted with the children who were drawing animals, houses and also made school's timetable, discussed with the librarian about the library daily activities, traveled around the Cipanas YUM Village and communities around us. We really appreciate this visit and it encourages us to give more and more to the children and communities in the library and now we have a chance to make it come true.
A new beginning
Unexpectedly, the Primus Child Foundation offered to support the library. Besides funding our current library activities, thanks to their donation, a pre-school will be established to attract between 30-50 children from poor families, health and nutrition education will be conducted for 75 children every week, and an English Club will be set up, providing internet access to social media, and hopefully pen pals.
The Primus Child Foundation wishes to become the exclusive donor for this project. It is for this reason that we have to part with GlobalGiving for this particular project. We cannot thank GlobalGiving and all our donors enough for the opportunity that we were given, to help hundreds of children in this poor area of Indonesia!
In the future, you will be able to follow the progress of this project on our website at www.yumindonesia.org and through our newsletters.
Thank you again for all you have done to help this cause and please don't hesitate to contact me at aris@yumindonesia.org if you have any questions or wish further details. I will be happy to respond and welcome you should you wish to come and visit our projects.
Once again, thank you for your support during these past 2 years to help the many children who come to the Cipanas YUM library!!!
P.S.: YUM has another project on GlobalGiving to provide skills to older youth in the same area, details of which can be found at http://www.globalgiving.org/projects/provide-skills-for-indonesian-unemployed-youth/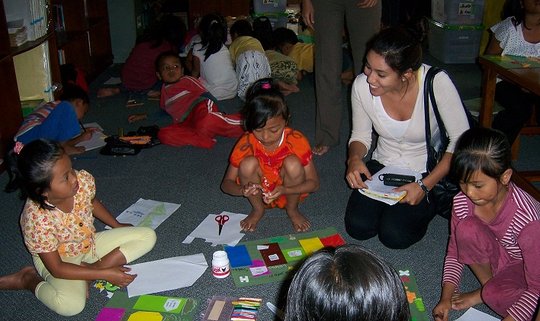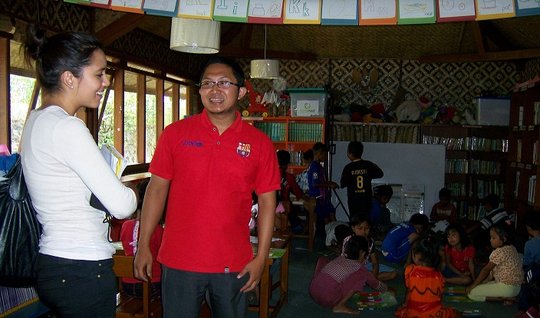 Links: