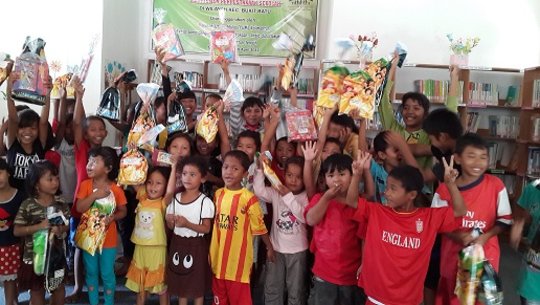 With the support of Linklaters Singapore and GlobalGiving donors, YUM continues to improve its facilities at YUM Kalimantan Library to provide children and the surrounding community with a better place to read and gain more knowledge, with the many different activities held every day. YUM has also been improving its activities for the children to help them get the most benefit out of their visit to YUM Library.
More educational toys, educational DVD's, a computer and various books to keep the library up to date, have been purchased. Another couple of computers will be purchased in the near future. The book collection has increased from 6,796 in July to 6,841 books in October. These include children's books, novels, comics, magazines, encyclopedias, schoolbooks and many more. The number of library members has increased from 412 members registered in July 2013 to 423 in October. The visitors for October have also increased to the number of 1,017 visitors for the month. The majority of the visitors are from Elementary School at 35%, followed by Junior High 25%, Senior High school at 19%, Pre-school 13% and public visitors at 8%.
Nutrition and health education has also been added to the library activities. These activities were held to bring about clean and healthy behavior, such as hand washing before eating, after going to the toilets, cutting their nails and how to brush their teeth properly and environment awareness (no littering, cleaning the library area etc.). They call themselves the "APEL club" (Anak Peduli Lingkungan) or the Club of Environmentally Aware Children. Hopefully from these activities, children will have more awareness and learn and implement this in their daily life wherever they are.
Beside the daily activities, YUM also organizes twice a year a Creativity Children's Day and the last event was held on the 18th, 19th and 20th of September 2013 with many games and competitions, such as: brushing teeth & hand washing competitions for pre-schools, dancing, coloring and drawing competitions. There was also the "Sack Race", which is a competitive and challenging game in which participants place both of their legs inside a sack that reaches their waist or neck and jump forward from a starting point toward a finish line, "Eating Crackers Game" - this is a good event, where children stand in a row and each of them must eat a cracker hanging by a string and "Marble & Spoon Race" as well as "Pencil in a Bottle Game". Around 65 children from the age of 4-14 years old participated in the competitions and it was a great success where all the children enjoyed themselves and enthusiastically joined the competition and showed their skills.
"I think YUM is fun! And the courses can make us brighter. The library has many varieties of books, especially the novels, I like them a lot. Besides that, because of the books, I come to YUM because I can learn dancing with my friends because YUM sometimes has dancing competitions. I like the creativity day too". Rizky Amelya, Grade 7 sponsorship beneficiaries and library visitor.
Thank You!!!