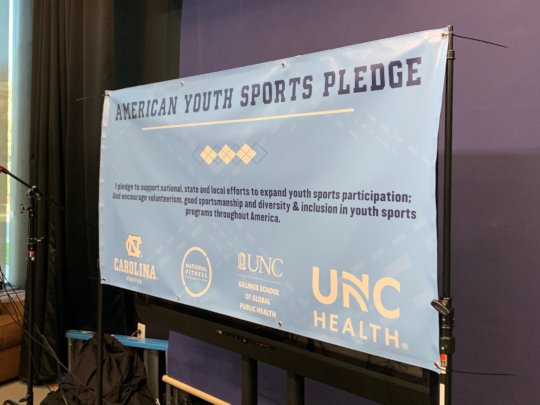 Before they were competing for championships at the NCAA level, many of Carolina's student-athletes, coaches and staff members began their careers in youth sports – learning sportsmanship, teamwork and leadership skills that will ultimately make them champions in and outside of athletic competition.
That's why the University of North Carolina at Chapel Hill Department of Athletics is proud to become the first NCAA Institution to partner with the National Fitness Foundation (NFF) to support and expand youth sport and athletics participation across the United States.

With support from the University, UNC Health and the UNC Gillings School of Global Public Health, Carolina Director of Athletics Bubba Cunningham, Chancellor Kevin Guskiewicz and members of the NFF announced the partnership during a virtual event on November 18, then sign the American Youth Sports Pledge. The event was streamed on GoHeels.com and Facebook Live. Each of Carolina's 22 head coaches signed the pledge in recognition of a "National Signing Day" for youth sports.
"As our nation's oldest public University with one of the most extensive athletic programs in the country, Carolina is proud to become the first NCAA program to support the National Fitness Foundation in this endeavor," said UNC Chancellor Kevin Guskiewicz. "Carolina reflects our state and we are deeply invested in the health and well-being of our children. I have seen the impact of sports in my own life, and I know that this partnership will have an impact on young people from our state and across our nation.
The National Youth Sports Strategy is a comprehensive physical activity plan for American youth created by the Department of Health and Human Services, Office of Disease Prevention and Health Promotion and the President's Council on Sports, Fitness & Nutrition.
What people are saying about the partnership….
Dr. Wesley Burks, CEO, UNC Health, Dean, UNC School of Medicine
"We are proud to support the National Youth Sports Strategy along with many outstanding partners including UNC Athletics. At UNC Health, our mission is to promote the health and well-being of the people of North Carolina and we know that keeping kids active in sports and other activities is a great way to set a foundation for life-long health while also promoting vital skills like teamwork, dedication, and perseverance."
Barbara Rimer, Dean, Gillings School of Global Public Health
"The Gillings School of Global Public Health enthusiastically supports the National Youth Sports Strategy to strengthen youth, family members, and communities through participation in sports. Increasing access, and helping communities make youth sports programs and facilities safe, accessible, and inclusive is consistent with the mission of the Gillings School and our research, teaching and service in North Carolina and around the world."