Thank you, your donation has given new direction and hope to women and babies in DR Congo, a country rated 186 out of 187 on the WHO Human Development Index.
DR Congo is desperate and your donation is saving lives.
This country does not have the capacity to provide women in remote regions with a trained health professional. The women and babies are fortunate if they can have a Traditional Birth Attendant (TBA) at the birth. Our role has been to educate 900 of these TBAs as much as is possible to give these women the best chance they can to survive.
July 2014 in Uvira, South Kivu Province, the very first Train the Trainer program in DR Congo was organised by our partner Dr Luc Mulimbalimba Masururu.
Here 4 trained Seminar Teachers taught 18 qualified health professional from 3 provinces of South Kivu, North-Kivu and Shaba (Katanga) over 3 weeks of training in non-literate education techniques of Traditional Birth Attendants. 2 health professionals were selected from each of the following Districts, Uvira, Fizi, Mwenga, Nyiragongo, Beni, Shabunda, Kalemie, Malemba Nkulu, and Bukama. After training 4000 Birthing Kits were dispensed between the participants.
In a country haunted by war, where rape is endemic and tragedy abounds the training includes the basics in rape and sexual violence counselling, HIV/Aids counselling as well as the usual topics of prenatal and postnatal care, how to use a birthing kit, how to use local items when a birthing kit is not available, recognition of danger signs in the pregnancy when a woman should be transported to a health clinic and many general health and midwifery topics.
Dr Luc reported "Our objective is for the training of trainer's teachers to be able to train 78 communities in the three provinces, an approximate of 10 about 780-1500 traditional midwives and community health workers in a year. Lastly they will be involved in reducing poverty and promoting community development in their various villages."
"We thank very much Birthing Kit Foundation (Australia) for supporting this program and we request that it not be the last, as the participants requested, it will be good to have the same program every year because we still have many districts with no health care facilities and whom this program may help a lot."
There are now 3 provinces where the TBAs will have ongoing training and it is planned to expand the training into several other provinces over the next few years.
Funding of our expansion program in this most needy country is a high priority.
Our belief is that "no woman should die giving life".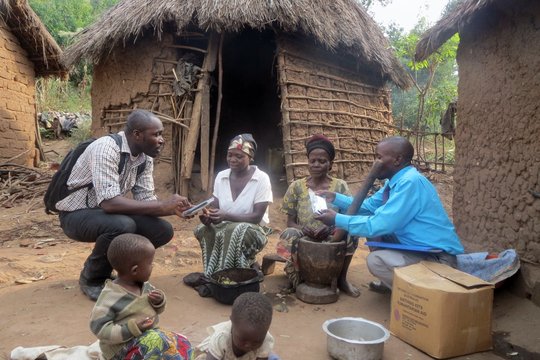 Links: