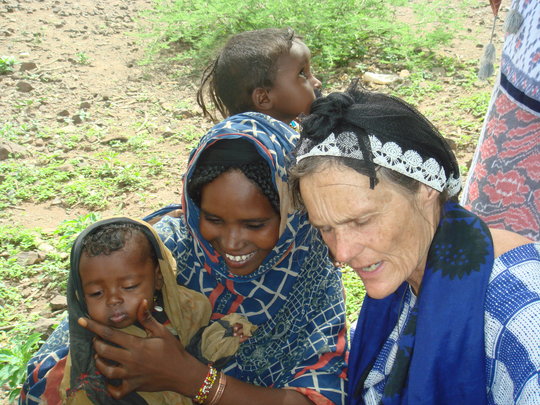 March 2011 Project Report
Thank you to all of the wonderful people who have donated to our program. We will use these funds to send more kits to women in need in many developing countries. Most of the recipients are in remote regions where there is no electricity, running water or transport so it is impossible, when in labor, to get to a health clinic IF one existed, hence the births are at home.
We will also fund some training programs to accompany kit distribution and it is the monitoring of one of our programs in Ethiopia that I will now share with you.
In the Afar region of Ethiopia, the BKFA works with Valerie Browning, a nurse educator, to fund a training program to educate the Traditional Birth Attendants to change many old unsafe traditional practices associated with childbirth and replace them with new healthy practices. For many birth attendants, some in their 60s and 70s this was the first formal education they had received.
This program was monitored in August 2010 by Jenny Weaver (chair of BKFA) and Julie Monis-Ivett (Vice chair) and we asked the Traditional Birth Attendant (TBA) Bur Ili Mohammed what she had learned from her training?
"Before the training it was like working with our eyes closed...... stopping the vertical cutting of the umbilical cord to let out the bad blood. …"
"I learned about giving lentils for anemia, giving sugar, water and salt to the mum while in labour for energy, and when about to deliver give ground barley for quick energy."
"If the mother was short (small or young) at her first birth it is risky and she should go to hospital."
Had she noticed any improvement?
"Before we were in ignorance, those that died…died. Now we know when to refer to a health worker and have noticed a big improvement."
We asked does she use a birthing kit? "every baby is now born with a kit "
Other traditional practices which harm women in child birth that the TBAs learned to change are:-
giving the mother only minimal food or water once she went into labor.
bleeding the mother while the placenta is in situ by cutting the cord longitudinally.
not allowing the baby to have breast milk until 2-3 days old and only giving the baby a little butter, water and goat milk until then.
not washing the mother or baby for 7 days after delivery.
Much education was around
essential hygiene and sanitation
nutrition during pregnancy, lactation and weaning
normal and abnormal symptoms of the trimesters
the essentials of antenatal checking
Female Genital Mutilation (FGM) stopped by training program in Afar Region of Ethiopia.
Babies born to women who have undergone FGM suffer a higher rate of neonatal death compared with babies born to women who haven't. It was noted that after training the birth attendants stopped the practice of FGM. In Ethiopia it is illegal to carry out FGM.
One TBA who resolutely stated she was "not going to give up the job God had given her", had, by the end of training with education about the female anatomy and realizing how many girls and women suffer eventually realized it was "a cruel culture that was not God ordained". She resolutely changed her ways and stopped all other harmful practices.
We spoke with Bur Ili Mohammed a TBA who carried out female circumcision for 40 years and now with education she has decided to stop.
Her words - " Before the training it was like working with our eyes closed, stopping female circumcision this is reality- it is better for the women"
These results from our training program were a most rewarding outcome.
While standing under a tree in Dagaba at a kabelle with the local women and children, it was very moving to look around at all the girl babies and children and know that now none of them would be circumcised. It was reassuring to know more women and babies will now survive child birth.
Julie Monis-Ivett
BKFA Director
Maasai Mara tribal leader requests a training program on how to use the kits.
Dr Luc Mulimbalimba Masururu, Director of Mission in Health Care and Development (MHCD), the organisation that distributes the birthing kits in Kenya trained 40 Maasai Mara Traditional Birth Attendants (TBA). The community does not want to change and has not changed in hundreds of years yet the tribal elder requested the kits only if it was accompanied training in how to use a birthing kit properly. The 3 – 5 day program also included education on basic hygiene, midwifery and nutrition. TBAs from hundreds of kilometers of the region met and enjoyed the learning and socializing.
The need for more seminars is evident when over 400 Maasai Mara Traditional Birth Attendants (TBA) wanted training and funding only allowed accommodation and training for 40.
Julie Monis-Ivett
BKFA Director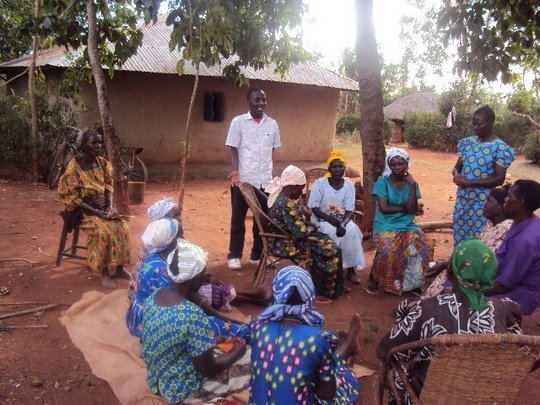 Links: