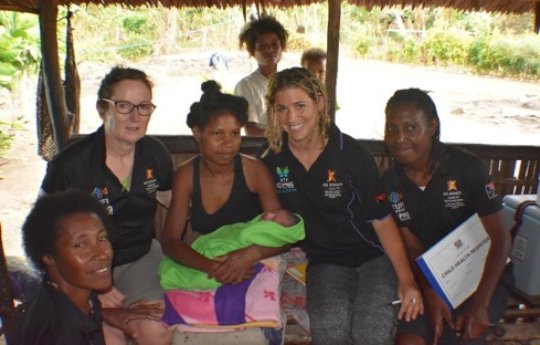 Over the past year, Birthing Kit Foundation Australia (BKFA) has been working in partnership with No Roads Health to distribute Birthing Kits throughout villages on the north-east coast of Papua New Guinea. The No Roads clinical health teams make trips throughout the country to run education sessions and distribute basic medical supplies to village birthing attendants and pregnant women who do not have access to health care centres.
One evening, whilst celebrating a successful trip in the Oro Province, a No Roads health team were approached by a villager who informed them that a young woman was in labour close by. The team, which included an obstetrician and a midwife, rushed off to the expectant mother, 23-year-old Alice, to assist with the birth. Equipped with a BKFA Birthing Kit, the obstetrician whipped on a pair of gloves and worked alongside her team, two local birthing attendants and the woman's family to help her during labour and birth. Just before midnight, Alice gave birth to a healthy baby girl who she named after the No Roads obstetrician.
"Thank you to BKFA for enabling us provide a safe and clean environment to allow this baby namesake to be born," (Alice, new mum)
Pictured in this update is the newborn baby and her mother, Alice, enjoying some skin-to-skin time post-birth, and the new family with the No Roads Health team the next day.
We would like to take this opportunity to thank our generous donors for their ongoing support in ensuring that mothers like Alice living in remote communities can experience a safe and clean birth.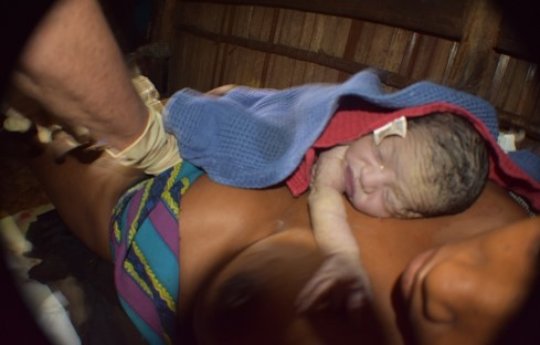 Links: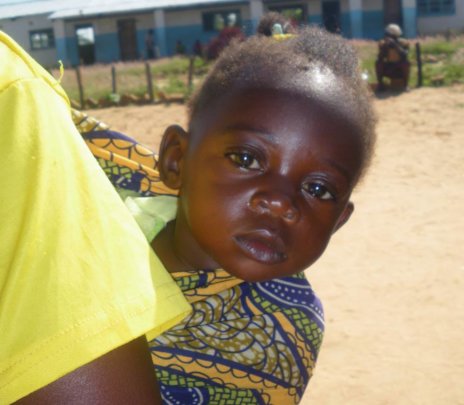 Our field partner, On Call Africa, provides birthing kits to rural health facilities in Zambia. One of the local doctors recalls an experience from the field, when a mother went into labour during a kit distribution clinic.
"We jumped into action – grabbing a birthing kit so we could line the floor of our vehicle with a plastic sheet. The birthing kit meant we also had some sterile gloves, a sterile blade to cut the cord and cord ties. I was lucky enough to accompany the woman, her mother, the local nurse and our driver to try and get to the nearest health centre in time to deliver the baby. After about 10 minutes of bumping along the road, the expectant mother quietly groaned… 'I think I need to push!'
Now fully dilated with her waters about to break, we stopped the car. We opened up the back of the vehicle and quickly tried to get on gloves. The baby was well on her way now. Within a minute she was out, in the back of our vehicle!
Our volunteer doctor and nurse took care of the newborn and mum before dropping them back home.
We stood in front of her small mud hut; the baby was named after me! We washed down the car and then drove off back to our clinic."
15 months later the doctor was reunited with the mother and her child. Happy and healthy, the pair were very grateful for the birthing kit that helped them on the first day!
Links: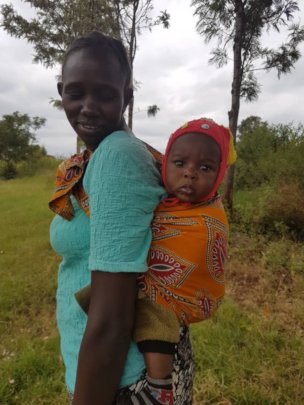 Our field partners in Tanzania are the Future Warriors Project Inc.
Expecting mothers in the catchment area are well aware of the dangers of home birth.
Some considerations include the risk of HIV infection and limited access to traditional midwives as many have retired from the trade. This is why women are encouraged to give birth at the facility.
However in case a mother goes into early labour, cannot make it to the facility, or prefers to give biorth at home, a birthing kit is provided to mothers at the antenatal check up to support a home birth if required.
The health professionals who distribute the kits are well trained and have been instructed in best use of the kits by Australian registered Nurses.
The women are very happy with the kits as they are clean and free of contaminates. It also saves them money from not having to source the individual items themselves. Usually they would at a minimum only get razor blades to help with the placenta. As such, the kit provides them with a lot more modern equipment to support them and their babies of which they are very appreciative.
Neema from Irkaswa (pictured above) collected her kit from the clinic a few days before giving birth. This was very important as it meant she was able to give birth at home, where she is most at ease. It also provided her with confidence having the supplies on hand and knowing that it was clean and safe for her to use.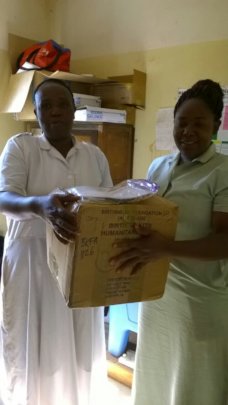 Links:
WARNING: Javascript is currently disabled or is not available in your browser. GlobalGiving makes extensive use of Javascript and will not function properly with Javascript disabled.
Please enable Javascript
and refresh this page.