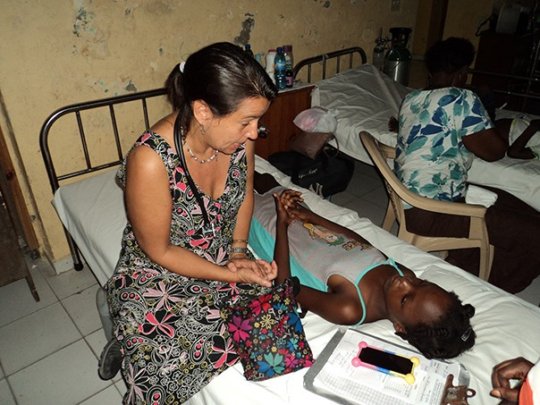 Above: Dr. Joia Mukherjee, PIH chief medical officer, sees patients in the pediatric ward of Hospital Immaculee Conception in Les Cayes, Haiti, on Oct. 15, 2016.
Thank you so much for your continued support of Partners In Health and our efforts to help Haiti recover from 2010's earthquake. This fall, Haiti was again devastated by natural disaster, when Hurricane Matthew, a Category 4 storm, hit the country's southern peninsula. We encourage you to read about how PIH is leading relief efforts, below:
"Dr. Joia Mukherjee has seen devastation in Haiti. She was there just days after the January 2010 earthquake that reduced Port-au-Prince neighborhoods to rubble, killed 300,000 people, injured 300,000 more, and displaced 1.5 million. Still, she says, each brick removed and surgery performed felt like a step forward.
But now, seeing the destruction left by Hurricane Matthew, she struggles to find words to describe the scene along Haiti's southern claw, the region hit hardest by the Category 4 storm.
"I can honestly say this is one of the worst things I have ever seen," says Mukherjee, Partners In Health's chief medical officer.
What Mukherjee sees, she says, breaks her heart. Thousands of acres of peasant farmland destroyed, swept away by 145 mile-per-hour winds or damaged by gallons of saltwater that fell over a 24-hour period. Statuesque banana and mango trees snapped like matchsticks. Livestock disappeared. Many houses simply gone. Others stripped of their roofs. Clothes and household goods strewn about as if they'd been caught in a tornado.
And this is just the material damage. Mukherjee, her voice cracking, says she's "waiting with a sense of dread that things actually will get much worse here." Hundreds of people are using the same small, ill-equipped buildings, such as public schools, as emergency shelters. These places have inadequate water and sanitation and could quickly turn into fertile ground for deadly diarrheal diseases such as cholera. She thinks of the destroyed crops and empty storehouses and anticipates starvation. Water pools everywhere, creating potential breeding grounds for mosquitoes carrying diseases like malaria, Dengue, and Zika. And then there are the infections, such as tetanus, that come from untreated wounds sustained from flying debris during the hurricane.
PIH leaders in Haiti, including Co-executive Directors Fernet Leandre and Loune Viaud, decided to focus on two areas over the next six months: reinforcing PIH's 10 cholera treatment centers and supporting Hôpital Immaculée Conception in Les Cayes.
Mukherjee says the 150-bed Hôpital Immaculée Conception will receive the typical PIH "package" of services. Patients will be fed. (They currently aren't, unless family members bring them meals.) Care and medications will be free for those who need it most. Social workers and mental health staff will be on hand to provide support for patients and health care providers. And the roof will be repaired, electricity restored, and medical supplies stocked to meet increased demand."
Your generous support makes possible our efforts to help southern Haiti, as well as to continue providing quality medical care throughout the country in the wake of another disaster. From all uf us at PIH, thank you.