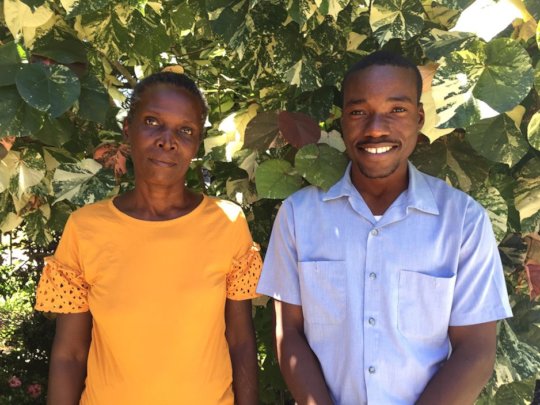 Thank you very much for continuous support of Partners In Health's long-term work in Haiti. We are very grateful of your partnership in our efforts to create a robust healthcare system in Haiti. All our progress has been made possible because of donors like yourself. In solidarity with breast cancer awareness month, below is news of our progress in battling breast cancer in Haiti.
Five days a week at University Hospital in Mirebalais, Haiti, dozens of patients flow through the oncology ward for doctors' visits, chemotherapy, and consultations with the team's social worker or psychologist. The vast majority are women, and many—450 in 2018 alone—are in various stages of battling breast cancer.
For Breast Cancer Awareness Month, staff at Zanmi Lasante, as Partners In Health is known in Haiti, asked survivors to share their journeys with cancer. Some of the women started receiving care in Cange; others first went to University Hospital, which opened in March 2013 and is still the only facility in Haiti that provides free cancer care and psychosocial support. Each woman comes with a different perspective and background, but all share the scars of the same disease.
Here are their stories:
The lump in Laurie's breast never hurt, so it was easier to push its existence out of her mind. But one day, she noticed the lump had become much harder, and her concern grew. In 2011, she visited a doctor in Léogâne, near her home in southern Haiti. A biopsy revealed she had breast cancer, and her doctor recommended she visit the PIH-supported hospital in Cange.
Laurie was still scared and in shock by the diagnosis when she arrived. But PIH staff and clinicians "explained everything to me, provided me with information, and eased my mind," she says. She underwent a series of chemotherapy treatments to shrink the mass, then had her first surgery in 2014.
Despite taking tamoxifen to prevent a recurrence, Laurie found another lump and has had two more surgeries since 2016—all while under PIH's careful watch. She continues to travel to the hospital regularly for follow-up care.
"By the grace of God," she says, "I feel good these days."
Cita is a single mother of seven who has seen a lot in her 49 years. When she found a lump in her breast, it was one of several worries was juggling at the time, including occasional homelessness. She visited doctor after doctor and got no relief, just more bills.
Then, one day, someone told her about University Hospital, where cancer care was free. She visited shortly after it opened and met Dr. Damuse. After a biopsy and several exams, Damuse informed Cherie that she had an advanced stage of breast cancer. The doctor didn't recommend surgery, but advised her to start palliative chemotherapy, which could prolong her life.
Five years later, Cita rarely misses her chemotherapy appointments. Damuse has shifted her to different lines of palliative treatment over that time, with occasional recovery breaks in between. Inevitably, she arrives with a huge smile, and is always in good spirits.
"If it were not for the Mirebalais hospital, I would not be alive today," Cita says. "I get all my medication for free, and when I come to the hospital, the doctors take really good care of me. They welcome me and they really value me."
Adriana had a similar reaction to many women when they first learn that the lump in their breast is cancer. She was terrified and prayed that she would stay alive, for her family's sake.
"I have six children," Adriana says, adding that there are four boys and two girls. "My last one was in sixth grade, and I was worried that I would not be able to help him advance in school."
The hospital she visited in Tabarre, not far from her home on the outskirts of Port-au-Prince, referred her to another facility for surgery. But she knew she couldn't afford the procedure. A friend recommended she visit the PIH-supported hospital in Cange, where she could get free care.
Following her advice, Adriana traveled to Cange in 2010 and got the surgery she needed. But her cancer was persistent, and tumors reemerged. In 2012, she underwent a mastectomy, recovered from surgery, and began taking tamoxifen to prevent a recurrence. She remains in follow-up care at University Hospital.
"I used to say: 'As long as the girls are young, I would not want to die before they get married,'" Jean, now 62, remembers. "Today they are older, and if I die now, I am relieved that I would not leave young children behind."
Philomena, 77, had a long journey to get the care she needed after discovering a mass in her breast more than eight years ago. It took a while, but she eventually got an appointment at the General Hospital in Port-au-Prince, where a clinician took a biopsy and sent the breast tissue away for testing. Months passed before she got results. When she learned she had cancer and would need surgery, she felt a pang of despair.
"I told Jesus I did not understand what was happening," she remembers.
Again, Philomena waited months for her next appointment at General Hospital, while the mass grew and formed a painful abscess that eventually burst. Desperate for help, she followed another doctor's recommendation and turned to the PIH-supported hospital in Cange.
There she met Dr. Damuse, who wasted no time. Moise had her first appointment in February 2010, and by April, she was scheduled for surgery to remove the mass. She began chemotherapy in Cange and continued her care at University Hospital in Mirebalais. She has been in follow-up care ever since.