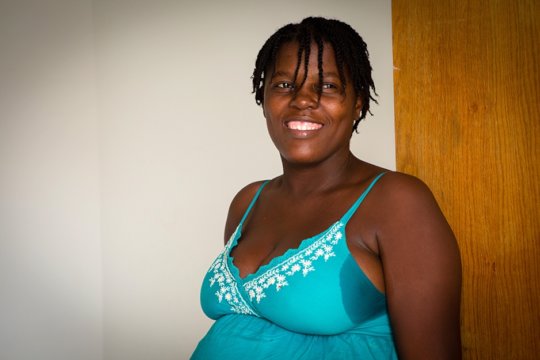 Thank you for your continued support of PIH's Haiti Earthquake Recovery project!
A large part of PIH's efforts for earthquake recovery in Haiti involve rebuilding the health system, including ensuring that women have the resources that they need for safe childbirth. We are pleased to share with you the following story from Haiti- about a mother named Natacha, who benefited from the services offered at the maternal waiting home at University Hospital in Mirebalais, Haiti:
This pregnancy was different.
Natacha had already given birth to three girls, so she thought she knew what to expect while expecting. But the 39-year-old mother began feeling unbearable pain while seven months along. No matter how she shifted her body, her baby lay in an awkward position.
Natacha was unable to get the help she needed in her home of Port-de-Paix, so her sister, who is a trained nurse, recommended she travel to the closer University Hospital in Mirebalais, Partners In Health's 300-bed teaching facility in the Central Plateau that offers free care.
She arrived at University Hospital on Sept. 18, 2017, and was seen by an OB-GYN, who confirmed that her baby boy was breech, or not head down. She also learned he was hydrocephalic, meaning his head was abnormally large from a buildup of fluid on the brain. The doctor recommended she stay nearby so that staff could monitor her risky pregnancy.
Normally, staying nearby would have been impossible for Natacha. She had no family in Mirebalais, and she definitely couldn't afford two months of lodging as she waited for her Nov. 23 due date.
Luckily, Zanmi Lasante, as PIH is known in Haiti, had a new maternal waiting home to accommodate women in situations like Natacha's by providing free lodging at the University Hospital campus. She was admitted that same day, given a welcome kit including basic toiletries, and settled into a room she shared with two other expectant mothers.
For her part, Natacha had faith that everything would turn out alright. She was five days away from her due date and feeling heavy, but hopeful. She had enjoyed her stay and marveled at how much it would've cost if she had had to pay for the free, comprehensive care she'd received so far.
"The care found here," she said, "is priceless."