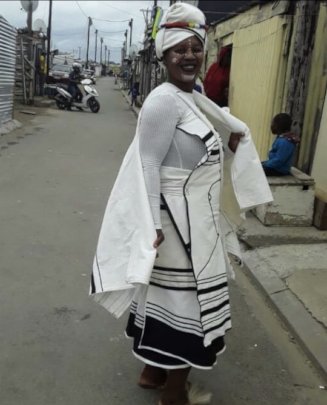 Imagine a world without Google, email and the Internet. And yet this is the reality for a significant majority of South Africans.
Thembakazi Siqhaza
When Thembakazi came to our centre, she was excited. She had a smartphone but, like many of her friends and neighbours, she was only using it for WhatsApp and Facebook. She had wanted to know more about digital for a long time and now she had a real opportunity to find out more.
"It's good and really helpful. I never did anything before with my phone. But now I understand my phone much better than I did before. Thank you SHARP Digital for showing me a whole new World. I now want to teach others about how they can also understand their phones better like me".
Your donations are helping people like Thembakazi get into the digital world, somewhere they want to be but do not know how to do it.
Putting 1000 people like Thembakasi on the digital bus.
Since we started in January, we have trained more than 250 people like Thembakazi. Feedback includes: (in learners' own words)
"This course is mind-opening" "It gave us more productive knowledge about the internet" "I liked it because it's to easy to understand" "It was very helpful and gave some understanding about the internet." "I like many things about this course it make us anderstand abt who the basic computer works and many more and giving us many skills that we did not know thats really interesting.
And now we are ready to start training many more.
Our foundation course 'Your Digital Life' is now fully mobile-based. It works on a mobile App. Learners learn using our tablets in centres or in workshops. Or they can download the course onto their phones and take it home. How easy is that?
It also means that we can start to share our course with other organisations who have clients who could also benefit from this starter digital course. We have already partnered with three local organisations and start rolling out the foundation course in January 2020 with them. We are also talking to organisations in Cape Town who are interested in our courses. And there are large numbers of people like Thembakazi out there. Around 80% of South Africans are either not connected to the Internet or are struggling to use it.
We celebrated with the community in October. We held a graduation party for some of the learners who had taken our courses. Over 40 learners came to collect their certificates. A young dance group called the Mighty Eagles entertained us as did a 5-boy acapella band known as the Zwelihle Youth Brothers. See this article for more information. https://thevillagenews.co.za/getting-sharp-on-the-internet/
Together we can do so much more
SHARP Digital is a tiny organization with a BIG plan. We want to 1,000s of people like Thembakazi have the same opportunity as her and feel the way she does. This means we need YOU to be a part of this.
Help us grow so we can open digital doors for 1,000s of South Africans. Join us on this journey today.
Send us a regular donation to make sure we can continue to do what we are doing.
$10 will pay for one person to take the course.$200 pays for a tablet to let up to 3 people take the course in one day.$300 pays for a workshop for 30 people to take the course.And any amount is just perfect.
Links: