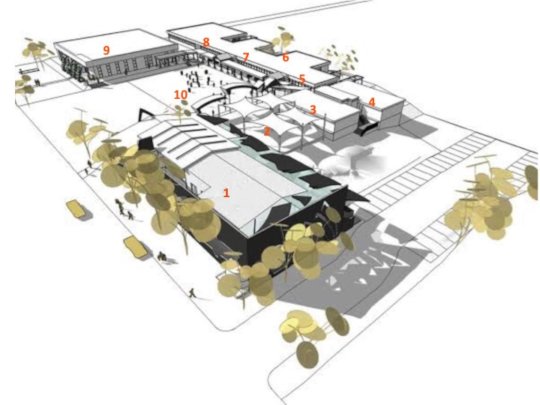 We are thrilled to share that we are finalizing the Memorandum of Understand with a Langa Township land donor. The Love to Langa dream is coming full circle. We, as a board, have come a long way from supporting children with scholarships, providing food and clothing, training teachers, art workshops, outings for previously disadvantaged children and adults, building a classroom, library, a bathroom and bedroom at an orphanage to a learn to swim indoor heated pool.
With our dedicated donors, we are now embarking on building the very first Montessori school in Langa Township, Cape Town, South Africa.
The school will educate 200 children, from three to six years of age, provide extra-mural activities, and follow the Montessori philosophy. Montessori training will be offered to women in Langa and parent workshops will be available.
Here is the key for the concept drawing:
1. Community Hall
2. Covered sand play area
3. Store room and infirmary
4. Office
5. Foyer
6. Classroom 1
7. Classroom 2
8. Classroom 3 - flat roof for vegetable and fruit garden
9. Classroom 4/Training Room with upstairs Caretaker's Flat
10. Playground