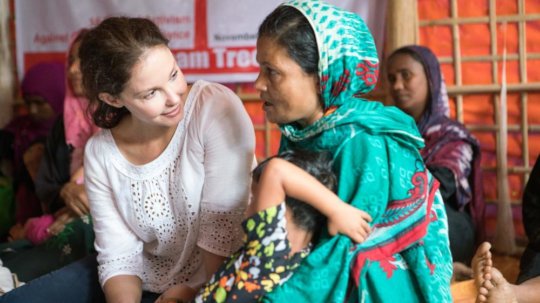 "So often we don't think of pregnant women in crises. We somehow think life freezes. But [Rohingya] women were pregnant before they fled Myanmar, women get pregnant by their husbands and by men who rape them. Childbirth stops for nothing" – Ashley Judd, Actress and UNFPA Goodwill Ambassador.
Over the last six months, more than 700,000 Rohingya refugees have fled from Myanmar to Bangladesh. Cox's Bazar refugee camp in Bangladesh hosts the majority of these refugees. Earlier this year, actress and UNFPA Goodwill Ambassador Ashley Judd visited Cox's Bazar and met with many of the women living there. At that time, 34,000 of the newly arrived refugees were pregnant.
In her diaries, she writes about her visits to UNFPA-supported women friendly spaces and clinics that support maternal care. In one camp, the midwives have screened more than 170,000 women since August of last year—both refugees and women from the host communities—for pregnancy and medical needs.
With monsoon rains unleashing floods and landslides in Bangladesh, UNFPA and partner agencies are urgently working to secure Rohingya refugee camps and settlements in Cox's Bazar district. Over 29,000 people have already been affected by the rains. Dozens have been injured, and at least one person has been killed.
"The safety of the Rohingya refugees during this monsoon season is priority one," said UN Secretary-General Antonio Guterres after visiting refugee services, including UNFPA facilities, amid a downpour.
"As many as 200,000 need to be relocated. We cannot allow the monsoons to wash away the hopes of the Rohingya refugees I met today."
As the rains intensify, UNFPA is working with partners mitigate monsoon-related risks and to reinforce health centers and safe spaces.
At the Balukhali health center, the wait for maternal care is jaw-dropping. It splits in three directions.
Among the total and growing refugee population, some 40,000 women have received prenatal care and more than 1,500 babies have been born at UNFPA-supported facilities.
But still, 78% of refugee births take place outside of any health facility. To help, UNFPA has distributed over 12,000 clean delivery kits, encouraging mother to take them to any health facility when labor begins. During the recent rains, UNFPA's health facilities and women-friendly spaces saw a decline of more than 60 percent in service use.
UNFPA's clean delivery kits contains the basic items necessary for a safe birth, including a sanitary mat for child birth, sterile gloves, a bar of soap, a razor, a clamp for the umbilical cord and a suction bulb to clear the newborn's airway.
As Ashley Judd explains to CNN, "it literally makes the difference between life and death for both mother and newborn."
For only $15 you can help UNFPA provide 3 emergency clean delivery kits to women without access to maternal health services.