In Mozambique, Tina was nine-months pregnant when her home began to flood from Cyclone Idai. She and her four children ran through the storm to safety in a nearby school. Soon after, Tina felt contractions begin and knew that she was going into labor.
The winds and flooding from the cyclone made it impossible for an ambulance to reach her at the school. Instead, a motorcycle taxi rushed her through the floodwaters to the Matundo Health Center, where she safely delivered her baby girl, Joana.
At Matundo, Tina received a dignity kit from UNFPA to help her care for herself and for her baby. Dignity kits contain items like clean underwear, soap, laundry detergent, a safety whistle, and a flashlight.
For only $15, you can empower one woman with a dignity kit, helping her feel clean and in control, even in times of crisis.
Cyclone Idai struck Malawi, Mozambique, and Zimbabwe in March 2019. The storm lasted just over two weeks, but the devastation will take much longer to recover from—torrential rains have caused intense flooding, infrastructure has been damaged beyond recognition. Fields, the main source of income for these agricultural communities, have been destroyed, and over 2 million people have been displaced or otherwise impacted.
Women have been hit especially hard by Cyclone Idai and face unique obstacles in the aftermath of the storm. Nearly 500,000 women have been affected, including 75,000 pregnant women who have been left without access to reproductive healthcare.
One in ten of those women could face life-threatening complications for themselves and their babies.
UNFPA is supporting nineteen mobile clinics in hard-to-reach areas of Mozambique. These clinics have enough health kits to reach more than 300,000 people.
$50 makes it possible for UNFPA to give ten women clean delivery kits. These kits have a plastic sheet, gloves, a razor, and a blanket to prevent infection during childbirth.
Tina says, "It would be good if these were made available not only in times of crisis but in good times as well. Being clean and taking care of oneself is important for women and even more so for a newborn baby."
You can empower women. You can make the world safer for mothers and babies. You can help UNFPA change a life.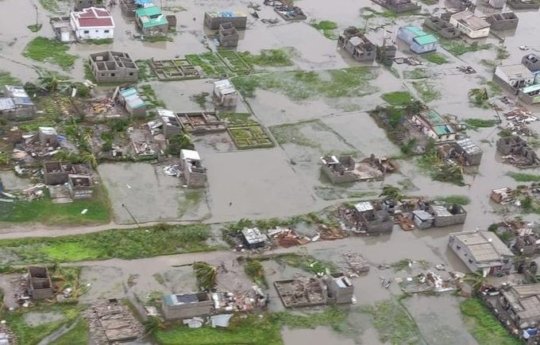 Links: