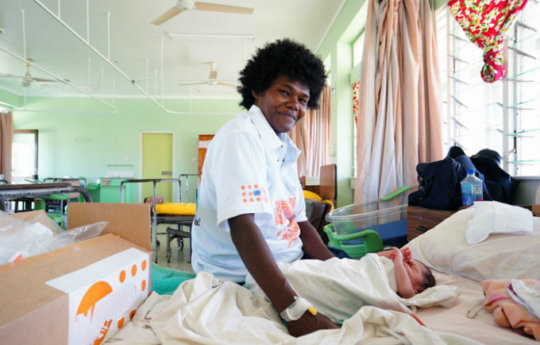 In February of this year, Cyclone Winston devastated the island nation of Fiji in the Pacific Ocean. Approximately 340,000 people, or 40 percent of Fiji's population, were impacted by the category 5 cyclone – the worst storm ever recorded in the southern hemisphere. The storm affected 87,500 women and girls of reproductive age, including 5,600 pregnant women. The storm also completely destroyed eight large hospitals and damaged 55 others.
Even under normal conditions, reproductive health issues are a leading cause of death and illness among women of childbearing age. When a crisis strikes, skilled birth attendance and emergency obstetric care often become unavailable, exacerbating the vulnerability of pregnant women.
UNFPA's clean delivery kits contain basic items necessary for a safe birth, including sterile gloves, a blanket, a plastic sheet, and soap. For only $11 you can help UNFPA provide 3 emergency clean delivery kits to women without access to maternal health services.
Since Cyclone Winston hit Fiji, UNFPA has distributed over 1,000 clean delivery kits to women, procured 4,400 more and provided 150 reproductive health kits to medical facilities to ensure they can continue to offer life-saving reproductive health services despite damages or lack of electricity. UNFPA is also supporting the deployment of 20 additional midwives in highly impacted areas.
"We must ensure that services for pregnant women and childbirth facilities remain accessible. And women and girls must be able to protect themselves from unwanted pregnancies and from sexual violence," stated Dr. Laurent Zessler, director and representative of the UNFPA Pacific Sub-Regional.
In addition to providing reproductive health care, gender-based violence (GBV) services are a critical part of meeting the needs of vulnerable women and girls in Fiji. According to the Fiji Women Crisis Center, 64 percent of women in the country suffer physical and/or sexual violence at the hands of an intimate partner in their lifetime, and in times of crisis, rates of GBV often spike.
"It is a plain and simple truth that disasters reinforce, perpetuate and increase gender inequality, making bad situations worse for women," said Margaret Wahlstrom, former Special Representative of the United Nations Secretary-General for Disaster Risk Reduction.
UNFPA also provides dignity kits to women in disaster and the surrounding countries. Dignity kits contain items such as underwear, soap, a comb, and feminine hygiene supplies. For $25 you can provide these essential items to a woman for six months.
Links: