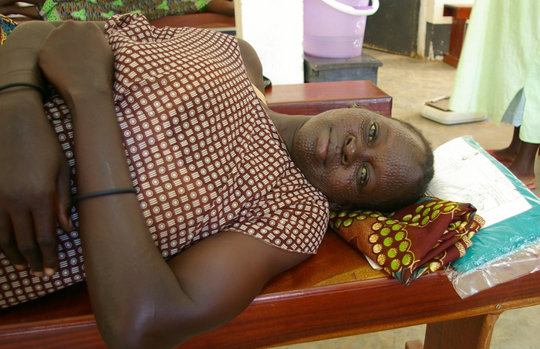 "We give mothers the clean delivery kits when they come for antenatal care and health education at the hospital," explains Nabatanzi Cissy, a UNFPA-supported international midwife working at Maridi Hospital in Western Equatoria State, South Sudan. "Although we encourage them to come to deliver at the hospital, many still prefer to deliver at home, or cannot make it to the hospital on time, so end up giving birth on the way. In that case, it is good they have a delivery kit with them, because the kits [protect] the mother and the baby from infections."
The world's newest nation, South Sudan, is the most dangerous place on earth to give birth. One out of seven mothers risks dying from complications related to one of her many pregnancies. Because early marriage is common and contraceptive prevalence is only 3.5 per cent, girls start giving birth in their teens and average more than seven children each.
Decades of bitter conflict, widespread poverty, neglect and a scarcity of roads and other infrastructure have left the weak health system in a continued state of crisis. South Sudan has just 100 midwives and fewer than 500 doctors to cover a population of 8.3 million people. Midwives like Nabatanzi must cover long distances to reach women with life-saving care – and if a woman is too far from a health facility, may be required to assist the delivery on the spot with a clean delivery kit from UNFPA.
UNFPA moves quickly to respond to natural disasters and conflicts, but it also helps stricken communities like those in South Sudan as they transition from an acute emergency to the rebuilding phase.
UNFPA is working with South Sudan's Ministry of Health to improve skilled attendance at birth by training midwives and assisting the new government to set up basic health systems. While the long-term recovery process moves forward, the Fund will continue to provide clean delivery kits to displaced or vulnerable communities as an immediate intervention to help make pregnancy clean and safer.
Please support UNFPA's work in recovering communities like those in South Sudan. With your assistance, UNFPA can continue to ensure that pregnant women who face the highest maternal mortality rate in the world (2,054 women die for every 100,000 live births) give birth in a clean environment, and that newborns, and this newborn nation, begin life with the promise of a better future.
You can help us raise awareness and funding by passing this e-mail along to friends and family and asking them to make a gift to our project on the GlobalGiving site (www.globalgiving.com - search for "UNFPA"). Thank you!
Links: