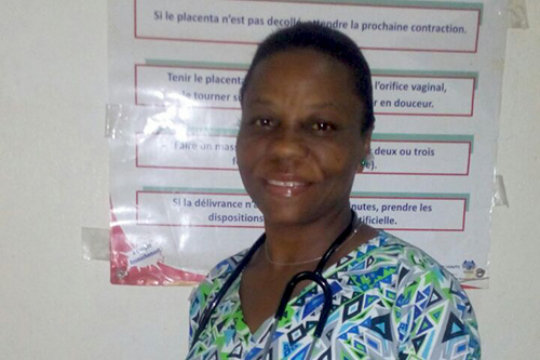 Nurse Marie-Lyrette was the only midwife on duty in the maternity unity of St. Antoine Hospital in Jeremie, Haiti when Hurricane Matthew struck.
That night, Nurse Marie-Lyrette safely delivered six babies by flashlight. "I tried to reassure them," she said, even as she was wracked with fear herself. Still, she said, "I had to stay in the hospital to work. My professional conscience wouldn't have let me leave. I couldn't have left the women there to die."Fortunately, she reported that her maternity unit saw no deaths on that perilous evening, but not all maternal units were so lucky.
23 out of 26 health facilities in Grand'Anse and Nippes counties were affected by the storm, including Nurse Marie-Lyrette's facility. Of the 11 facilities in Grand'Anse alone, two were completely destroyed, two were closed, none have power or water, and all require health workers.
Currently, Haiti has the highest maternal mortality rate in the Western Hemisphere, and as a result of this recent disaster, the rate of maternal mortality is at risk of becoming even worse. Women and girls in Haiti now face a lack of access to proper health care, they risk increased exposure to gender based violence (GBV) and diseases such as cholera and Zika. To address these problems, UNFPA has begun distributing clean delivery kits to the most affected areas to ensure that women and girls have access to care and that this rate of maternal mortality does not increase.
UNFPA's clean delivery kits contain basic items necessary for a safe birth, including sterile gloves, a blanket, a plastic sheet, and soap. For only $11 you can help UNFPA provide 3 emergency clean delivery kits to women without access to maternal health services.
The health workers who remain face challenging times ahead. Among the population affected by the hurricane, there are more than 546,000 women and girls of reproductive age, who will all need quality health care. In the affected areas, more than 13,650 pregnant women are set to give birth in the next three months.
A donation of only $25 can provide one woman in a humanitarian setting such as the Haiti with a dignity kit that provides hygiene essentials for six months, ensuring that she is able to maintain her dignity and health in emergency situations.
"Our urgent task is to protect the health and rights of women and girls, and to ensure that their basic needs, which are often overlooked in humanitarian situations, are quickly met," said UNFPA Executive Director Babatunde Osotimehin.