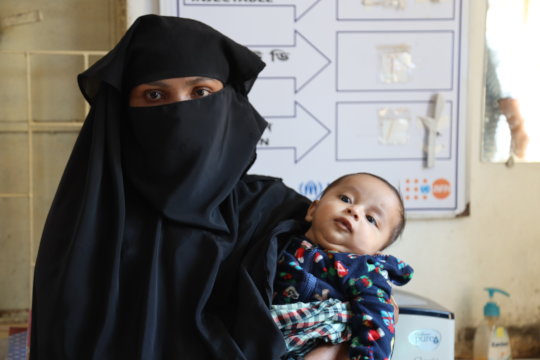 Rasheda is only 25 but she is already a mother to six children. She lost her fifth child during childbrith. When she talked to UNFPA about it, she said, "It was a traumatic experience and I do not want it to ever happen again. My mind is still haunted by it."
Just $15 provides three women like Rasheda with an emergency birth kit, which provides them with the tools they need to safely give birth, even if a doctor is not available.
UNFPA has been operating sexual and reproductive health clinics in Rohingya refugee camps since the crisis began. But with the fear and uncertainty of COVID-19, many women stopped going to the clinics.
Midwives were worried that more women were giving birth at home. If complications arise, the likelihood that the mother or her baby may suffer an injury or death is far higher.
For $25 you can provide a woman with the supplies she needs to care for herself and her baby for six months after birth.
UNFPA began a community transport system where women in labor could call to receive transportation to a UNFPA health facility. Rasheda used the system to give birth to her sixth child. Now, she uses it to attend family planning appointments.
However, even though family planning is available, many women have been unable to receive care because their husbands oppose birth control. Rasheda was able to convince her husband that her body needed a break between pregnancies. She said, "To me this decision is not a matter of cultural beliefs, but of my health and choice."
With UNFPA's help Rasheda was able to take her life and her health into her own hands. Your $100 gift to UNFPA supports one midwife in a community like Rasheda's for an entire month.