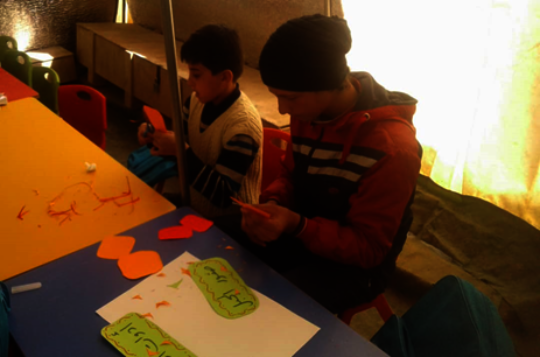 Dear Friend,
In March 2020, the Syrian Crisis will enter its tenth year. This anniversary represents ten years that Syrian children have lived within the context of the largest humanitarian crisis since World War II. It is estimated that 11.7 million people are in need of urgent humanitarian assistance, including 5 million children.
At the end of 2019, approximately 2.1 million Syrian children were out of school, representing nearly one third of the school-age population, and 1.3 million children were at risk of dropping out. The partnership between Educate A Child, UNICEF, and UNICEF USA has provided children with a flexible approach to learning and has given out-of-school children the opportunity to realize their right to education. As of 2019, more than 250,000 children have been reached through accelerated learning and self-learning programs. No other education initiative is reaching similar numbers of children within the country.
Zaid's Story
Zaid was only in the fourth grade when fighting in his home country of Syria forced him and his family to leave their village. As a result of the conflict, he was unable to return to school for the next five years.
Being away from home was hard for Zaid and, without school, he felt like he was out of options.
"It would be impossible to get back to learning after eight years out of school" Zaid thought. However, when Zaid learned that the Kansapa Self-Learning Center was offering education for out-of-school children just like him, he began to feel hopeful.
The Self-Learning Program, a joint venture between Educate A Child (EAC) —a global program of the Education Above All Foundation — and UNICEF, allows out-of-school children between the ages of 6 and 19 to catch up with their peers by studying at home or in community centers with the help of volunteers or caregivers. Children benefitting from the program learn English, Arabic, math and sciences, including physics and chemistry.
"I would love to be re-enrolled in formal school as I want improve myself and have a better future," Zaid said.
Zaid knew he was behind on his education, so he enrolled in the Self-Learning Program as soon as possible in December 2018. He was excited to catch up on all the missed years of education and to, one day, continue his education in formal schooling. In just a short amount of time, Zaid quickly progressed and made friends with other students in the program and focused his energy on his studies."
I have always dreamed of being back to school and having friends, and that dream has come true now," exclaimed Zaid.
Zaid is one of the thousands of children who dream of having such an opportunity to renew their hope and go back to learning. In 2020, UNICEF plans to reach 30,000 new Syrian children with learning opportunities. Your continued support will allow UNICEF to reach this goal. On behalf of the children of Syria, thank you.
In Partnership,
Whitney Simon