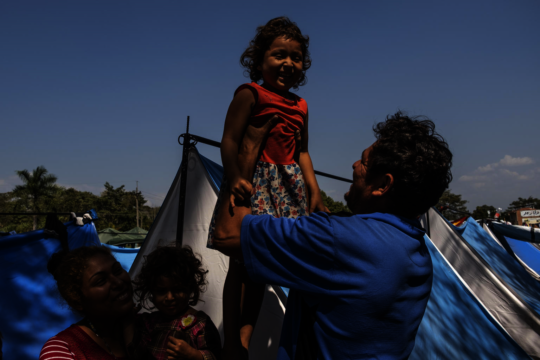 Dear Friend,
Thank you for your support of UNICEF's work for child migrants around the world. Fleeing stifling poverty, extreme violence and intimidation, Central American families and children are making the difficult decision to leave home in search of safety and a better life. Along the way, they risk being kidnapped, trafficked, raped or killed. Most come from the countries of Honduras, El Salvador, and Guatemala.
"Millions of children in the region are victims of poverty, indifference, violence, forced migration and the fear of deportation," said María Cristina Perceval, UNICEF Regional Director for Latin America and the Caribbean. "In many cases, children who are sent back to their countries have no home to return to, end up deep in debt or are targeted by gangs. Being returned to impossible situations makes it more likely they will migrate again."
Due to your generosity, UNICEF is working to find safe alternatives to detention, which can have serious long-term health consequences, and to protect all children, wherever their journeys take them. Of the more than 68,000 children detained in Mexico between 2016 and April 2018, 91 percent were deported back to Central America.
Even if they reach the U.S., these children confront new risks. Children traveling with a parent risk swift deportation or months of detention. In May 2018, the U.S. southern border crossing became even more hazardous when over 2,000 migrant children were detained and separated from their families, leaving them vulnerable to exploitation and abuse and creating toxic stress that threatens to harm their long-term development. UNICEF is using its decades of humanitarian expertise to help vulnerable migrant children in the U.S. UNICEF USA and partners work to support and expand existing protection measures, which include alternatives to detention, advocacy and the strengthening of the sponsor system.
To help alleviate the root causes of the crisis, UNICEF is also working with governments in Central America and Mexico to protect children from violence, crime and other threats and to support education and health programs. UNICEF also advocates for the protection of children's rights throughout their journeys.
None of this, however, would be possible without your generous support. We appreciate your continued support of children and their families who have been forced from their homes around the world. We will continue to provide updates regarding the impact your support is making.
In Partnership,
Whitney Simon
Links: