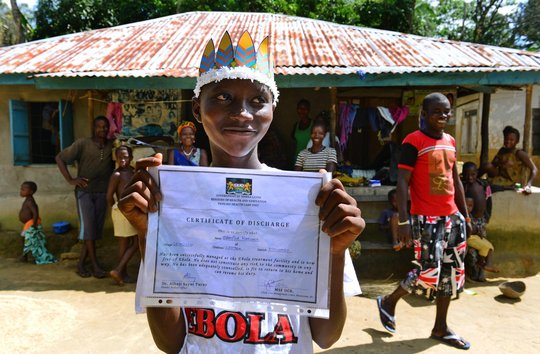 Ebola Crisis: UNICEF in Action
January 2015
Humanitarian Crisis: In March 2014, the Government of Guinea formally recognized an Ebola outbreak. Before long, the outbreak spread to other countries in the region including Liberia, Sierra Leone, Nigeria and Senegal. As of January 15, 2015, over 21,296 confirmed or proobable cases have been reported in the region, of which 8,429 have resulted in death. With 9.8 million children and young people under 20 living in Guinea, Liberia and Sierra Leone, UNICEF is working around the clock in the affected communities to raise awareness to prevent, further contain Ebola, and provide the care, support and supplies necessary to protect families and communities against the spread of this disease.
A Race Against Time: We are in a race against time to contain and halt this outbreak. Due to UNICEF's long-standing presence and partnership with the governments of affected countries, we have been able to work quickly on the ground to protect families and prevent further occurrences, assisting the hardest-to-reach, most vulnerable and marginalized populations. However, UNICEF cannot do this work alone.
The time to act is now: UNICEF is working with the United Nations (UN) and national governments to respond to and contain the Ebola outbreak, averting further death, destabilization and devastation. This collaborative, multi-dimensional approach encompasses multiple sectors to stabilize affected areas and help ailing infrastructure and sectors not only responding to this emergency, but also to continue to develop capacity. Within the integrated UN approach, UNICEF is responsible for community engagement, including community care centers, social mobiliation and behavior change.
There is no proven medical treatment for Ebola. Therfore, emergency response involves activities beyond medical care. Prevention is the best and most successful solution to break the chain of transmission and contain the virus. With this in mind, UNICEF has three goals:
Stop the outbreak through community level actions, including isolating 100 percent of cases in their early stages and ensuring safe burials for 100 percent of Ebola related deaths in Guinea, Liberia and Sierra Leone;
Prepare other high risk countries so they are able to prevent major outbreaks; and
Build back better: UNICEF aims to support early recovery of the primary health care and other social systems in the most affected countries.
At this critical time in the lives of those affected by this devastating disease, we thank you for seizing the opportunity to partner with the U.S. Fund for UNICEF. Together, we can help protect the health, safety and well-being of the vulnerable families affected by this emergency, and prevent further outbreak of this deadly disease. Your investment is helping support UNICEF's efforts to stop Ebola in its tracks.
Your life-saving investment is helping support UNICEF's response to the Ebola crisis, which includes three-pillars focusing on controlling the outbreak, scaling up prevention and preparedness activities and reinforcing and ensuring access to essential social services.
The United Nations Children's Fund (UNICEF) works in more than 190 countries and territories to save and improve children's lives, providing health care and immunizations, clean water and sanitation, nutrition, education, emergency relief and more. The U.S. Fund for UNICEF supports UNICEF's work through fundraising, advocacy, and education in the United States. Together, we are working toward the day when ZERO children die from preventable causes and every child has a safe and healthy childhood. For more information, please visit unicefusa.org.
Links:
Attachments: