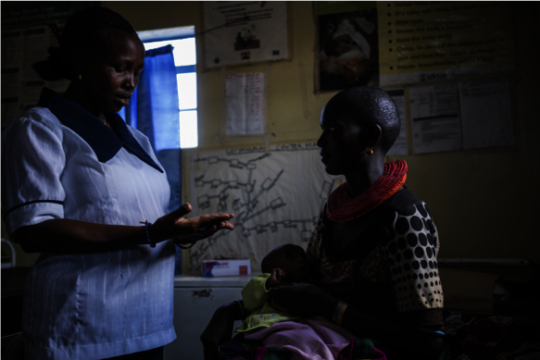 Dear Friend,
More countries are embroiled in internal and international fighting now than at any time in the past 30 years and every conflict comes with terrible consequences for children. Each year, UNICEF's humanitarian programs provide millions of children in conflicts and other emergencies with a range of lifesaving services to over 300 emergencies throughout the year. However, someemergencies are often smaller in scale and protracted leading to a reduced amount of media visibility and funds received. Consequently, the needs of children in these neglected and protracted crises are severely affected. Thanks to global emergencies support like yours, UNICEF has the flexibility to allocate funds to these forgotten emergencies and reach the most marginalized children in the most hard-to-reach areas such as:
KENYA
Disease outbreaks continue to affect vulnerable populations in Kenya, with polio reported in Nairobi, cholera reported in 20 counties and measles outbreaks reported in six counties. In addition, Kenya is now hosting more than 468,000 refugees and asylum seekers, of whom more than 268,000 are children. Additionally, the country is vulnerable to the effects of the El Niño phenomenon. Between March and September 2018, over 800,000 people were affected by flooding, including some 311,000 people who were displaced by floods. In response, UNICEF has supported nearly 143,00 children affected by diarrhea, malaria or measles, 31,000 people with safe water, and nearly 11,000 children with access to education in 2019.
HAITI
Haiti remains vulnerable to natural disasters, and in October 2018, was hit with an earthquake. An estimated 982,000 people are still facing severe food insecurity, including 39,000 children who will be affected by acute malnutrition. The risk of an upsurge in cholera remains high and over 640,000 people will require access to primary health care in 2019. The Haitian-Dominican migration situation also remains a concern, as most deportees arrive in Haiti under precarious conditions, without resources and separated from their families. On average, 10,000 Haitians are deported from the Dominican Republic every month. In response, UNICEF has supported more than 240,000 people with access to safe water, more than 37,000 children with learning materials and 10,700 children treated for malnutrition in 2018.
BURKINA FASO
The humanitarian crisis in Burkina Faso intensified in 2018 due to continuing food insecurity as a result of persistent conflict in the North, East and Sahel regions. Approximately 1.5 million people are affected by conflict, including nearly 1.1 million children. The number of security incidents linked to violent extremist groups has almost doubled, increasing from 65 incidents in 2017 to 124 in 2018. Threats by violent extremist groups have led to 440 school closures since the beginning of the 2018/19 school year, depriving over 66,000 children of education. Persistent insecurity has also displaced nearly 23,000 children and is affecting access to health services. Additionally, in 2019, food insecurity will affect an estimated 676,000 people, and some more than 133,000 children will suffer from severe acute malnutrition. In response, UNICEF has supported nearly 15,000 children treated for malnutrition, more than 12,000 children vaccinated against measles and more than 5,000 people with access to safe water in 2019.
Thank you for your generous support of UNICEF's response to humanitarian emergencies around the globe. Your support has made, and will continue to make, a positive difference for children living through these lesser known emergencies.
Many Thanks,
Whitney Simon