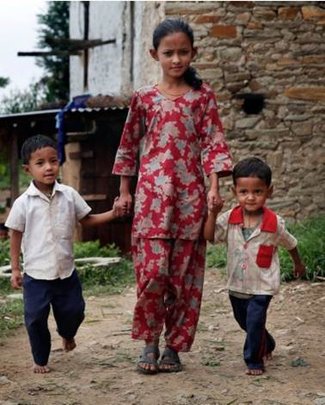 "The road to recovery and rebuilding is tough and will take months and even years before we can overcome the challenges placed by this crisis. Yet, we are moving ahead more determined and committed to help the affected children and their families put their lives back together – thanks to the unwavering and generous support of our partners across the world. Above all, the strength and resilience shown by the Nepali people continue to inspire us to act quickly and resourcefully to support those in greater needs.
What I see as the silver lining to this tragic earthquake is the unique opportunity to rebuild better services for children, especially those living in the most deprived communities. Together, we work to keep up with the remarkable progress Nepal has made over the last two decades in improving mothers' and children's lives."
- Karin Hulshof, UNICEF Regional Director for South Asia
On the Road to Recovery
Three months after the two major earthquakes affected 2.8 million Nepalese lives, 1.1 million children are still in need of vital humanitarian assistance.
Three months after the devastating earthquakes of April 25th and May 12th which struck Nepal, the overall humanitarian situation has improved. The frequency of aftershocks has decreased and several countries have lifted their travel restrictions to Nepal. On June 22nd, the Government of Nepal also declared an end to the emergency phase and a shift from humanitarian response to recovery. These recovery and reconstruction efforts are guided by the findings of the Government-led Post Disaster Needs Assessment (PDNA) and supported by the International Conference on Nepal's Reconstruction on June 25th where the international community pledged two-thirds ($4.4 billion) of the $6.7 billion appeal by the Government. The total financial losses from the earthquakes is estimated as $7.06 billion according to the PDNA findings.
Despite these advancements, over 5.2 million people live in the 31 districts that have been affected out of which 2.8 million people who live in the 14 most affected districts are still in need of vital humanitarian assistance. Of this population, an estimated 1.1 million (40 percent) are children. Shelter, food and livelihood support, medical care, sanitation and hygiene, education, nutrition supplements and protection remain as key humanitarian needs. As of mid-July, the number of casualties reached 8,8972 people of which 30 percent are children, and 22,310 people have been injured.
The situation is projected to worsen with the impact from the monsoon which began mid-June. The heavy monsoon rains will add complexities to the existing needs and to the already challenging logistical access to remote districts, potentially delaying the post-earthquake recovery process. Indeed an estimated 90 percent of the earthquake-affected population is living in areas which are at high risk of landslides and floods. Over 5,600 landslides were observed after the April 25th earthquake, which is much higher than the total number of landslides reported in the past five years combined.
UNICEF Response on the Ground

In the last three months, UNICEF has worked with its partners to distribute vital supplies to benefit children and their families in the affected districts. These include tents, hygiene kits, water purification solutions, therapeutic foods, medical kits, bed nets, materials for information, education and communication, school-in-a-box and recreational and early childhood development kits. As of mid-July, the total value of UNICEF supplies distributed amounts to $ 5.9 million while $ 17.4 million worth of supplies have been ordered.

Schools reopened on May 31st, five weeks after the earthquake. With over 32,000 classrooms damaged, the Ministry of Education reported a need for at least 15,000 temporary learning centers (TLCs) across the country. Some 106,100 children have been able to continue education in the UNICEF-supported TLCs.

To prepare against the monsoon season and the potential outbreak of disease, UNICEF focused on preventing diseases through integrated immunization campaigns, provision of essential health kits, and through social mobilization. Over 400,000 children were reached with diarrheal kits to prevent and treat potentially deadly disease like cholera. Safe water has also been made available to 655,910 people in homes and camp settings. Micro-nutrient powders and Vitamin A capsules were provided to about 310,000 children to prevent malnutrition during this critical juncture, improve their diets and prevent nutritional deficiencies. Twenty-two shelter homes have been set up for children and women in pre and post delivery stages.
The Government, together with teachers and teachers unions expressed the continued need for psycho-social support to help children recover from their traumatic experiences. Over 2,000 teachers were trained on psycho-social support, and close to 90,000 children living in the severely affected districts received community- based psycho-social support. Mass media such as radio and television were also used as mediums to offer psycho-social counselling as well as to share experiences.

More protection measures were needed for children and women who are at risk of being trafficked, abused and exploited. Thanks to the combined effort of the Nepal Police, NGOs and other partners, 513 children and women at risk of being trafficked were intercepted. UNICEF and its partners provided 229 Child Friendly Spaces for 28,387 children to have safe places to stay, play and learn. To support the most vulnerable and marginalized groups such as Dalit children, people with disabilities and women-headed households, UNICEF started to support an innovative 'emergency top-up' cash transfer program to benefit 400,000 vulnerable individuals and their families in 19 earthquake-affected districts.
Water, Health and Sanitation (WASH)
UNICEF's response in WASH is targeting 840,000 people, including children and women, in the 14 most severely affected districts with critical WASH interventions and information that will prevent child illness, especially diarrhea. This includes supplying people with safe water of appropriate quality for drinking, cooking and personal hygiene, providing access to adequate sanitation and hand washing facilities, as well as providing hygiene kits and hygiene education through interpersonal communication. UNICEF is working closely with the Government through the Department of Water Supply and Sewage and with over 15 implementing partners to support and strengthen WASH Cluster coordination at a national and sub-national level.

Moving ahead, UNICEF has developed a contingency plan to address the risks associated with the monsoon including potential diarrhea and cholera outbreaks in the 14 earthquake-affected districts, the "Terai" and mid and far western regions. The WASH cluster including UNICEF will continue providing technical assistance to the Education and Health clusters for provision of appropriate WASH facilitation in schools, Temporary Learning Centers, Child Friendly Spaces and health facilities. This is to ensure that children, women, health workers and patients in severely affected districts are able to access safe drinking water and appropriate sanitation and hygiene facilities.

UNICEF Achievements:
655,910 people reached with emergency water interventions including water trucking to camps, distribution of water kits and containers, and water treatment products.
12,396 people benefited from sustained water interventions including repairs and rehabilitation of water systems.
326,092 people benefited from receiving hygiene interventions including hygiene promotion and provision of 59,000 hygiene kits. Hygiene kits contain items such as buckets, mugs, hand/laundry soap, toothbrushes, toothpaste, towels, sanitary napkins and undergarments for women, etc.
Education

UNICEF, in collaboration with the Government and the Education Cluster, is working with 24 partners to further scale up the emergency response in Education. 1,061 Temporary Learning Centers (TLCs) have been so far established for children, equipped with gender-sensitive WASH facilities so that children can return to a safe learning environment as quickly as possible. UNICEF's educational materials have been delivered to TLCs so that children can benefit from quality education and recreational activities. Supported by UNICEF, school teachers have received training to provide appropriate psycho-social support and key life-saving messages to their students so that children feel safe and secure and regain the joy of learning. To help restore the education system and to build it back better, UNICEF-supported the Government in undertaking a structural assessment of schools in the earthquake impacted districts. As of mid July, 5,620 schools were assessed.
Moving ahead, UNICEF will establish an additional 1,680 TLCs in the severely affected districts and deliver learning materials and school supplies to 1 million children. Training will continue with 13,705 teachers working in the severely affected districts on psycho-social support and dissemination of key life-saving messages. Additionally, as part of the monsoon preparedness, UNICEF is transitioning from providing TLCs with tarpaulins to providing TLCs with corrugated iron roofing.

UNICEF Achievements:
1,061 temporary learning centers (TLCs) established in 14 most affected districts benefiting 106,100 children.
Over 5,620 schools in 11 districts have completed their building assessments.
2,414 teachers received training on providing psycho-social support to their students.
2,386 Early Childhood Development kits, 3,584 school kits, and 2,174 recreation kits delivered to partners.
Health
UNICEF focused its immediate response to meet the increased need for acute trauma care, ensuring continuous and equitable access to life-saving interventions for all children and women, and preventing communicable diseases through integrated immunization campaigns, provision of essential commodities, and social mobilization. Over 400,000 children have been reached with the provision of diarrheal kits as efforts to prevent and treat diarrhea.
Looking forward, UNICEF will assist in the provision and installation of 100 prefabricated structure to replace temporary tents that housed health facilities in the immediate aftermath of the earthquake. These prefabricated buildings have a long life-span, they withstand severe weather conditions and provide a safe environment for affected children and women. The cold chain system will be upgraded nationwide with the introduction and installation of the disaster-resilient refrigerators. These refrigerators can keep the vaccines potent for 10 days even without electricity and therefore they enhance disaster resilience of the cold chain system. Shelter homes will also be scaled up to enhance the availability of safe places for mothers and children who have been left homeless.
UNICEF Achievements:
More than 2,500 pregnant women, post-partum mothers, newborn babies, children and 2,500 care givers received health care, shelter and food from 22 transitional shelter homes established in 11 affected districts.
25 nurse midwives deployed to support 24 birthing centers and 8 senior mentors to cover 50 birthing centers for on- site coaching and capacity development of health workers.
30,000 people reached with key life-saving information and health promotion by 330 health social mobilizers in 11 most affected districts.
Child Protection
UNICEF continues to focus its response on strengthening child protection systems through close collaboration with key Government agencies, supporting recovery efforts and building resilience at community level through community-based mechanisms and networks. Understanding that child trafficking, family separation and the unnecessary institutionalization of children are inter-related, programs are being established to tackle these issues at all levels. UNICEF partnered with the Central and District Child Welfare Boards and 10 NGO partners to develop a comprehensive program covering all affected districts to ensure family preservation. Further, UNICEF engaged in the capacity building of the Department of Immigration at border points, building relationships between police and communities and facilitating the drafting of standard operating procedures and reporting mechanisms in an efforts to prevent and protect children and women from being trafficked.
Looking forward, technical support will be provided to the Department of Women and Children, as well as Women and Children Officers to implement psycho-social support and services in the Government established psycho-social centers. Engagement with the tourism industry will be strengthened to ensure that child protection issues, including issues related to "voluntourism" are addressed properly. Community-based mechanisms will be further strengthened to prevent violence, exploitation and trafficking of children and women. Further, engagement with Department of Labor and those involved in the brick industry have been planned to prevent child exploitation and abuse in the brick kilns. Lastly, efforts will be made to scale up child and women friendly access to justice mechanisms.
UNICEF Achievements:
89,371 parents and children benefited from community-based psycho-social support and care.
Family preservation and identification of unaccompanied and separated children is ongoing in all 14 affected districts.
157,877 parents and children reached through the mobilization of 3,379 community-based mechanisms and networks to prevent violence, abuse and exploitation.
Nutrition
UNICEF is working in the 14 most affected districts through five proven main interventions. These include: (i) promotion, protection and support for breastfeeding including impeding the use of unsolicited donations of breast milk substitutes, (ii) promotion and support for complementary feeding; (iii) therapeutic feeding for the management of severe acute malnutrition, (iv) supplementary feeding; and (v) micro-nutrition for children and women. In late June, UNICEF supported the Government to conduct a child nutrition week to reach more than 450,000, under 5 children and 150,000 pregnant women. In the process, 860 children were identified as being severely malnourished.
Looking forward, UNICEF will closely work with the Government to ensure that children in the affected districts will be adequately nourished through good feeding practice. UNICEF together with the Ministry of Health and Population (MoHP) as well as Nutrition Cluster partners will conduct a Child Nutrition Week again in September 2015 with comprehensive interventions. Focus will be on the mass screening by mid-upper arm circumference (MUAC) to identify children with moderate and severe acute malnutrition. Additionally, UNICEF jointly with the World Food Program and the MoHP will be focusing on managing moderate to severe acute malnutrition, and implementing supplementary feeding programs in the 14 most affected districts. Aside from the promotion of nutritious local food, and improving feeding practices for young children, multiple micronutrient powders along with Vitamin A supplementation will be provided every 6 months to all 6-59 month old children in the 14 districts.
UNICEF Achievements: