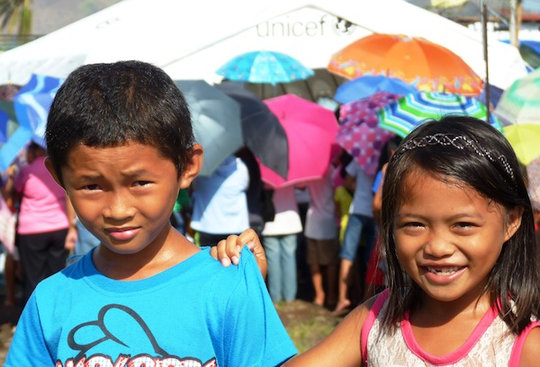 It's been four months since Typhoon Haiyan struck the Philippines on 8 November 2013 and though children's needs remain great, and it will take years for communities to fully recover, real and significant progress has been made in its aftermath. From day one, UNICEF put children at the center of the response, working with communities, government counterparts, civil society and a wide range of local and international partners. Your donations have helped UNICEF provide 430,000 basic education materials for children as part of a wide-ranging back-to-learning campaign. UNICEF also integrated efforts so that children returning to school have access to safe water and adequate sanitation for boys and girls, together with hygiene education in their learning environment.
Typhoon Haiyan damaged or destroyed close to 3,200 schools and day care centers. Other schools served as evacuation centers. As a result, over a million pre-school and school-aged children were out of school and close to 31,600 teachers were affected. Bringing children back to learning was an immediate priority, as children were at risk of their education being severely disrupted. To date, your donations have helped UNICEF and partners to provide close to 153,000 children with backpacks and school supplies and some 132,000 children have benefitted from 1,320 UNICEF-supported temporary learning spaces' equipped with school-in-a-box kits, and recreational and early childhood and development materials.
Bringing psychosocial support to children and teachers has also been a priority in the aftermath of disaster. In the wake of Haiyan, your donations have helped support UNICEF's work with partners to reach teachers, day care workers and education authorities with training on how to support children affected by the Typhoon. UNICEF is also working with parent groups and communities to accelerate children's return to school and adopt disaster risk reduction practices – including life-skills programs that promote best health, sanitation and hygiene practices.
UNICEF's efforts would not be possible without your support and generosity – we thank you.
Photos in this report © UNICEF Diana Valcarcel
For a comprehensive look at UNICEF's response to Typhoon Haiyan, please see the attached complete four month progress report.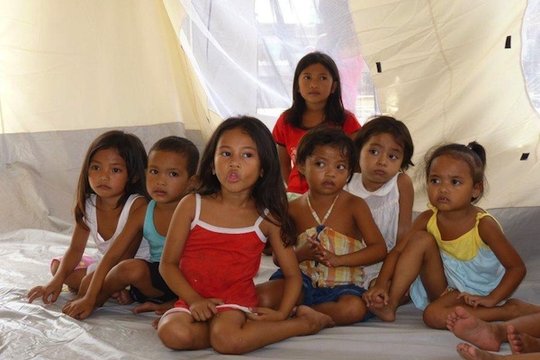 Attachments: