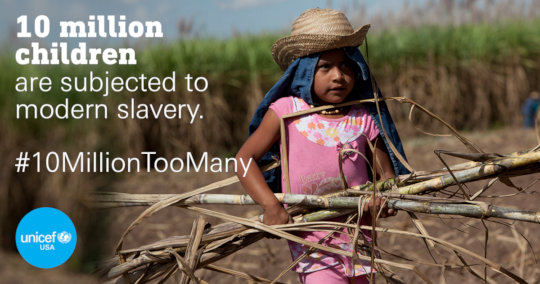 Dear Friend,
Thank you for your continued support of our End Trafficking Program. Throughout January, we will spotlight the world's challenges and opportunities around addressing child exploitation; in particular, we are looking forward to working with passionate people – just like you – to take action to raise awareness of what causes trafficking and commit to building a future where no child experiences exploitation or violence.
This year, we will be focusing on conscious consumerism and how we all can demand an end to trafficking by tackling the root causes that allow exploitation to persist. Many more details are to come, but here are some ways that you can stay in the know as we get closer to January:
Join UNICEF UNITE – our newest grassroots community working in 18 U.S. cities to support UNICEF's lifesaving work;
Follow us on Twitter and Instagram @EndTraffick; and,
Thank you for your continued support and efforts to create a better world for children. We look forward to working alongside you this January and all year long.
Thank you!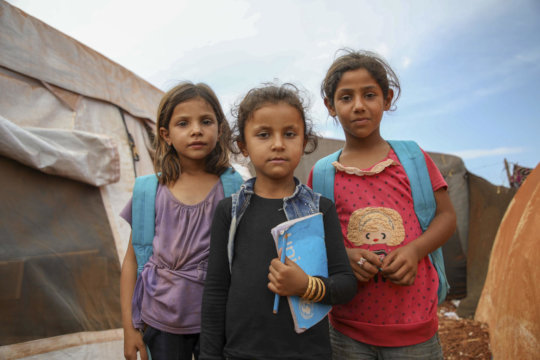 Dear Friend,
As of 1 October 2018, humanitarian access remains restricted in Idlib, Syria, denying children the assistance they desperately need. However, working through partners on the ground, UNICEF is ensuring that basic services, such as education and supplies, are provided to children in Idlib's camps, where many internally displaced children are located.
Overall in Syria, more than four million children started formal education in September this year, but almost two million children remain out of school. Through your support of UNICEF's Self-Learning Program, you are helping out-of-school children gain access to curricula and resources that allow them to continue learning.
As a supporter of the UNICEF Emergency Response project, this is one program you are investing in.
Thank you!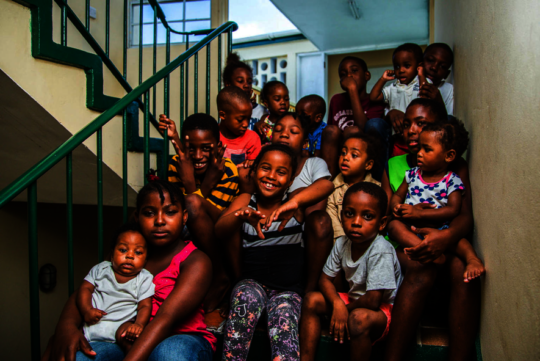 Dear Friend,
Thanks to your support, UNICEF has been able to respond to the extreme conditions in the Caribbean more quickly, more efficiently and more effectively. Your partnership has allowed UNICEF to provide technical assistance and direct support in critical areas, making a real difference in the daily lives of children, while building resilience to strengthen preparedness for future disasters. As hurricane-ravaged countries begin early recovery activities, UNICEF is there before, during and after emergencies, to continue its mission and remain true to its mandate.
With your continued support, UNICEF will continue to strengthen its disaster response and early recovery activities and ensure a fair chance for every child.
Thank you!
WARNING: Javascript is currently disabled or is not available in your browser. GlobalGiving makes extensive use of Javascript and will not function properly with Javascript disabled.
Please enable Javascript
and refresh this page.