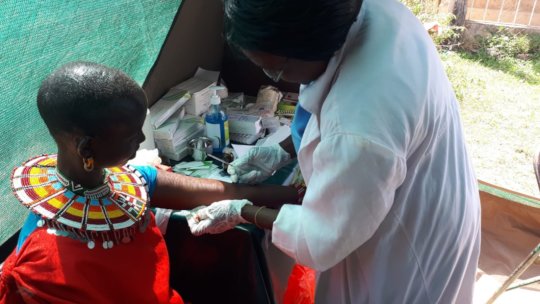 The loud uproar of laughter attracted the attention of Linoti*. He wondered what a group of women could be laughing at with these new visitors that had come to their village, Ngilois. He went closer and heard the lady seated in the middle of the cackling group talking about how women are endlessly having children and that they should plan their families to ensure they can comfortably bring them up. He immediately stopped the meeting. 'Where are the other women! You all need to learn from this woman!' He stated. 'We are all suffering the same fate, why can't you be kind and inform all you friends to come?' He continued.
Linoti immediately rushed back home to bring his two wives. He was just tired of always thinking of how he would sustain his family which was rapidly growing. It was as if his wives were competing to give birth!! They consequently got pregnant and baby cries were all too common a melody in their homestead
When Linoti got married to his first wife, Leeresi*, he was wealthy and wanted to have as many children as possible. He never thought that his wealth would deplete even though he did not have a constant source of income. Having the mentality that he was a rich man, he then married a second wife, Naantawa*. When she started having children too he started straining to feed them. This is when he realized that his decisions were not sustainable for their well-being. He had to step up, otherwise they would end up very poor and hungry! He found odd jobs that he would do but still they did not provide him with enough income. He decided that it was time to maintain his family size as it is, his nine children plus his wives and him. He had heard one of his peers talking about family planning but out of shame he decided not to ask least he would look like a fool for not knowing what it was.
When the ladies came and found the health education going on, being done by CHAT 's supported CORP partner, Pauline, they too sat and listened. Though they learned about the benefits of FP, they were scared that if they stopped having children then their husband would stop loving them. "On the contrary," their husband told them "we have had enough and do not expect any of you to get pregnant ever again!" On hearing this, the gleeful ladies chose the 5 year and 3 year implant protection methods respectively. So, Pauline then took them to where the CHAT motor mobile had set up the clinic, where they got their FP method of choice.
'It is very sad that women have senseless competitions like these. They should understand that these days having many children will prove to be a burden to them. I wish they can all understand the importance of child spacing and not having too many children,' Pauline commented as she went to get more women to come and receive their FP methods of choice.
In the past three months, with support from our GG donors we have been able to reach 35,085 People (Both men and women) with BCC information on Family planning with a PHE approach and 7,850 with different methods of contraception.
"The next most dangerous thing after nuclear proliferationis probably global warming, and then, right behind that is overpopulation; we need to get serious about family planning and trying to alleviate poverty, to get clean, renewable energy, probably with solar panels to the billion and a half people in the world who don't have access to electricity." Ted Turner