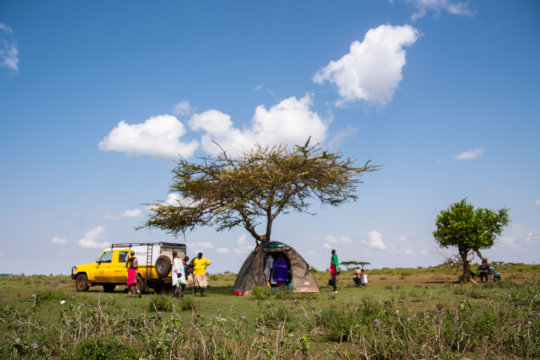 *Not their real names
As the team was providing services at Ngilati village, a woman, jovial but in some sort of a hurry, said to the mobile clinic driver
'I am so delighted to see this car, please come to Sananguri - there is a wedding tomorrow. We are in great need.' Even before the driver could ask more, the woman had already started striding away. The driver shared with CHAT's CORP partner, Pauline, who explained that in the next community, that's where the wedding would be. The team continued providing their services then made preparations to serve more clients at the wedding the following day.
Early morning, they set camp right outside Sanaguri. Having gone ahead, CORP Pauline had already started sensitizing the community. She specifically started with the lady who had, the previous day, passed by the vehicle. Leyantai* had heard about the services offered by the yellow landrover she wanted to learn more and see if it was an option for her.
Leyantai is a third wife, having been married to a man who only had daughters. She knew she was doomed for since she too had the same predicament as her preceding co-wives, having to give birth until it's a boy. She now had seven girls and no boy yet. She was tired and wanted a rest. She felt like she did not need any more children. Leyantai knew this was a safe place to access the much-needed help. Her husband was happy and making merry with his mates so telling him she needed a little break at this time was not going to be hard.
And indeed, when she shared with her husband after talking to CORP Pauline, so as to understand better, he agreed that she could rest from having a child for sometime but with the condition that she still had the obligation of giving him a son. Leyantei was the happiest woman at the wedding, even happier than the bride! She chose and received the a five-year protection implant. She knew that this would help her a lot for the next few years.
'You have helped me a lot today. Ashe Oleng!'' Leyantai said, and then she called all her friends and told them about family planning (fp) immediately she left the service tent.
'This is a very smart woman. I wish we can have hundreds more like her in every community.' Pauline commented as she went back to get some more women from the wedding to inform and be able to access services.
In the past three months, with support from our GG donors cost shared with others -we have been able to reach 34,192 individuals (both men and women) with behavior change information ( BCC) about family planning – using a Population Health & Environment (PHE) approach and 8,511 chose and were provided with different methods of contraception.
"A nation that destroys its soils destroys itself. Forests are the lungs of our land, purifying the air and giving fresh strength to our people." Franklin D. Roosevelt