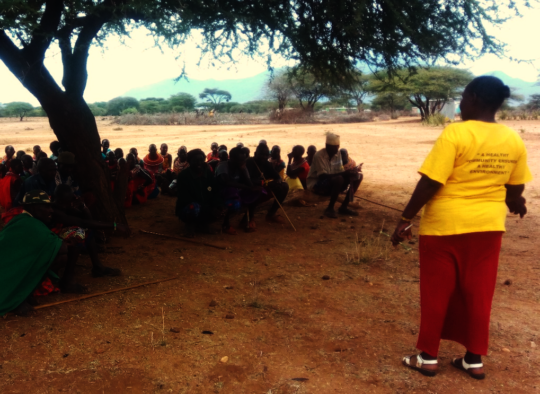 *not real name
"We used to experience good rains in this part of the country back in '90s and before. What has happened!?" laments Legusuranga* as he chatted with other men under a dry tree with little shade. "Food was in plenty and pasture for our animals was enough to run us up to the next season."
Legusuranga hails from Lekuru village in Samburu county, an area that has been experiencing long dry periods over the last five plus years consecutively. Animals have been dying and people seem to be experiencing increasing hardship.
Zipporah, CORP partner working alongside CHAT, has been sensitizing communities using the Population Health & Environment (PHE) approach with a focus on providing access to family planning services. During her visit in Lekuru village, she found the men in discussion. To bring out the aspect of men involvement in family planning, Zipporah was categorical in the way she approached the men collectively, with her understanding of the patriarchal culture she was brought up in, where men control all decisions made concerning the family.
The session with CORP Zipporah brewed into a hot discussion where the men eventually came to under that it's through cutting down of trees and overstocking of livestock due to several reasons, one being to create space for the growing population that their land that once provided "milk and honey" was now a desert. They also got to understand that the man, as the head of family, was vital in leading the discussion about family planning they all nodded in agreement with this and commented that it is a noble idea to adopt.
"Thanks, so much our daughter, we will have to rethink our ways now. We need to conserve existing indigenous trees and plant more trees especially in areas where they can grow easily" replied one of the men. "Its quite unfortunate we have not come to understand this years ago"
"Its never too late to start" Zipporah quoted and helped them to plan how to start a conservation group for easy coordination of activities at the village level including the continued dissemination of information about family planning which combines a strong element of environmental conservation. It was a starting point for this village.
"Today we are faced with a challenge that calls for a shift in our thinking, so that humanity stops threatening its life-support system. We are called to assist the Earth to heal her wounds and, in the process, heal our own - indeed to embrace the whole of creation in all its diversity, beauty and wonder. Recognizing that sustainable development, democracy and peace are indivisible is an idea whose time has come" Wangari Maathai
In the past three months, through your support CHAT was able to reach a total of 3,781 individuals with behavior change communication (bcc) information with 1,507 clients receiving different FP methods of which 1020 chose the long-term methods of 3- and 5-years protection. 18,777 condoms were distributed.