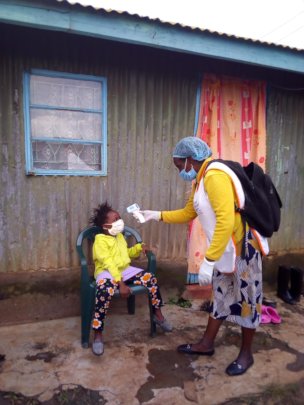 GlobalGiving, donors & friends thank you so much for the generous support this last quarter. It has been particularly appreciated realising the tough times everyone is experiencing.
This allowed us to provide invaluable COVID 19 prevention and protection materials and sensitisation to otherwise un-served "forgotten" communities. This allowed us to procure & construct basic hand washing systems, masks, gun thermometers for screening, sharing vital door to door information & sensitisation to the poorest and most marginalised.
Reality
*Not their real name.
Nairobi's Dagoreti slum is a high risk COVID 19 hell hole. The seething crowds in the market, open sewers and cramped living shelters are the norm. CHAT's CORP associate Lucy usually has a huge task ahead of her.
Lots of needy women and children can hardly afford to survive, let alone afford PPEs to protect themselves. With CHAT's support received from GlobalGiving, we were able to procure and share some masks, hand washing soap, gown, and sanitizers to Lucy to share with the community. On one of her rounds, she met Isaboke*. Isaboke lives with four other girls from her village back in Kisii. In Western Kenya They all came to Nairobi to earn a living and without a steady job or income they ended up in their small shanty in the slum. She is a cleaning lady. Due to COVID, she was put on hold by her regular customers, reasoning "times are hard" or her services are no longer required.
Her situation resulted in her wandering around in Dagoreti Market looking for any manual labor. This meant a lot of interaction hence the risk was high for her. When Lucy went to sensitize them on a Sunday, she found Isaboke feeling unwell, fatigued, and with a fever. Lucy immediately knew she had to refer her to the health centre for further investigation finding some of the symptoms similar to COVID and true to her suspicion, Isaboke tested positive. This meant Isaboke had to be isolated at the hospital and her friends had to step in and cover her portion of the bills at 'home' - and help in the hospital. Being "contacts" they were not positive, but they still had to put their lives on hold and go into quarantine.
"I realize that COVID has affected our lives but once someone gets it, it becomes worse. Isaboke and her friends were barely surviving and now, their lives are beyond rock bottom. I wish I could help more. But their health comes first here. They will come back from it" Lucy empathized. "Out of the many cases, many came from the slums. Poverty, lack of access to good health care, bad sanitation, and poor nutrition compound her situation. What CHAT has shared with us as a community has gone a long way in helping to protect ourselves and acquiring more knowledge on how to be safer. I hope this disease goes away so that we can get our lives back".
CHAT reached a total of 38,884 people with integrated family planning & COVID 19 behaviour change communication (bcc)
Door to door Lucy distributed face masks, soap, hand sanitizers, provided 5 lit & 20-liter containers towards constructing hand-washing stations, and gun thermometer helping to screen for sign and symptoms of COVID 19.
"For millions of workers, no income means no food, no security, and no future. As the pandemic and the jobs crisis evolve, the need to protect the most vulnerable becomes even more urgent."
Guy Ryder, ILO Director-Genera