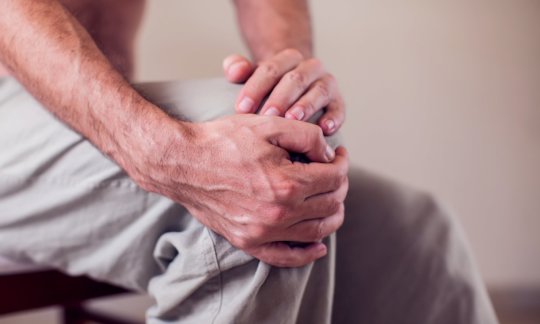 Agility is a blessing. One only realizes it when one is going through the ordeal of arthritis. It makes one's joints red and swollen. One is unable to take the usual stroll down the street. One cannot perform the daily household chores because of the weakness of legs. Clicking bones and cracking joints is the sound that the patients of Arthritis become used to.
Being ambulatory is one of the greatest blessings that Allah has bestowed upon us and this is something that only the people suffering from the painful disease of Arthritis realize. Arthritis causes stiffness, swelling and pain in or around joints and is a recurring disorder which affects around 14 million people in Pakistan. Out of the affected people, 50% are above 71 years.
The wrong diagnosis or treatment of Arthritis could lead to a permanent disability of the patient. As Arthritis attacks each and every minor joint of the body, there comes a stage when no medicine can cure it and surgery becomes compulsory to save a patient's life.
In Pakistan, a large proportion of the population suffers from joint pain (a symptom of Arthritis) but most of the people ignore it and do not visit the doctor for diagnosis or treatment. Therefore, Fatima Memorial Hospital in collaboration with Arthritis Care Foundation (ACF) has been helping the destitute to overcome this painful disease by creating awareness through Arthritis walks and seminars and also by providing free or subsidized treatment to Arthritis patients.
However, the number of patients who require free treatment is rising day by day and the resources of Fatima Memorial Hospital are limited. This has made it very hard to cater to the patient population which is ratcheting up. Therefore, we request our altruistic donors to support us in our cause of making Pakistan free from Arthritis!
Free diagnostics, medication and even surgery (joint replacement) were provided to Arthritis patients free of cost or on subsidized rates using the funds donated by our auspicious donors. Hence, we request our esteemed donors to help us in this cause and ease the suffering of thousands of patients suffering from this painful and deadly (in extreme cases) disease!
Thank you!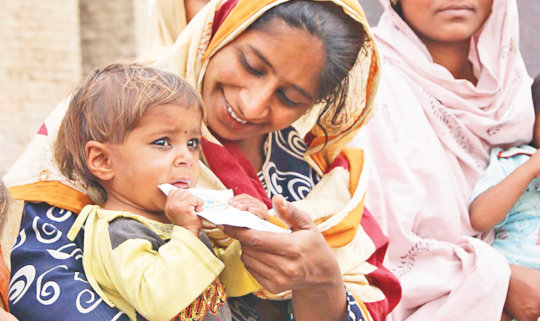 A large proportion of Pakistan's population is unable to afford two basic meals a day. Pakistan has the second highest hunger score (32.6) in all of Asia (after Afghanistan). Also, poor nutrition among children is a leading cause of stunting and according to an estimate by National Nutrition Survey 2011, around 50% of the children are stunted because of poor nutrition. In addition to this, maternal malnutrition not only leads to higher mortality rates among women but also to fetal growth restrictions, aggrandizing the risk of stunted growth and other disabilities in children.
According to a report published by UN in 2017, 96% of the Pakistani children do not have a proper diet. Also, losses of Pakistan due to malnutrition are $7.6 billion every year. As evident in the mentioned statistics, the hunger problem in Pakistan is rising day by day.
Hence, Fatima Memorial Hospital in pursuance of its social welfare goals, provides free food to the families of hospital patients. However, the influx of patients is rising day by day and the funds of Fatima Memorial Hospital are limited. Therefore, we rely on the donations by our esteemed donors to cater to the nutrition needs of the patients/patient attendants. Hence, we request you all to join hands with us in providing food to the underprivileged and ease their suffering a little.
Awaiting your generous donations!
Thank you!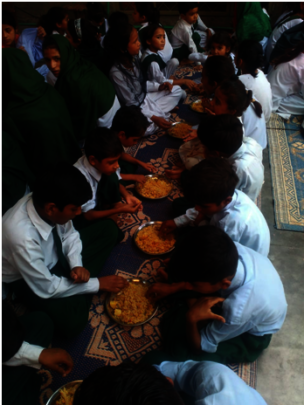 "If you can't feed a hundred people, then feed just one." Mother Teresa.
Pakistan ranked 77th out of a total of 112 countries in the Global Food Security Index of 2018. Moreover, one of the most malnourished and poorest regions in the world, Tharparkar, is located in Pakistan's province, Sindh. In Sindh, fifty percent of the children below five years of age are stunted and nineteen percent are severely malnourished. As per the Pakistan Economic Survey 2017-2018, people living below the poverty line are 24.3% of the total population. These are the people who are unable to afford the basic necessities of life like food, clothing and shelter. In addition to this, Pakistan ranked 106 out of 119 countries on the Global Hunger Index (GHI) with a score of 32.6, second only to Afghanistan in the South East Asian Region.

The state of hunger in Pakistan is clearly explained above. A large number of people in Pakistan sleep on an empty stomach every night. Hence, Fatima Memorial Hospital and NUR Foundation have taken the matter in their own hands and have started to supply food to poverty stricken students of NUR Community Outreach Program (NCOP).

Everyday, more than 1400 children are provided with meals so that they are able to live a healthy life and focus on their studies. However, there are many more children who are unable to afford three meals per day and in order for us to continue to serve the poverty stricken masses, we urge our altruistic donors to make donations.
Thank you for your continued support!
WARNING: Javascript is currently disabled or is not available in your browser. GlobalGiving makes extensive use of Javascript and will not function properly with Javascript disabled.
Please enable Javascript
and refresh this page.