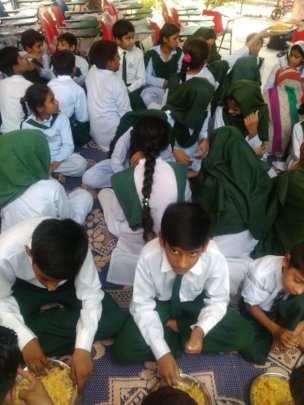 Pakistan has about 22.8 million out-of-school children (OOSC) (aged 5-16 years), which makes the world's second-highest number of OOSC and 44 percent of the total population in the mentioned age group. Disparities based on gender, socio-economic status, and geography are significant; in Sindh, 52 percent of the poorest children (58 percent girls) are out of school, and in Balochistan, 78 percent of girls are out of school.
Nearly 10.7 million boys and 8.6 million girls are enrolled at the primary level and this drops to 3.6 million boys and 2.8 million girls at the lower secondary level.
Gaps in service provision at all education levels is a major constraint to education access. Socio-cultural demand-side barriers combined with economic factors and supply-related issues (such as availability of school facility), together hamper access and retention of certain marginalized groups, in particular adolescent girls. Putting in place a credible data system and monitoring measures to track retention and prevent drop-out of out-of-school children is still a challenge.
At systems level, inadequate financing, limited enforcement of policy commitments and challenges in equitable implementation impede reaching the most disadvantaged. An encouraging increase in education budgets has been observed though at 2.8 percent of the total GDP, it is still well short of the 4 percent target.
With the challenges mentioned above, NUR Foundation started its schools in the year 1996 and since then, it has not only took 18000 children out of the dark holes of illiteracy but also helped them in attaining jobs to earn a respectable living. However, the current schools are not sufficient to cater to the needs of the rising number of students. Hence, in pursuit of its mission of providing free education to the underprivileged in Malikpur, NUR Foundation has started the project of constructing a College building for them. In order to finance the building, generous donations from our esteemed donors are necessary.
Given below is the breakdown of the funds that we require to start the college:
Furniture: Rs. 1,540,000 = USD 10,000
Computer Lab: Rs. 550,000 = USD 3,500
Science Lab: Rs. 350,000 = USD 2.250
Library: Rs. 500,000 = USD 3,250
Play Area: Rs. 200,000 = USD 1,300
Cafeteria: Rs. 100,000 = USD 645
Mosque: Rs. 200,000 = USD 1,300
Conference Room: Rs. 150,000 = USD 970
Principal Office: Rs. 200,000 = USD 1,300
Boundary Wall: Rs. 2,700,000 = USD 1,710
Guard Cabin: Rs. 30,000 = USD 200
Keeping in view the above, we at NUR Foundation, request our esteemed donors to donate with a generous heart for this noble cause and help us in making this fortress of education.
Thank you!