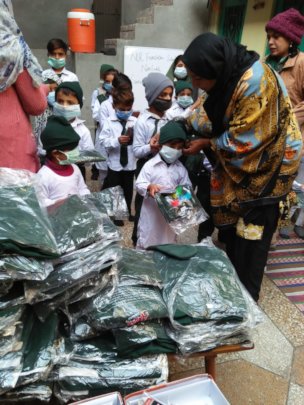 Pakistan's literacy rate 57 percent lags well behind its neighboring countries. The primary school dropout rate is 22.7 percent (3rd highest in the region after Bangladesh and Nepal), which is alarming given it as at the stage of formative learning (Economic Survey of Pakistan, 2019-20).The United Nations Global Education Monitoring Report 2016, concluded that Pakistan is 50 years in primary education while 60 years behind in secondary education to achieve the education goals. The number of children at primary, secondary and upper secondary level still from out of school were 5.6, 5.5, 10.4 million respectively. This is an alarming and mind boggling situation for the whole nation. Why this happened? Let us try to find out the answer of the question.
The last academic year was a very difficult one for education. Schools were closed in March 2020 and remained shut till September or so. They were again closed in December and then once more about a month ago. Even when open, schools have had to work under strict SOPs. They were asked to have 50 per cent attendance and alternate day classes and to work under other restrictions. Currently with COVID19 cases surging, the schools have been shut down again making it extremely challenging for us to provide education. Private schools have switched to online classes since they have the resources to do so. Whereas in our case, it has become extremely difficult for us to provide education to the poor. However, we are still trying to bring in online system as well as hold classes in open air maintaining social distancing while providing education.
The Covid-19 pandemic is expected to impact us for a long time. Millions of children have no access to school and for our already fragile education system this is indeed an unprecedented situation in the history of education. However, we must embrace this unexpected change and apply an alternate approach to ensure continuity in education.
This shocking statistic and the poor state of Education in Pakistan since the very beginning is the very reason that Fatima Memorial Hospital took the initiative of commencing the NUR Community Outreach Program (NCOP) in the year 1985. The objective of NCOP is to act as a catalyst of change in order to bring about socio-economic development of the underprivileged communities, via an integrated approach to education, healthcare and economic empowerment.
NUR Foundation has been providing education to the underprivileged communities (without any discrimination of age/gender/caste/religion, etc) through its chain of formal and informal schools in underdeveloped and neglected areas of Lahore. Every year, approximately 1800 students pass out from our schools. The current students enrolled in NCOP Schools located in Malikpur/Talwara, Lakhudair, Nainsukh and Gajjumatta total 1476.
In addition to this, NUR Foundation has also started the initiative of Adult Literacy Program in which 30 adult females are currently enrolled. The objective of this program is to provide the basic level of education to adult women who have never been to a school before.
With current Pandemic (COVID19) around, we have more challenges to address. The Rural Areas need more help and assistance, so that our teachers can educate the people about the disease and also keep educating the children on individual basis with all precautions. We are trying our level best to provide education to the deserving children of the community but due to COVID19, it has become increasingly challenging. Keeping in view the current situation, we need your support in order to arrange online sessions for the students, provide them with books, uniforms, as well as platforms through which their education doesn't suffers.
Your generous support is of immense value to us so we urge you to continue the donation and support us.
Thank you