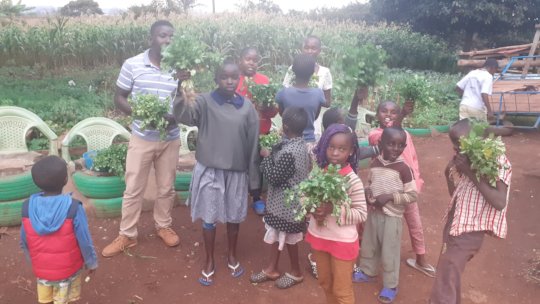 The school opening has provided much needed relief for parents and guardians but also matched by anxiety over the financial strain caused by the pandemic. We had known that the longer children are out of school, the greater the risk that the poorest among them will never return. They face increased risks of violence, child labor and child marriage, and to their mental wellbeing. Schools are a vital safety net for the most vulnerable children, protecting them from these risks.
With children in school for almost two months now, Ngao has been steadfast in providing food to 447 children every Saturday and Sunday. This intervention has reduced cases of children roaming in the streets, and child abuse as most of them are absorbed in different activities at the Centre. This period, Children enjoyed harvesting what they had planted, and for most of them it was their first time getting involved in the farming process all through. Parents/guardians enjoyed the proceeds of what their children took to them.
With school resuming. 46-day school children are engaged on rotational basis to learning farming skills, urban gardening and diverse agricultural activities on weekends while they are not attending school. After their first harvest, they are now motivated and have planned different kinds of vegetables, crops and herb that supplement the food we cook for them. The knowledge gained is shared with the children families where 23 families have already set up vertical gardening in front of their houses. With the start of long rains, we expect good harvest for these families. The Government officers visited to provide technical support to the families involved which was a big boost.
We have supported 123 families with dry food on weekly basis up from 28 families previously. This brings to 984 families supported with dry food in two months period. These are mostly single headed families that have a mother as the bread winner. Within the same period, 107 families have come together and registered for different skills to help them generate income after their source income was cut short by the Covid-19 pandemic. The skills they are learning are: making soap (41), Mat (28), Table clothes (10), tailoring (10), poultry keeping (13) and beadwork (5). We are helping 127 women locate a land for a greenhouse which has proved to be a good prospect.
48 girls received sanitary towels. Currently four social work and two counselor university students are on attachment at our facility. They have been providing needed psychosocial support to children to 319 children for the past two months. 52 children not coming regularly at the Centre have been visited and their situation followed up, assisted and concluded.