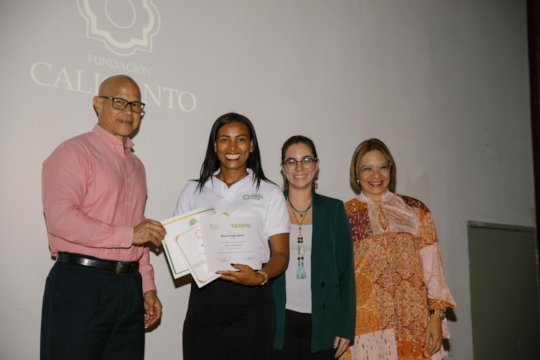 We had big dreams in 2018 and with your support we had great achievements.
We happily managed to launch our first sustainability project, Restaurante La Sexta, which we have been able to carry out and continue to strengthen, overcoming any challenge. We currently have 3 CAPTA students working full time, putting into practice what they learned in their classes. If you ever visit Panama, come visit us in Fonda La Sexta in Casco Antiguo.
In December we celebrated the 50th graduation of the CAPTA job training, paying tribute to the more than 1,500 women who have benefited from the program. We had a special MC, a CAPTA graduate, who surprised us with her grace and eloquence; and a group of students that presented a play that made us remember the reason for our work.
In Panama, 9.9% of the country's current population lives in extreme poverty, a condition that according to the World Bank is defined as people living on less than $ 1.25 a day. In addition, 19.1% of people live in multidimensionally poor households. Among the dimensions that contribute to the Multidimensional Poverty Index (MPI), Education stands out with one (23.7%), Environment and sanitation (21.7%), Work (19.4%), Housing, basic services and Internet access (17.8%). %) and Health (17.4%).1
We recognize that there is still a lot of work to be done and that our work allows us to be close to the reality of our country, where there are still great inequalities that are stronger than the percentages that sometimes accompany it. That is why we remain motivated to continue strengthening the capacities of the most vulnerable people, to have the power to change their socioeconomic situation and to serve as inspiration for others in their community.
We want 2019 to be full of success stories, of women who can get a decent job or open their first venture, of families that can have access to housing, of children who have what it takes to focus on their studies and achieve their dreams, of citizens who discover a new reality and are willing to continue working to build a better Panama.
We started this year working to increase our impact. During January and February, we will update our methodology, metrics, study plans and recruitment processes in order to reach more beneficiaries and achieve the sustainability that unites us.
Thank you for being part of this effort! We invite you to watch the new video that we have placed on the page of our project and tell us what you think: https://www.youtube.com/watch?v=N7QS2vChAkk.
Happy 2019!
1. Statistics Data source: https://www.mides.gob.pa/wp-content/uploads/2018/09/MED-DAES-Informe-del-Índice-de-Pobreza-Multidimensional-de-Panamá-2018-1.pdf