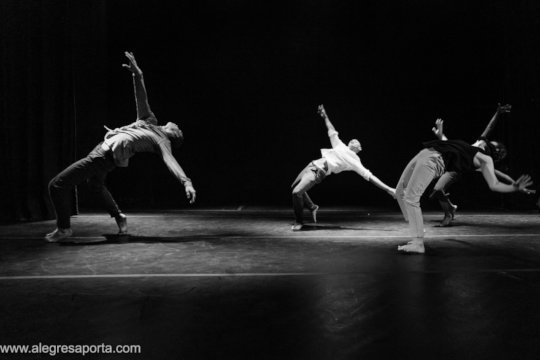 Once again the boys and girls of Enlaces touched us, challenged and questioned us.
Sincronía showed us a group of young people increasingly aware of their context, their environment, but also the power of their voice.
This performance was the result of a process of reflection and creation from the arts, which was oriented towards exploring the concerns, demands, and proposals of adolescents and the vision of the country they wish to build. Through this performance, Enlaces became a platform that allowed young people's voices to be heard, their approaches, their demands, and their proposals.


I witnessed the positive impact that is made in the life of each of the children and the passion with which each one expressed themselves on stage. It was really moving and special to see their movements, gestures, dedication, and concentration. All this spoke to me of the high degree of commitment that they have with both the Enlaces organization and their lives.
René Irigoyen
Causa Nuestra

Enlaces is giving opportunities to a group of young people who will be able to make deep changes in their lives. Training does not come only through physical discipline, the most important thing is the mental projection of these children towards new dimensions of life.
Marie Claire de Bueno


I am deeply impressed. There is so much energy and enthusiasm in those children! It seems that it will never be enough for them. They could go on forever! I love their creativity and their hunger to move and express themselves.

Anne Sophie Fenner
Coreógrafa y bailarina Suiza


We appreciate the support of our strategic partners SENNIAF and UNICEF, which allowed us to serve as a platform for the projection of self-confident and productive adolescents, to show their contributions to the welfare of their communities and recognize them as active subjects of rights, capable of exercising responsible citizenship.