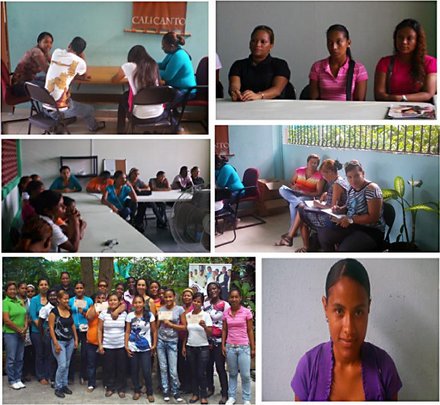 On May 13th and because of generous donations, 13 women sponsored by GlobalGiving and the donations received during the April's Challenge and other 7 women sponsored by other friends of Fundacion Calicanto, began the CAPTA Course to change their lives and break out of poverty. We are still receiving donations to complete our goal of 20 women sponsored by GlobalGiving, our next course begins on July 4th.
Alejandra, Amparo, Anastacia, Ariadna, Claudia, Dalila, Esthele, Gladys M, Gladys L, Janet, Katia, Kilmara, Kristel, Miriam, Silvia, Theila, Vielka, Virginia, Xiomara and Zoraya, were welcomed by Calicanto's team and received their scholarship certificates.
All of this happened after weeks of recruiting, and choosing the students by interviews with our psychologists and instructors. The women were selected through personal interviews by the program psychologists primarily designed to gauge willingness to change. At the opening ceremony each woman is given a uniform and a "scholarship certificate" which states the direct cost of the course ($1,000). Included in the scholarship is a small stipend of $5 per week to cover transportation costs.
Then, they were ready to begin the "Fundamental Cycle": The group met five days per week for eight hours per day during four weeks. Most of the time is spent in group sessions led by instructors, with weekly one-on-one meetings with the psychologist to address individual issues. The core personal development workshop sessions use role playing to teach communication skills, team work, resolution of interpersonal disputes and emotional intelligence. The life skills sessions teach health and hygiene, first aid, voice and diction and personal finance.
By the time they enter the vocational training phase, they have formed a team, and we believe this mutual support is not only critical to their success in hotel school and in their new jobs, but is forming the foundation of an important community network.