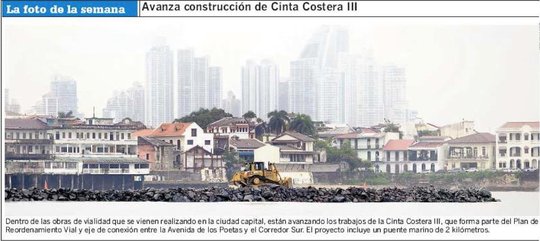 Greatings from Casco Viejo!
The fight to save Casco Viejo from being wrapped in concrete is intensifying quickly. In July when UNESCO's resolution came out it asked for three basic things regarding the highway: (1) give them a traffic study showing what alternatives exist to a seafront highway, (2) study the aesthetic impact of the current plan on Casco's "Universal Values" (i.e. the things that make it a World Heritage Site), and (3) don't build anything until we've had a chance to look at 1 & 2.
As you know from our last update, the Government of Panama and the contractor, Odebrecht, had actually been constructing parts of the highway (outside the historic district limits) during the UNESCO proceedings and lying to UNESCO about it. Not surprisingly, they have not stopped since, so, as you can see from the photos, the preliminary landfill portion of the highway is quite advanced and already starting to penetrate the limits of the historic district. The studies UNESCO asked for are apparently completed and delivered, but the Government refuses to release them.
The Government has come out publicly saying that the highway has been approved by UNESCO. This is the second time that they have lied to the Panamanian public about this. The eleven organizations joined with us under the Orgullo Panama banner wrote a letter notifying the Director General and Chairperson of UNESCO putting them all on notice that a crime against World Heritage is taking place and there is a need to act urgently.

We have a number of legal actions in process, and next week we have a press conference with the ten other civic organizations joined with us to announce other measures that we are launching and several new groups who have joined. We've now got a full time coordinator and are adding more volunteers every day.

In addition, Orgullo Panama has launched an online petition drive to bring attention to the fact that the company profiting from this project, Odebrecht, is controlled by Marcelo Odebrecht, a man who has spent considerable energy trying to rebuild his company's image around its "sustainability" after a series of corruption scandals in Brazil in the 1990s that ultimately brought down a Brazilian government. The petition is here: www.orgullo.com.pa, and we encourage you all to sign and send to any friends you have who know Casco or who care about protecting World Heritage (it belongs to all citizens of the world, so anyone can sign).
Finally, as if the desecration of a World Heritage Site's setting weren't enough, the government began yesterday an intense campaign of evictions in Casco Viejo. To the government (and certain building owners associated with the government who have long petitioned to have their buldings emptied by force so they do not have to pay the legally mandated costs) these people are simply intruders who need to be removed. But to most of us in Casco Viejo, they are our neighbors. To us at Calicanto, they are the human heritage that we are dedicated to protecting along with the architectural heritage. This kind of action reconfirms for us the current administration's unfortunate lack of understanding of what makes the neighborhood special, and reaffirms our committment to protect both the human and the architectural heritage of Casco Viejo.
We will continue the fight to save Casco, and we greatly appreciate your continuing support.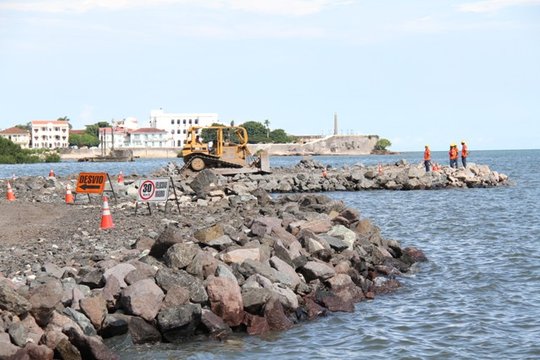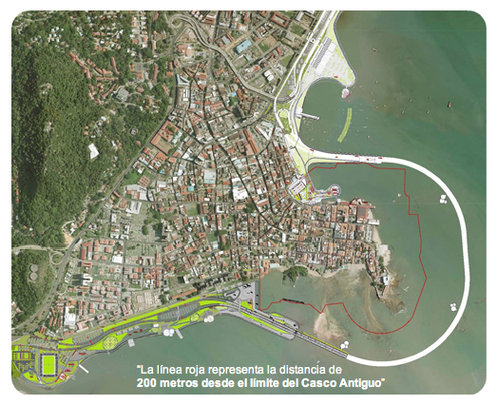 Links:
Attachments: